The "Cookie Control, Consumers, and Commerce" webinar detailed many great insights into the state of commerce in 2021 and how data privacy and personalization issues are affecting marketers around the world.
Did you miss the webinar? Don't worry! You can still see the entire 50+ minute session on-demand here.
While many great points were brought up, here are the top six takeaways from the session so that you can get a specific idea of the topics discussed. 
News flash: 2020 was a monster year for digital commerce
Alright, so you probably already knew that e-commerce boomed in 2020. But it was also not without its challenges for consumers.
Just how big was 2020? Bloomreach's Brian Walker detailed an "accelerated shift toward digital (that) is here to stay", in the words of Nike CEO John Donahoe.
Here's three key stats that will help paint the picture of just how big of a move online shopping made in 2020.
96 percent of B2B companies have shifted to a digital first strategy. 

92 percent of consumers say the pandemic has changed their shopping behaviors. 

50 percent of customers are shopping online for products they've never bought online before.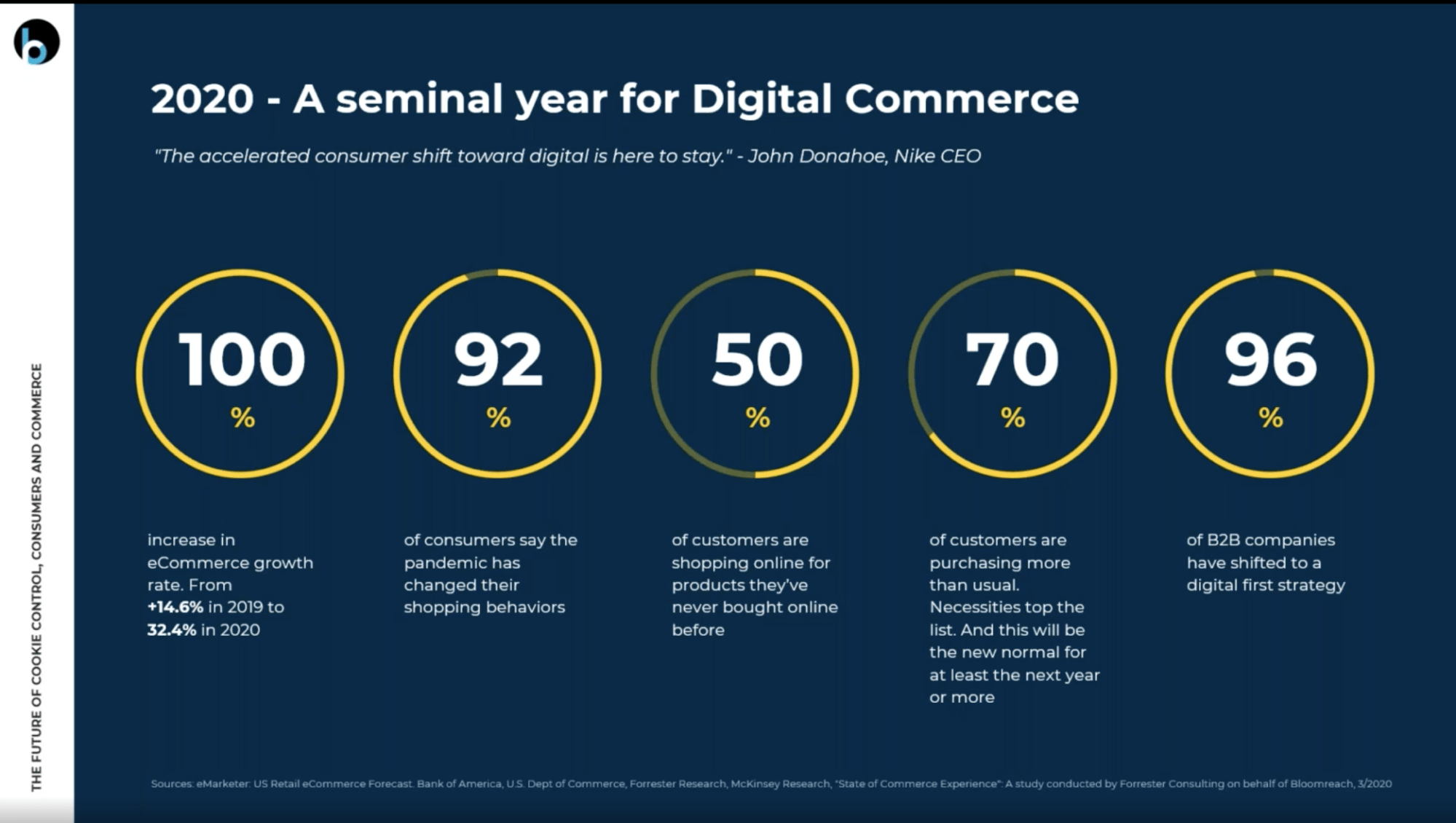 An important thing to note here is that the move to online shopping was not a seamless one for everyone.
Nearly ⅔ of consumers reported having some type of challenging experience when online. This could be something like the search function not working as they hoped it would, or content that does not properly address needs or questions.
Addressing these concerns and personalizing and perfecting the online customer experience are the challenges that e-commerce stores have in 2021 in order to retain as many new customers acquired in 2020 as possible. 
Digital commerce is here to stay 
It is safe to say that pre-pandemic shopping habits are gone forever.
While 2021 may not be projected to be the year for e-commerce that 2020 wound up being, don't expect shoppers just to flock back to the local mall once physically able this year. 
"The move to digital is here to stay," Walker said. "We are not going back to 2019. We are not going to sustain the incredible growth rates that we saw in 2020. We are going to be somewhere in between."
The "habit" of online shopping has formed and become the new normal. Consumers who began using new channels in 2020 aren't just going to forget about those channels.
What does this mean for businesses? That it is time to renew your focus on segmentation and personalization. It is time to put an emphasis on developing a personal relationship with your customers across every channel possible.
Giving customers the best experience possible online is what will keep them loyal to your brand compared to your competitors' brands. 
Personalization is more than just the basics
Don't get caught up in just using the basics of personalization.
"E-commerce businesses are failing to provide (personalization) in a way that the consumers actually see it," said Peter Jakuš, Vice President of Industry and Market Insights for Exponea. "Brands see personalization very simplistically. You can go much further with personalization."
Personalization can be so much more than "Dear Alan" or "Hey Nancy" to begin an email. One way you can take personalization a step further this year is by keeping shopper attributes and preferences in mind.
What gender is the shopper looking for? What is his or her favorite color? What is the correct shoe size that the shopper is looking for? These questions can be answered by collecting the right data (zero party data) and using that information for the benefit of the marketer.
Zero vs. 1st, 2nd & 3rd Party Data (Cheatsheet)
Get a practical overview of the different types of customer data + their advantages and disadvantages.
By sharing your email, you consent to receiving Exponea's newsletter. Read how we process your data in our Privacy Policy
Thank you!
The form was submitted successfully.
Check your inbox.
Great personalization involves having access to good customer data. This will become increasingly more challenging as we move into a post-cookie world.
Make sure you keep personalization in mind when marketing to the influx of new online shoppers that came in 2020. 
Who are these new online shoppers?
Who are these new online shoppers that everybody keeps talking about?
The results of a behavioral study commissioned by Exponea helped to determine that consumers new to e-commerce in 2020 fell into one of seven "shopper types":
the sensory shopper,

the leisure shopper,

the 'clothes for status' shopper,

the perfectionist,

the 'desire to save' shopper,

the 'fashion follower' shopper,

the 'happier online' shopper.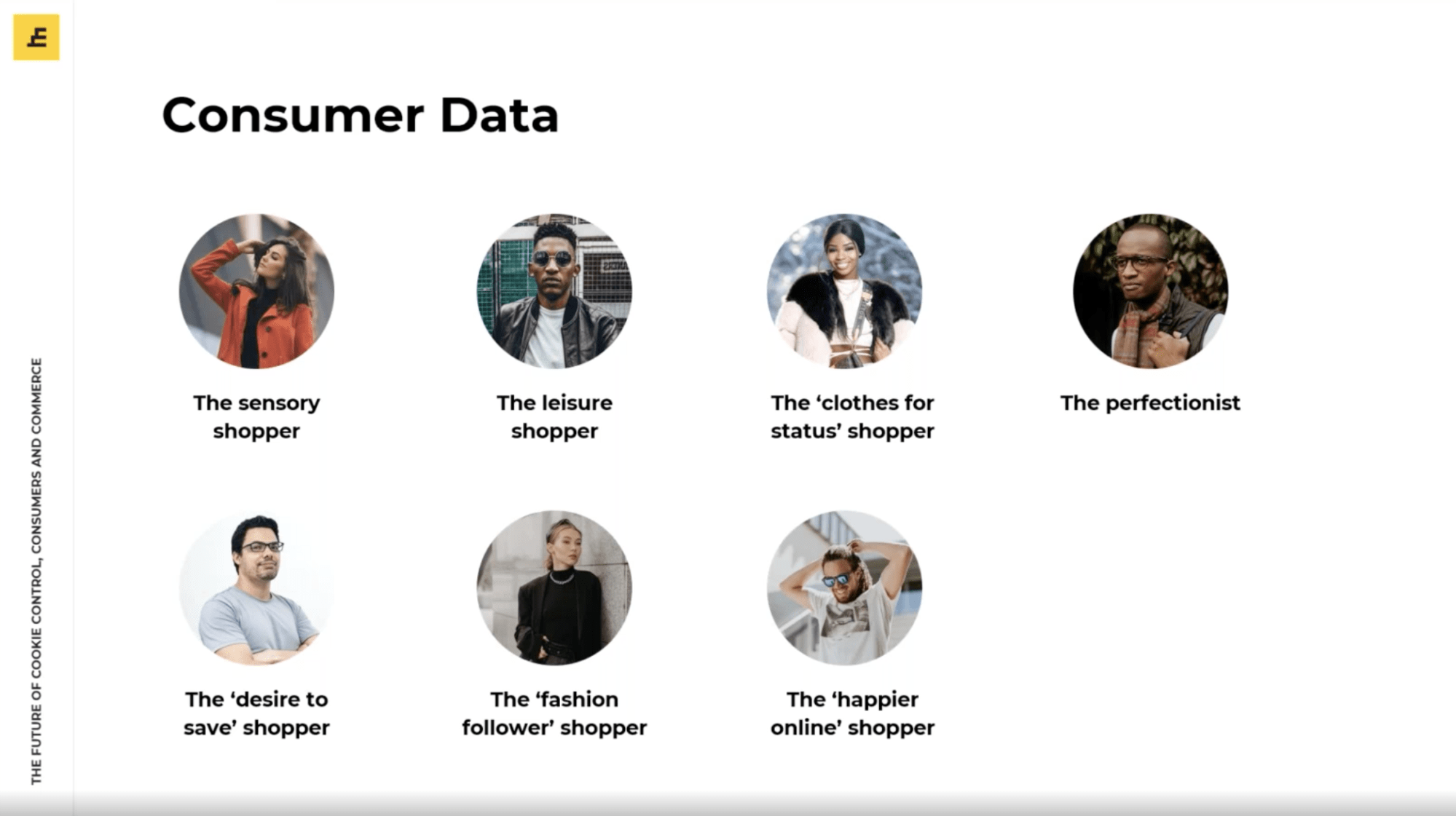 People who fall in each shopper type present businesses with unique challenges for personalizing marketing communications to them because they all have different characteristics and traits from the other groups. These new online shoppers are often faced with paradox of choice issues that can leave them frustrated with browsing or shopping so it is important to be careful when tailoring marketing materials to them.
Specific recommendations for each shopper type can be found in our e-commerce guide. It goes even further in-depth about these shopper types and gives specific marketing campaigns that would be optimal for each type of customer. 
Customer privacy must now be considered at every turn
The consumer demand for increased data privacy and for more care to be taken their personal data is not going away in 2021.
The General Data Protection Regulation (GDPR) and California Consumer Privacy Act (CCPA) have been created to make data protection more consistent amongst businesses.
While these guidelines are great for consumers, they do present challenges to businesses that rely on ad revenue. The guidelines will directly affect how companies collect, store and even delete customer data.
A German study found that there was a 40 percent drop in average bid rate for publishers and a 15 percent decrease in average revenue rate after a Firefox anti-tracking update.
"We at Facebook think that it is really important for businesses to start planning for these changes today," said Emily Wilson, Product Growth Manager for Facebook. "We expect that these things to browsers and regulatory guidelines will disrupt basically all businesses that rely on ad revenue."
As anti-tracking protocols slowly become the norm, it's very possible that businesses will see a similar impact to what was seen in the study. This can be concerning for businesses without a plan to combat this. 
A new realm of possibilities: Facebook Conversions API
To solve the tracking challenge in a post-cookie world, Exponea has partnered with Facebook to ensure that anti-tracking protocols can be effectively navigated and ad revenue still flows.
The Facebook Conversions API (FB CAPI) integration offers the ability to send important events, such as purchases or leads, to Facebook, which allows for better optimization of Facebook Ads campaigns.
Privacy regulations and guidelines have clamped down on how businesses can legally use or acquire customer data. The FB CAPI integration offers more control of what is being sent to Facebook and allows events to be sent to Facebook Ads' platform directly without having to rely on browser pixel tracking.
Exponea leads the way with personalization and privacy
Our Customer Data and Experience Platform is a world-class tool that unifies data from all customer touchpoints to give businesses the insights and action opportunities they need to execute personalized campaigns that deliver real results.
The CDXP was developed with privacy and security in mind. If you're interested in learning more about data privacy and security, Exponea Academy's Privacy Fundamentals course is the deep dive you need to master the topic and become an expert. 
Another great tool for getting compliance right in 2021 is the Savvy Marketer's Checklist for GDPR & Compliance. Compiled by Exponea's experts, this checklist covers a wide variety of privacy topics but dives deeper into cookies and consent, data health and safety, and more. It is the perfect tool to generate discussion amongst your team members on how to handle complex privacy or security issues.
Want to learn more? Watch our short Exponea demo video to see how you can turn customer data into marketing magic.
What Should You Read Next? Author's Hand-Picked Recommendation:
Key E-Commerce Strategies for 2021
Stop scrambling for last-minute ideas and start putting a detailed, comprehensive plan into motion today.