You've decided a CDP is the right tool for your company. It's a good choice: the market has reached some level of maturity, and there are lots of vendors to choose from.
On the other hand…there are lots of vendors to choose from. And you want to make sure you choose the right CDP for your company. It's a tough decision, and getting it wrong can lead to disappointment, poor results, and the belief that CDPs are nothing more than hype.
But getting it right will create new possibilities at your company, a better experience for your customers, and improved cross-departmental collaboration.
Exponea, as G2Crowd's highest rated CDP, has a lot of experience with helping companies make their CDP implementation successful. So we gathered together some of our experts and picked their brains, all so you can have an easier time of choosing and implementing a CDP.
The article consists of 3 main parts:
Purchase Phase

– all about what to look for in a vendor, how to make the right choice, and what you should know before and during the CDP purchase process.

Post-purchase Phase

– choosing a CDP is only the beginning – how do you make sure that the platform you've chosen will be a success at your company? We have some strategies to help.

Holy Grail Framework – Peter Jakus explains the "holy grail" in video form: the combination of mindset, skills, and organization necessary to make a CDP a runaway success in an organization.
Author's note
This article is intended for those who have already decided that a CDP is the right choice for their company. If you're not sure about whether you need a CDP, or if you'd like to know more about CDPs in general, then take a look at our Definitive Guide to Customer Data Platforms. We've collected and compiled all the best info on CDPs to help you make an informed choice for your business.
Before we get started, let's introduce our expert panel. It's a cross-departmental group of Exponeans with lots of experience in making CDP projects successful. …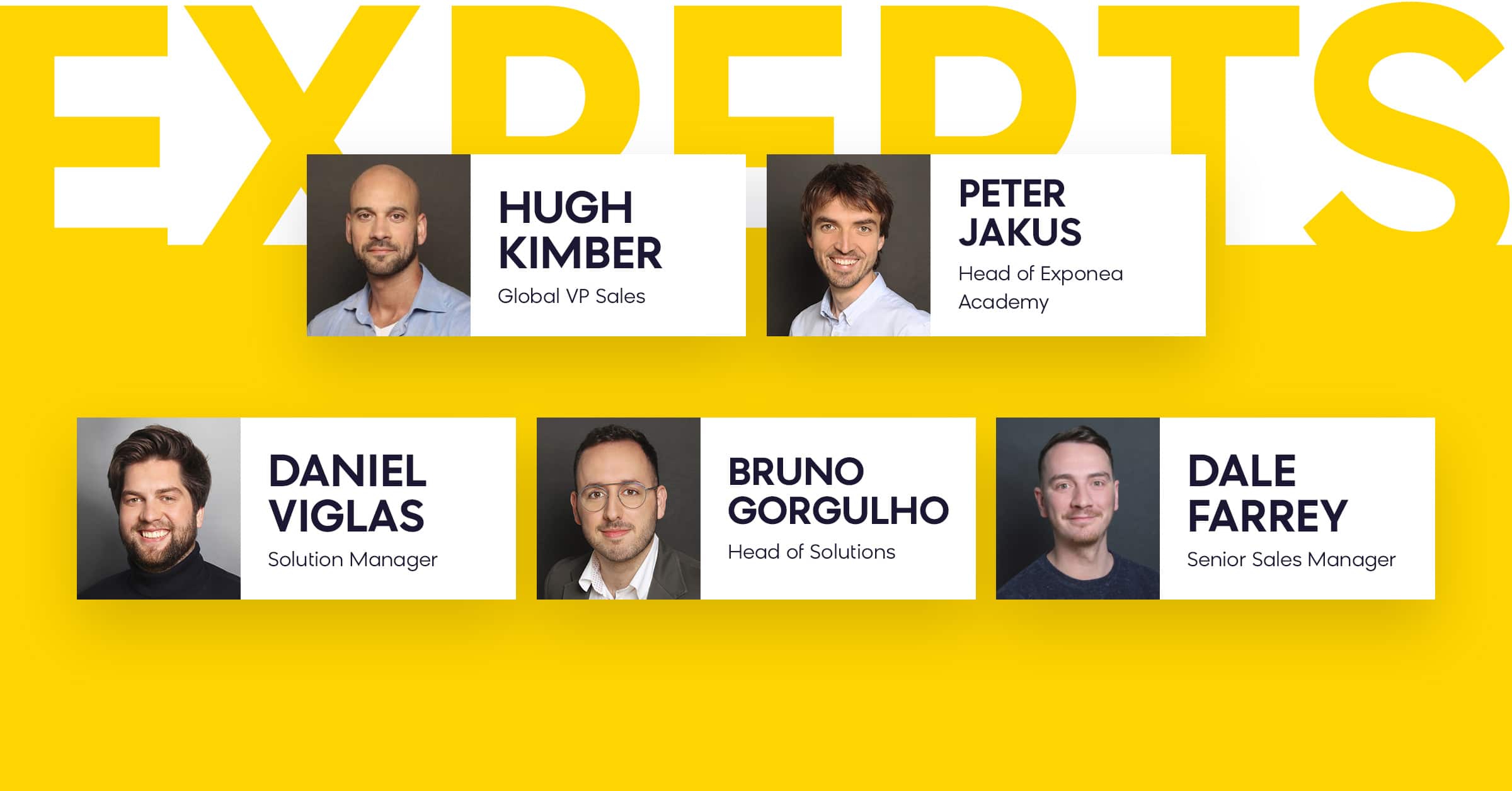 Hugh Kimber – Global VP Sales
Hugh leads Exponea's global sales team, and has over 18 years of experience in the digital marketing industry. He understands what a company needs to make new technologies a success.  
Peter Jakus – Head of Exponea Academy
Peter is the leader of Exponea Academy, and helps Exponea users understand how to make the most of the platform. Peter is a recognized speaker in the fields of web analytics and e-commerce, and a co-organizer of MeasureCamp Bratislava.
Daniel Viglas – Solution Manager
Daniel works with Exponea clients to help them understand how to make the most of the platform. He identifies where Exponea can provide value and creates solutions that bring results fast.
Bruno Gorgulho – Head of Solutions
As the Head of Solutions at Exponea, Bruno leads a team that helps bridge the gap between the initial project scoping process and the implementation process. His experience allows him to speak with confidence about what makes a project work.
Dale Farrey – Senior Sales Manager
Dale uses his years of experience in SaaS sales to ensure that companies get a valuable relationship with Exponea. He understands what it takes to have a successful implementation, and he's sharing that knowledge with us here.
Navigating the Purchase Phase: From Groundwork to Choosing a Vendor
Question 1:
The first step in the process will probably seem like the most important one: choosing the right vendor. In fact, all stages of the process are crucial to making the project a success. But you have to start by choosing a vendor. So what should you look for?
We first asked our panel about their first steps after deciding to go for a CDP. Check out their answers below.
How would you proceed if you were the person (CEO, CMO, etc.) responsible for getting a new CDP?
Dale Farrey
|
Senior Sales Manager
I'd first of all speak to my team to provide insights as to why they believe they need a CDP.  I'd then turn those insights into a brief with 5-10 key deliverables for the CDP, which will form the basis of the review criteria I'd use during the selection process.
Bruno Gorgulho
|
Head of Solutions
I would first validate the key value proposition of a CDP and make sure it aligns with the business problem I'm solving. If I truly require a system that can centralize customer data for a B2C business, provide analytics-driven insights, and then send that intelligence to other systems to trigger campaigns, then I need a CDP.



Then I would map existing internal capabilities - which systems I have and why I have them. Then I could see which systems I could eliminate entirely, which could be replaced, and which are critical for my business. Of course some teams will be so closely tied to certain systems that they will always say those systems are necessary...so I would have to build a system analysis independent of my existing teams, since new technology is likely to disrupt the way the teams are organized.



Once the business need, teams and systems have been mapped, I could start talking to vendors, who could open my mind and help shape requirements.
Takeaway:
Be extremely clear about the business problems you want to solve with a CDP
Understand that new technology can mean a paradigm shift
Map internal capabilities (people and systems) – understand what you should eliminate, what you can keep, and what you can replace
Understand your needs before you start looking at vendors.
Question 2:
After you've narrowed down exactly how you plan to use a CDP, you're ready to start looking at vendors. With an ever-growing number of vendors, you've got a big task ahead of you. So how do you narrow down your choices and build a shortlist? We return to our panel for answers.
How would you evaluate different CDP vendors? What are some of the indicators that tell you a vendor is right for you?
Bruno Gorgulho
|
Head of Solutions
I'd want an answer for all of the following:


- Is the platform real-time? For both reading data and executing campaigns?

- Can it handle data from all the sources I'll be using? Be sure you know those sources before you start your vendor search, so you can get informed answers from vendors.

- Can it merge customer profiles in a dynamic way?

- Does it integrate with the systems I use in a simple and reliable way, and is the data it stores easily extractable?

- Does it have capabilities like customer segmentation, AI, and native campaign execution? Or will I need another provider for those?


Hugh Kimber
|
Global VP Sales
I'd want to know about their customer base — do they work with companies like mine, and do they provide them value? What kind of experience do they have? I'd want to see evidence of businesses growing thanks to their technology (and not just 10% increase in conversions, but how have they helped a business over a period of 12+ months).



What's the cost of change: how easy is the implementation, and what's the time-to-value? Can they support a company of my size? Will it make my company more efficient?

Daniel Viglas
|
Solution Manager
I need to know if the company can create a single customer view. Then I need to look at my short- and long-term goals, and compare them to what the vendor offers. It would depend on what's most relevant for me. For instance, these are the areas you might consider when thinking about CDP relevancy:


- Security, Stability & Scalability

- Integrability (in & out)

- Insights and intelligence (including AI)

- Data-based campaign orchestration


Takeaway:
Make sure the vendors you're looking at meet all the requirements you set out before.
Narrow down your list of vendors to ones that have proven track records and are familiar with your industry and business.
Question 3:
Customer data platforms are still relatively new, and it seems like the definition of a CDP is constantly changing. This leads to lots of misunderstandings about CDPs and just what they can do. 
We asked our panel to go over some of these misunderstandings, so that you can be more prepared during your selection process.
What were the most common misunderstandings (regarding CDPs) you've experienced during the sales process?
Dale Farrey
|
Senior Sales Manager
So within the early stages of the sales process, the CDP is commonly brushed off as having the same functionality as a marketing automation platform / marketing cloud, whereas it's actually much more. The customer is typically fully educated by the end of the second meeting.
Bruno Gorgulho
|
Head of Solutions
The most common mistake is when people expect the CDP to provide some of its own data (which is usually the scope of a DMP or similar platforms – a CDP works with a company's data). Also, some companies expect the CDP to be able to resolve customer identity, but their existing processes to contact the customer are completely unstructured - remember that the CDP will only read the real-life events between your company and your customer.
Hugh Kimber
|
Global VP Sales
Is it the same as a DMP? What's the difference between a CDP and a CRM? Why are there 135 CDPs on G2Crowd, they all say the same thing, slightly differently - it's confusing to know the unique value proposition that a specific CDP offers.
Takeaway:
Know beforehand what a CDP can do and where it shines. But don't expect a DMP.
Author's Hand-Picked Recommendation:
CDP vs DMP vs CRM: Which one is best for your business?
In this one‑page comparison guide, you'll get the pocket‑sized knowhow to summarize, differentiate, help identify the data platform that's right for you.
Question 4:
Next, we asked for some general tips for CDP seekers.
What would your advice be to anyone in the process of purchasing a new CDP?
Daniel Viglas
|
Solution Manager
Think about what you want to achieve with a CDP, short-term and long-term. Maybe in the short-term I want to improve my emailing with behavioral data, and that may give me an answer about which CDP can satisfy that. At the same time, maybe my long-term play is something else, and that narrows down my options even more.
Dale Farrey
|
Senior Sales Manager
Don't just look at how the CDP would solve today's business problems, chose one that will solve tomorrow's.
Hugh Kimber
|
Global VP Sales
"Without knowledge, action is useless. Knowledge without action is equally pointless…", -Abu Bakr.

Make sure the CDP you are choosing is future-proofed. A single customer view is an immediate requirement, but you need a CDP that can act on the data or integrate with existing suppliers you wish to keep.
Takeaway: 
You need a future-proof solution. Implementing a CDP is a big endeavor, so be sure to consider your long-term goals.
Weighing your short- and long-term goals will help you narrow down the list of potential vendors.
Question 5:
Is there something else that you think could help companies choose the right CDP?
Daniel Viglas
|
Solution Manager
Being able to answer how a CDP will benefit my company from these perspectives:


- use-cases (what can I do practically?)

- time (will it improve efficiency?)

- security / clarity (will I avoid any risk?)

- strategy (will it enable future goals?)
Dale Farrey
|
Senior Sales Manager
Take into account the history of the provider. Some companies positioning themselves as a CDP are and always will be built on a flat file database because 95% of their customers use them for email only... That's because they were built that way historically. Exponea is competitive because of its young age: we were built in the era of the CDP SCV (Single Customer View).
Hugh Kimber
|
Global VP Sales
Clearer differences between CDPs. Some have built in data cleansing, some push "AI everything!", some push execution. A classification of different types of CDP and what they are good for, as they all sound the same with different primary focuses. Who is a 'jack of all trades, master of none' and who is specialist and why?
Takeaway:
Most CDPs on the market were originally something else. Understanding their history can help you understand whether they can help you achieve your goals.
Vendor History Example: Exponea
As Dale said, understanding the history of a vendor can give you a good deal of information about the strengths and weaknesses of a CDP provider. As an example, some vendors were previously email service providers (ESPs), and are trying to pass themselves off as a CDP. But they might not have all the capabilities of a true CDP.
Before Exponea existed in its current form, it was an analytics platform called 7Segments. It was built to help marketers understand their audience by using granular segmentations. This was managed by building what we'd call a single customer view: detailed profiles of each and every customer.
When 7Segments became Exponea, the idea of a customer data platform was just in its infancy. But Exponea's core was exactly that: a customer data platform. Exponea was created as a tool to help e-commerce shops deliver better customer experiences, so its capabilities surpassed those of a standard CDP. It was also able to orchestrate and execute experiences across all the touchpoints of a customer journey.
That's why Exponea isn't just a CDP – it's a customer data and experience platform: a CDXP.
Post-Purchase Phase: Making a CDP Project a Success
The post-purchase phase is arguably the most important part of making a CDP a useful addition to your company. While every company is different, most successful CDP implementations follow a similar pattern. We spoke with two more Exponea experts to find out what that pattern looks like.
First, let's introduce the experts.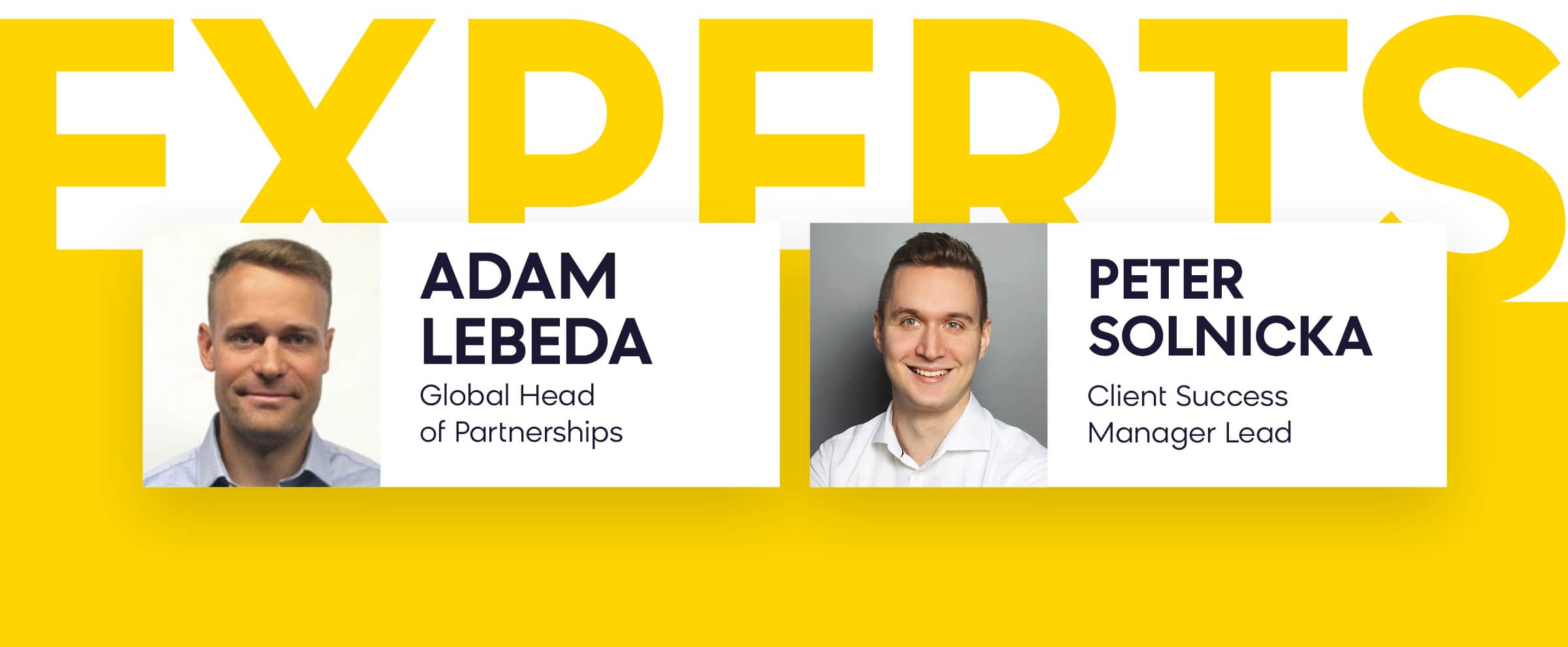 Adam Lebeda – Global Head of Partnerships
Adam runs the Exponea partner program, where he helps find valuable opportunities for businesses looking for an advanced marketing platform. Previously, Adam was the Senior Manager of Digital Services at T-Mobile Czech Republic, where he successfully implemented Exponea.
Peter Solnicka – Client Success Manager Lead
Peter leads a team of Client Success Managers, where he ensures that companies successfully implement Exponea. He has had experience across a number of projects in different industries, and can piece together the common narrative underlying them all.
Adam Lebeda: Making Exponea a Success at T-Mobile
According to Adam, there were three key points that led to a successful implementation of a customer data platform:
Starting small
Creating a habit
Using a tool people love to use
Let's go a little deeper.
Starting small
Large, complex organizations (like telco providers) rely on lots of established tools and processes to keep the organization running. It's unrealistic to think that you can buy a platform and immediately change all the processes of the business, especially if there are lots of stakeholders involved. 
Massive changes require lots of resources as well as buy-in across departments. A much more effective approach is to start small, with quick time-to-value use cases.
This proves the value of the tool to the team members that work with it.
Creating a habit
These team members then become internal advocates for the new platform. Their enthusiasm quickly spreads, and helps to create a habit out of the new CDP. And once the habit becomes a platform, it's much easier to increase adoption across the rest of the organization.
Using a tool people love to use
Of course, all of this requires that the CDP is a tool that marketers actually enjoy using. At T-Mobile, Exponea gave marketers the ability to execute their own ideas, without needing to overly rely on the assistance of more technical employees. This made Exponea one of their favorite tools, making its success at T-Mobile possible.
Peter Solnicka: Post-Purchase CDP Success
Peter's experience implementing CDPs and multiple companies has given him lots of insight into what leads to the success of a project. Let's walk through what he believes are the most important things to get right, starting from the beginning of the cooperation.
First steps. 
It's extremely important to know who the key stakeholders of the project will be, both internally and on the side of the vendor. Implementing a CDP requires buy-in from multiple roles, including IT people, data analysts, CRM owners, digital and campaign teams, project managers, and more.
All these internal stakeholders need to have a counterpart on the vendor's side, and these relationships need to be understood early on. For the project to succeed, alignment across all of these teams is a requirement.
Mindset and attitude. 
Implementing a CDP will require changes. Processes and day-to-day work will look different for some team members. What's important here is mindset: don't expect to recreate exactly what you were doing before (even though that's possible). Instead, look for new capabilities that weren't possible with your previous solution. This might require a cultural shift in your organization.
A good vendor. 
You know you've chosen a good vendor when they are more of a partner: they are focused on reaching mutually set goals and delivering value.
A good vendor will not blindly agree to everything you propose and request. Instead, they should be willing to challenge you in a beneficial way, out of a place of respect and desire for your growth.
Finally, be sure that your vendor is future proof. Check their product roadmap: will they accommodate your needs in the future? You don't want to get locked in to a contract with an outdated solution.
If you can establish a good groundwork, have the right mindset, and work with a good vendor, then your odds of success are significantly higher.
The Holy Grail to CDP Success
We interviewed many internal experts while creating this article, and we've shared their knowledge here. But we wanted to share one interview with you in full, as a video. 
In this video, Peter Jakus, Head of Exponea Academy, describes the Holy Grail of CDP success. It was intended to be used only internally, but we think the content is too valuable to keep to ourselves.
Give it a watch and discover all the ingredients necessary to make your CDP project a success. And if you find it helpful, don't forget to share it with anyone who's thinking about a CDP.
Closing Remarks
Choosing and implementing a CDP can be a daunting process. But there are things you can do to make the process smoother and make success much more likely. Interviews with our internal experts all pointed to several similar steps:
Be clear about what you expect from a CDP (even before you look at vendors)
Think beyond the short-term, and look for a future-proof solution
Understand your options and look into vendor history (do they actually have CDP capabilities?)
Success depends on the right mindset and attitude
Making a CDP project a success is no trivial task, but with the right preparation it's completely possible. Set yourself up correctly from the very beginning, and you can take advantage of all the capabilities a CDP can offer.
Why to Choose Exponea
Many companies claiming to be a CDP have been around for longer than the term has existed. They have jumped on the CDP bandwagon, without necessarily offering everything that a CDP should. 
Exponea, the customer data and experience platform (CDXP), has had a full-fledged CDP at its core since 2012. It goes beyond the capabilities of a CDP, adding AI-powered insights, a digital personalization and experimentation platform, and omni-channel campaign orchestration and execution. 
Companies like Missguided, Desigual, T-Mobile, Sofology, and more use Exponea to make the most of their data and foster win-win relationships with their customers. Check out the capabilities of our CDXP in this 3-minute video, and see how Exponea enables customer-centric growth.
What Should You Read Next? Author's Hand-Picked Recommendation:
CDP vs DMP vs CRM: Which one is best for your business?
In this one‑page comparison guide, you'll get the pocket‑sized knowhow to summarize, differentiate, help identify the data platform that's right for you.
meet the authors
Jordan Torpy
Technical CDXP Specialist
Jordan works closely with the content team and Exponea experts to create material that brings value to readers. With a background in teaching, training, and marketing, Jordan uses case studies, presentations, newsletters and more to illustrate what's possible in the martech world today.
Lukas Sitar
Senior Content Operations Manager
Lukas is the Senior Content Operations Manager contracted with Exponea, where he prepares B2B content strategies. Lukas has years of experience in online marketing fields such as analytics, inbound marketing, customer lifecycle marketing and customer experience. His passion is psychology and behavioural economics and he is currently developing his skills in these areas.