CCPA presents new challenges to businesses, but Exponea's CDXP is perfectly suited to handling them.
There has been a lot of press surrounding the roll-out of the new California Consumer Privacy Act (CCPA), which went into effect on January 1st, 2020. The law is good news for consumers, but it might leave businesses unsure about their compliance status.
In fact, 70% of businesses are expected to not be in compliance with the law, even when enforcement begins in July 2020.
This situation resembles the introduction of the General Data Protection Regulation (GDPR) in Europe. Companies who failed to take GDPR seriously have faced heavy fines and negative press. It is likely the same will happen with CCPA.
Exponea was the first SaaS business in the world to be GDPR-certified, and we are proud to help companies tackle GDPR challenges in a beneficial way for both them and their customers. 
We're now happy to be able to help companies work towards compliance with the CCPA. Let's take a look at how Exponea can help manage the challenges presented by CCPA.
We've also prepared this content in video form. Check out the video below, and if you find it helpful, be sure to share it!
CCPA Rights and Exponea Solutions
The CCPA grants California consumers a set of rights regarding their personal data and their privacy. We will look at these rights one by one, and see how Exponea can help address each of them. 
Right #1. Right to Notice
Companies must notify consumers what categories of personal information they are collecting, as well as the reason why they are collecting that information. If data will be used for a new purpose, customers must be notified.
Most businesses inform customers about their data collection policies with a banner or a web layer.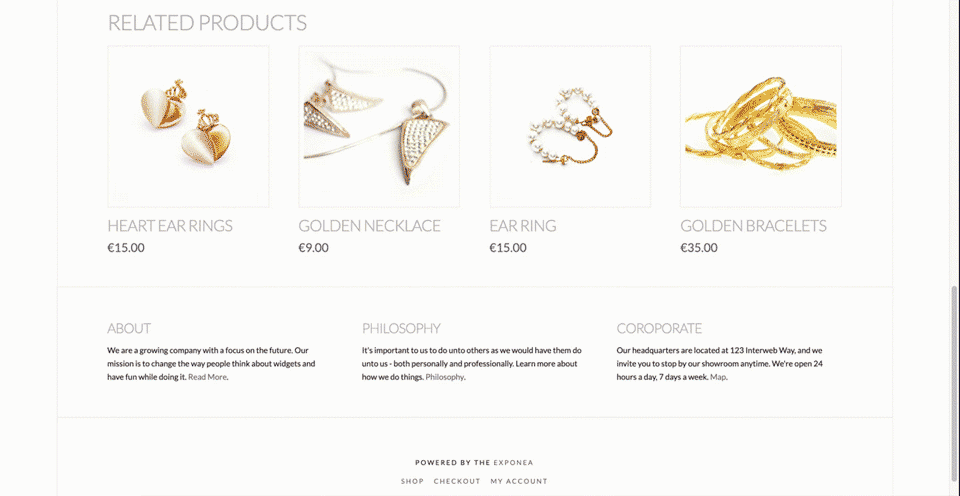 Exponea enables companies to design, test, and deploy web layers with our powerful Campaign tool. Companies can A/B test which variant of a web layer is preferred by their customers and automatically select the winning variant.
Exponea's Data Manager also makes it easy to see what type of information is being collected, and makes good data hygiene much simpler.
Right #2. Right to Access
At the request of a customer, companies are required to disclose:
Categories of personal information that have been collected

Sources from where personal information has been collected

The business or commercial purpose behind the data collected

Third parties with whom their data has been shared

Types of personal information the business has collected
Companies must also offer two or more possible ways for customers to request access to this information.
Exponea stores information about customers in a Single Customer View: a 360-degree view of each and every one of your customers.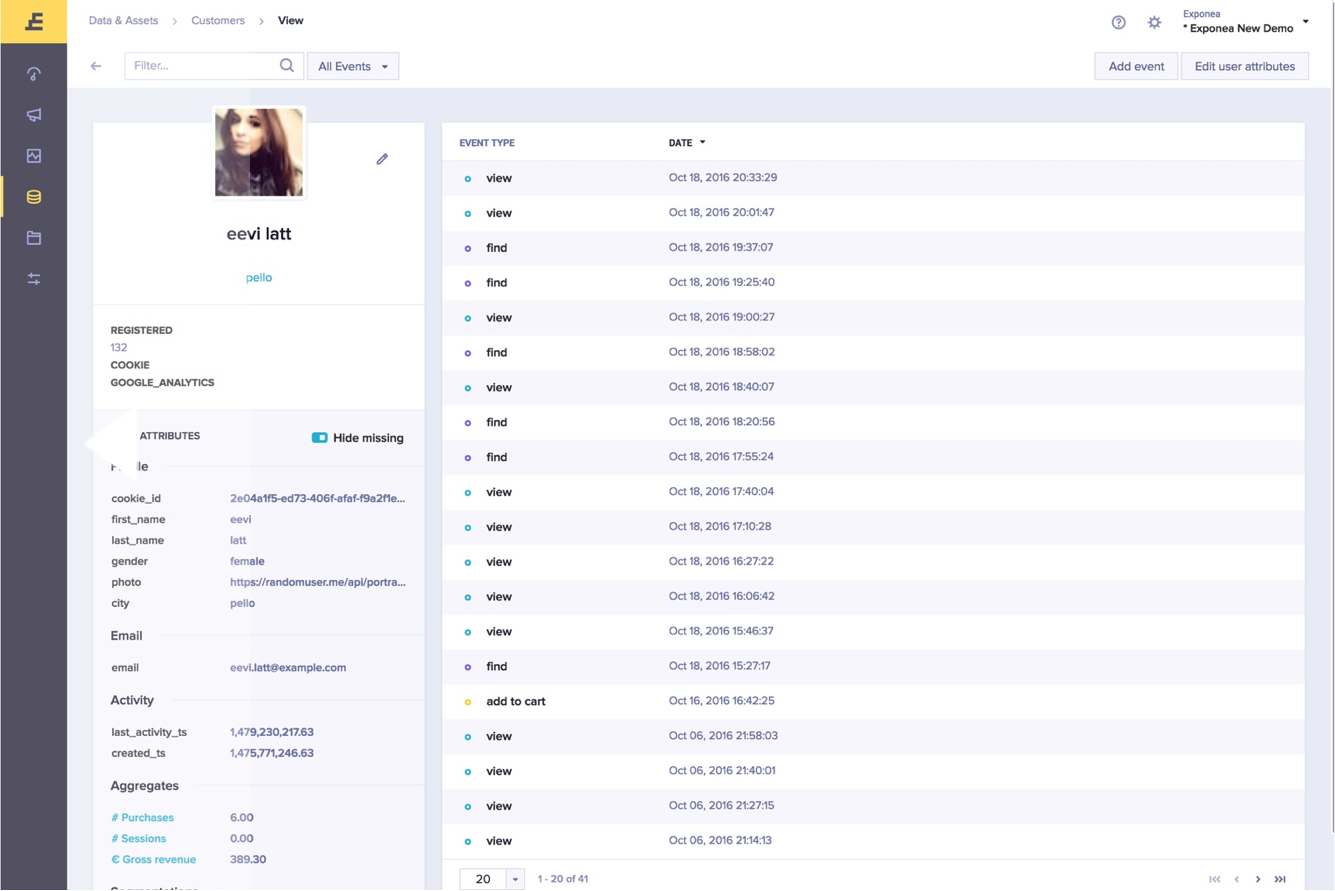 This view makes it easy to see all the data a company has on a customer and where that data came from. This data can be downloaded with just a click, which makes compliance with the Right to Access easy.
Right #3. Right to Opt-Out
This right grants consumers more options about their data. Specifically, consumers have the right to opt-out of the sale of their personal data. Companies may not sell personal data unless a customer has received an explicit notice that their data will be sold, and they were presented with the opportunity to opt out.
Exponea has a rich consent management system that enables companies to guarantee customers' consent choices are respected and followed. Each and every customer's consent is tracked individually and updated in real-time.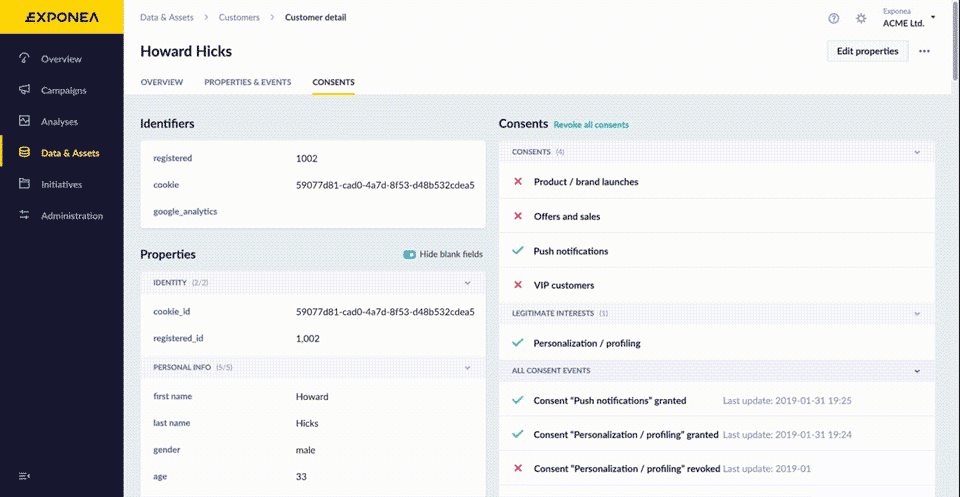 Collecting customer consent is easy, thanks to our previously mentioned web layers.
Right #4. Right to Request Deletion
Under the CCPA, consumers have the right to request the deletion of their personal data from a business. This is similar to the Right to Erasure provided by the GDPR.
Exponea's Single Customer View allows you to anonymize a customer's profile with just one click (bulk anonymization of customers is also possible). This removes all personally identifiable information from their profile.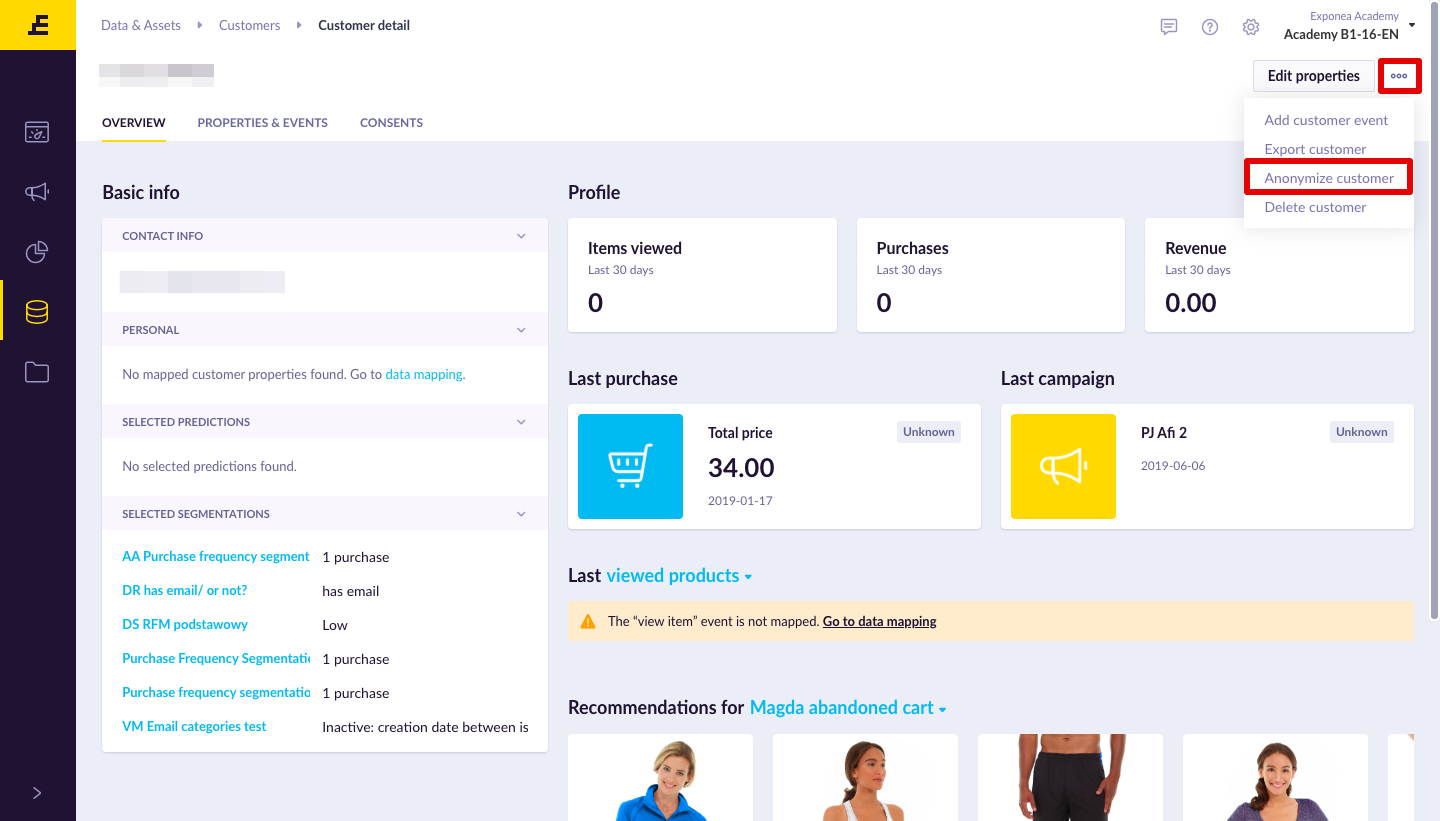 Customer profile deletion is also possible: this removes all history of a customer from Exponea. 
Right #5. Right to Equal Services and Prices
This right states that a customer who exercises the rights guaranteed to them under the CCPA must receive the same services and prices provided to a customer not exercising those rights. 
The responsibility not to discriminate sits with the business; Exponea, however, can provide visibility into a company's campaigns and practices to ensure that there is no discrimination occurring. 
Stay Ahead of CCPA Woes
Compliance with the CCPA doesn't have to mean problems for your business. It can mean redefining the relationship between your business and your customers in a mutually beneficial way. We'd love to show you how to turn the challenge of CCPA compliance into new opportunities for your business. If you're interested, you can sign up for one of our Exponea Academy courses.
If you think your business could benefit from Exponea's solutions, you can schedule a demo with us. We'll be happy to show you how our Customer Data and Experience Platform can help you deliver incredible customer experiences while reducing the risk of CCPA troubles.