Recommendation engines are significant contributors to your online store's ability to activate and retain customers. 56% of customers are more likely to return to a site that offers product recommendations, and 75% of digital natives, the generation of people who are born and raised around social media, expect personalized shopping experiences from e-commerce websites. This article explores the key use cases that demonstrated improvements in the customer's user experience and conversion rates and explains why personalized product recommendation are successful in these scenarios.
In order to have a clear understanding of the importance and utility of product recommendations, let's first look at the principles that it borrows from real-life interactions between sales representatives and customers.
Brick-and-mortar stores have a clear advantage when it comes to establishing a bond between the customer and the brand. A salesperson can learn about the customer's interests, intents, and cultural whereabouts from a simple greeting, such as "how are you?" or "how can I help you?", shaping the salesperson's suggestions towards the customer's needs.
Recommendation engines provide your online business with the opportunity to have such interactions with your customers throughout their shopping journey. First-time customers will feel better served if they're greeted with your hot sellers and most valued items on your landing pages, receive email newsletters with personalized deals, and have the accessories for their main purchase a mere mouse-click away during checkout.
What are Product Recommendation Engines?
Recommendation engines filter and sort your online store's product offers on the basis of a set of rules. This process uses the data about your products, such as the number of views, sales, or even reviews, to present the most popular and valued products without the customer's need to search for them. The presentation of these results can be as simple as the order of the products' appearance on the category page.
User-specific data, on the other hand, such as the customer's most viewed categories, products, and purchase history,  allow a recommendation engine to find the most relevant offers for your customers. The resulting recommendations are capable of fueling your personalized advertisements, email marketing campaigns, or special offers on the landing and category pages of your website.
Recommendation Use Cases for First-Time Customers
Landing Page Recommendations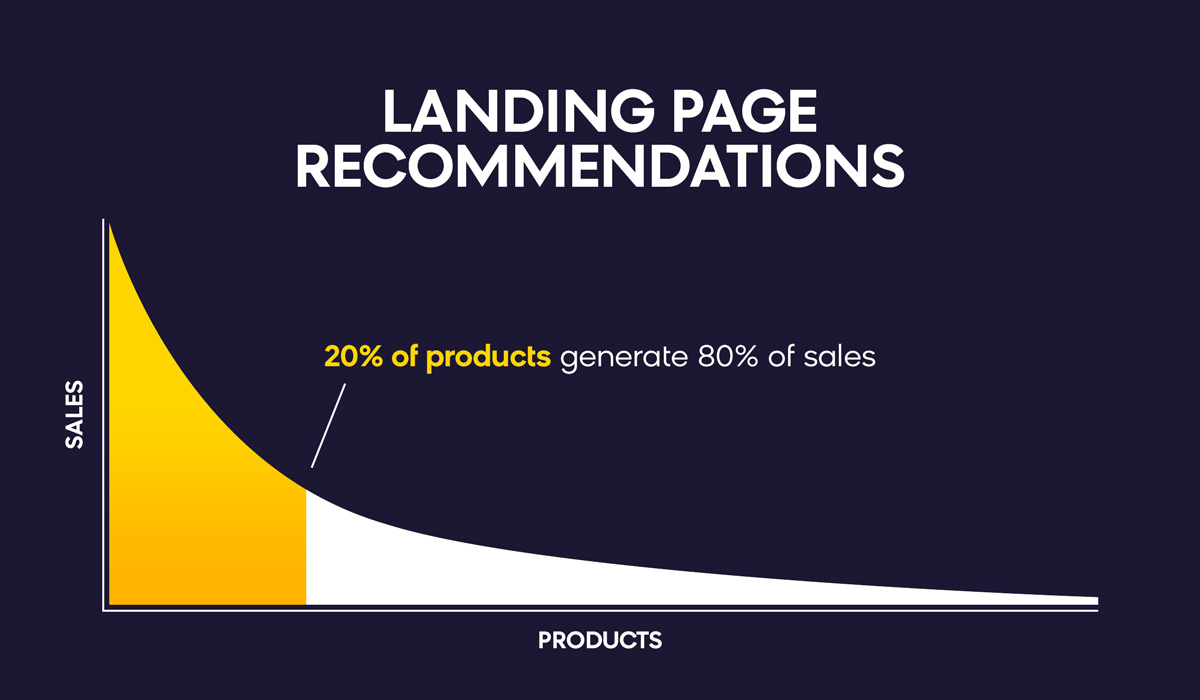 Customers enjoy shopping experiences that let them encounter inspiring and surprising offers without needing to delve into every category and product page and find them. A Recommendation Engine will help you with this experience in your online store by continuously identifying the most valued products and presenting them on your landing pages.
The rationale behind this method of driving conversions is Pareto's 80/20 rule of Marketing, that is to say, 20% of your products are most likely driving 80% of your sales.
A/B Testing various recommendation models, each using a different combination and the weighing of input parameters, such as the number of views, purchases, time spent on page, clicks, add-to-cart events, and so on, will help you identify which model will drive sales most effectively.
Rating-based Product Recommendations
Reviews are highly valuable assets for e-commerce. Not only do positive reviews increase a product's desirability, but well-written reviews are rich, anecdotal accounts that inform your customers about a product's usability and quality. Using reviews as a basis for product recommendations will make the product come alive in the mind of your customer, answering key questions they might have about the usage of the product.  
Researchers at Boston University conducted a study that examined how reviews impact purchase decisions. They found that reviews that give a detailed account of the product's quality and usage contribute significantly to higher sales and lower returns.
Review-based recommendations are particularly useful when customers are narrowing down their list of potential purchases towards a final purchase decision. They find, therefore, their best use in Abandoned Cart Emails, "You might also like these" sections on your product pages, and accessory recommendations during checkout.

Cross-Sell Banners
Cross-selling is the practice of selling additional items that are complementary to a customer's purchase objectives. This practice does not require a salesperson who offers suggestions to a customer. Supermarkets cross-sell by grouping particular product categories together, such as socks and shoes.
Cross-sell banners leverage this sales opportunity by presenting relevant items during a customer's shopping journey that are based on the contents of their cart, brand interest, or last seen items.
The most successful cross-sell recommendation models make use of collaborative filtering. This method makes predictions about the interests of a customer by analyzing the preferences of the customer base and finding the preference patterns that are most similar to those of the targeted customer. These cross-sell banners yield an average increase in RPV of 67%.
Recommendation Use Cases for Returning Customers
Remarketing Recommendations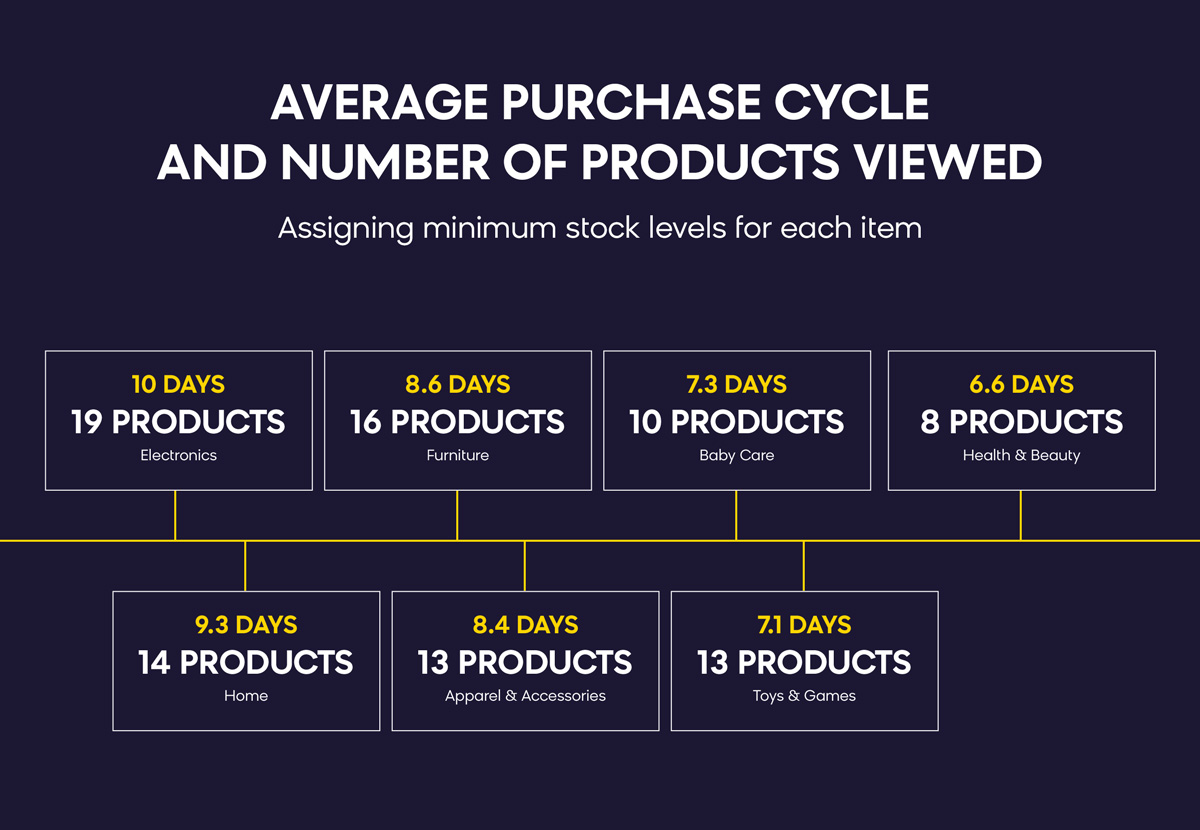 Source: Criteo Browsing & Buying Behaviour 2016 Report
Customers visit two or more online stores and evaluate anywhere between 8 and 19 items during their purchase consideration cycle. Remarketing is a technique for presenting banner advertisements that display your offers and recommendations throughout the customer's shopping journey. This method leverages these off-site interactions as opportunities to motivate shoppers to change their habits and consider your online store offers.
The type of recommendations entirely depend on the product category. High-value products, such as electronics, benefit from display advertisements that motivate customers to spend more of their consideration process on your website. These advertisements may present products that reflect an awareness of their search intent and makes it possible to make comparisons within a product range.
Categories with a low perceived value, such as food and groceries, would benefit from a different recommendation approach. Shoppers are more likely to use their shopping cart as a collection basket and check out once they're finished with their collection process.  Suitable display advertisements present a combination of cart items, product recommendations, and complementary products.
Personalized Email Marketing Campaign Recommendations
Personalized emails convey to your customers that they're understood and valued, and result in significant increases in click-through rates. Emails with personalized subject lines are 26% more likely to be opened. Moreover, emails with personalized recommendations improve click-through rates by 25-35%.
There are several suitable recommendation models for emailing. Whether you want to use the customer's profile data, such as most frequented categories, purchase history, or interests, or product data, such as popularity and reviews, entirely depend on the type of email marketing campaigns.
Is your email campaign news-centered, such as the introduction of a new fashion season, the latest product releases from a brand, or a Black Friday sale? In this case, your recommendation strategy may well benefit from reviews, user stories, and the popularity of your offers. Such recommendations will offer pleasurable and informative eye-openers that will keep your customers engaged with your brand.
On the other hand, weekly deals and seasonal offers are ideally suited for personalized recommendations. A customer's purchase history and interests are a good source for weekly deal recommendations, while their previous season's activities will help you align your offers with their seasonal interests.
Cart and Checkout Recommendations
Recommending Accessories
Customers are often highly focused on their main purchase. Recommending accessories during the checkout process, such as batteries for a flashlight, or memory cards for a camera will help your customers make informed decisions about their purchase, while at the same time increasing your Average Order Value (AOV).
These recommendation models require careful annotations of your product data, that is to say, which item is a compatible accessory to which product?
Providing the recommendation engine the necessary data for its successful operation can be a laborious task. Having reviews and links to commonly bought accessories on the product pages can serve as a valuable alternative to maintaining detail records about your products.
Frequently Bought Together
Package deals help customers cut their shopping time and inform them about the items they might need along their main purchase. It's a successful form of cross-selling that takes place during the checkout process.
Successful recommendation models for this use case show alternatives to what's currently in the customer's shopping cart. These alternatives can be varied colors, styles, and product combinations. Presenting reviews and user stories about the contents of these package deals will make these offers a compelling and confident option for your customer.
These recommendations help your business's bottom line by offering alternatives that increase your Average Order Value and motivate your customers to choose package deals that offer you a higher gross margin.
Key Learnings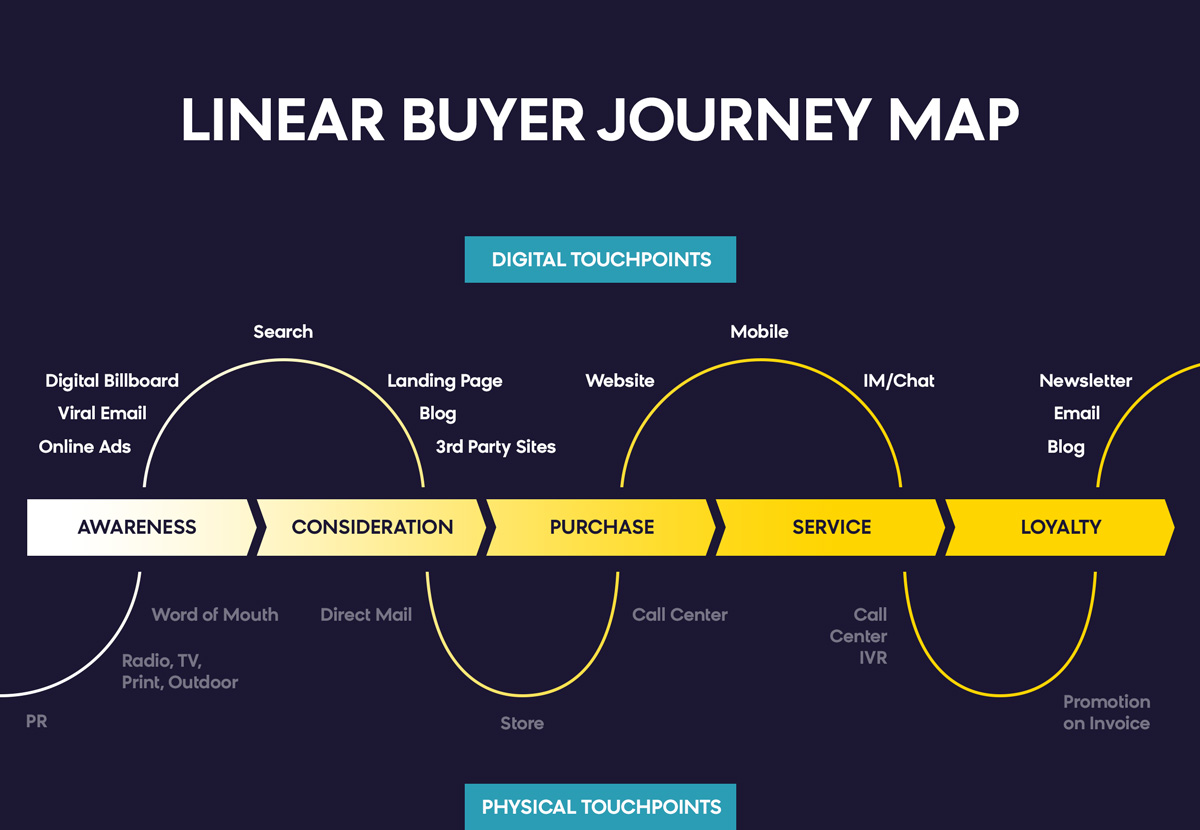 Source: Powerpost
Personalized product recommendations have a place in every stage of the e-commerce conversion funnel. However, using them extensively requires careful consideration of the message that it conveys to your customer. Over-personalization might give your customers the feeling that they ended up in an echo-chamber, or worse, that they're being stalked.
On the other hand, basing your recommendations on product popularity might leave the customer feeling detached from your business. Weighing the balance between these recommendation types will be helpful in telling your story while keeping your customers engaged with your brand.
Want more? We've got you covered
What Should You Read Next? Author's Hand-Picked Recommendation:
Key E‑Commerce Strategies for 2019
Forget Ad Hoc Campaigns. Start the new year with a clear, proven e‑commerce strategy.