As multiple countries have passed the peak of growth in coronavirus cases, companies are looking for ways to adapt to the new normal. To help out, we've prepared a look at how customer behavior is changing, what companies will need to do to succeed, and an assessment to help you understand your readiness for the new normal.
Executive summary
Customer behavior is changing dramatically during the lockdowns (see expert opinions by industry below) and businesses need to act now to adapt before habits solidify.
Companies need to improve their maturity in two areas. First, continuously updating the understanding of the changes in the lives and needs of their customers. Second, building the digital capability to execute on that understanding.
Our New Normal assessment will gauge your standing in these two areas and give you the next steps to start improving your odds immediately.
A fashion e-commerce client of ours has already taken the first steps. They've quickly run through customer behavior data and reallocated their marketing budget based on surprising insights (see below).

Looking past the peak
The coronavirus outbreak took the world by storm and shook many businesses to their core. The pandemic will undoubtedly continue to interrupt the daily rhythms of life for the next several months.
Nevertheless, there are some promising signs on the horizon. In many of the hardest-hit countries, the data shows we have passed the peak of active cases.
As we have (hopefully) passed the peak, multiple countries are starting to reopen their economies in the coming days and weeks (see below). In fact, some smaller countries in the EU have already opened most shops, and the state of Georgia in the US (where I'm writing this article from) is reopening most businesses this weekend (April 25th).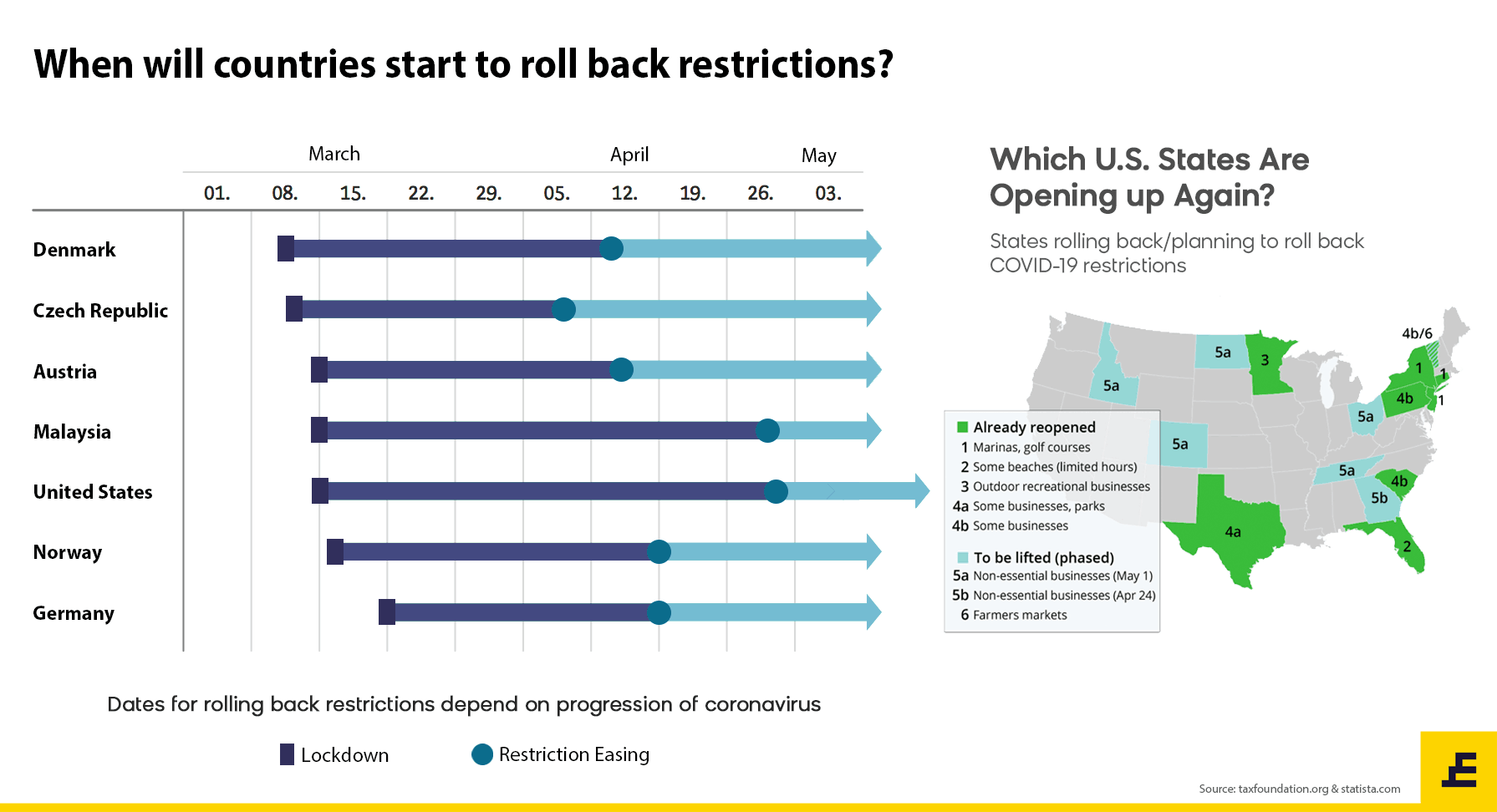 However, we should definitely not expect to return to a familiar world. Instead, we need to anticipate a new normal. Industries, consumers, and companies will all be changed – and preparation can set you up for success in the uncertain times to come.
Exponea has been helping brands create game-changing online experiences for their consumers since our inception. We've distilled our experience into a framework that we will share with you here. It consists of an assessment and an action plan that will help you navigate both the current period and the time after. We call these our New Normal Fundamentals.
Before introducing the framework, we need to understand the ways in which the world will change. We can start by looking at some anticipated changes in consumer behavior across industries.
How is customer behavior changing per industry?
It takes on average 20-30 days to form a new habit and 66 days to make it a permanent change. Due to the drawn-out nature of the coronavirus pandemic, we can expect a permanent shift in many of the buying habits of consumers. Some changes in purchasing habits can already be seen, as shown in this chart from Slackline (the question is which of these changes will persist).
An exhaustive list of all the potential upcoming changes is untenable, but we can share some that are almost certain. We'll look in particular at some of the industries Exponea works with and understands: fashion, retail, banking, telco, grocery, and ecommerce.
Changes in the fashion industry
Consumers will be less willing to go to crowded shops to hunt for the clothes they want, and they will be far less likely to try on clothes that others have already worn. Some stores won't allow customers to try on clothes or even touch them, and will exclusively sell packaged clothing (as has been the case in many stores in Sweden). This will lead to an increase in online shopping, a new frontier for many shoppers.
Companies that can help customers visualize themselves in their clothes will have a definite advantage. Customers will be more willing to share their data in exchange for things like virtual changing rooms. An Accenture study from one year ago already showed nearly 60% of consumers would be willing to share data for some benefits – a number that's likely to rise as online shopping becomes even more prevalent.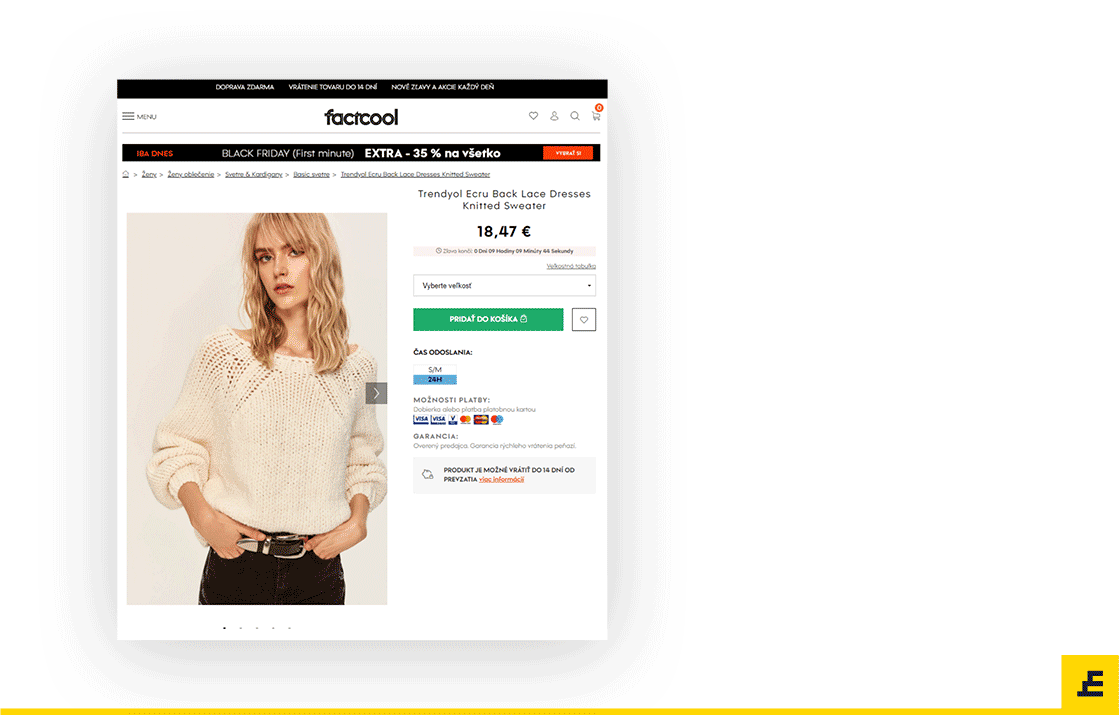 With an increasing number of employees working from home, it is likely that fashion will become more casual. We already see increase in the number of customers looking for casual clothing, leisure wear, and athletic wear. Dry-clean-only clothes are likely to become less popular as people become leery of giving their garments to strangers.
The biggest change will be a significant speeding up of people's transition to online. This trend was clear in the last few years, but fashion still hadn't caught up to other segments. Now there will be a jump in growth as people experience the magic of peaceful shopping from the comfort of their homes, a wider selection of products, and lower prices.
Changes in the retail banking industry
Experts expect increased demand for virtual banking and cashless transactions.  Consumers will be less willing to use ATMs or spend time in crowded bank branches, opting instead for online banking. Nearly no one will want to use an ATM terminal used by countless strangers or hand over their credit card to shop assistants with unknown hygiene practices. More time online will increase the efficacy of the website as a marketing channel.
Fully digital mortgages are likely to become commonplace. Mobile banking will become the norm, and consumers might even discover that they like it.
Even before the pandemic, most Americans used online or mobile banking. These numbers will further increase in the new normal.
Innovations like using biometry to open an account without ever coming to a physical branch (as offered by our client Tatra Banka) will become important competitive advantages.
The traditional banking industry is like a dinosaur: too big, too old, and headed for extinction. The coronavirus crisis only makes things worse.

But it's also an opportunity for innovative banks, thanks to falling regulatory barriers and shifting consumer mindsets. Older generations believed only physical branches were reliable and trustworthy, and they needed to solve all their issues at a branch.

I suspect that during this crisis, older generations will discover that digital and innovative products and services are in many cases more convenient, fast, and secure than brick and mortar branches.
Share of processes in banking affairs in the United States: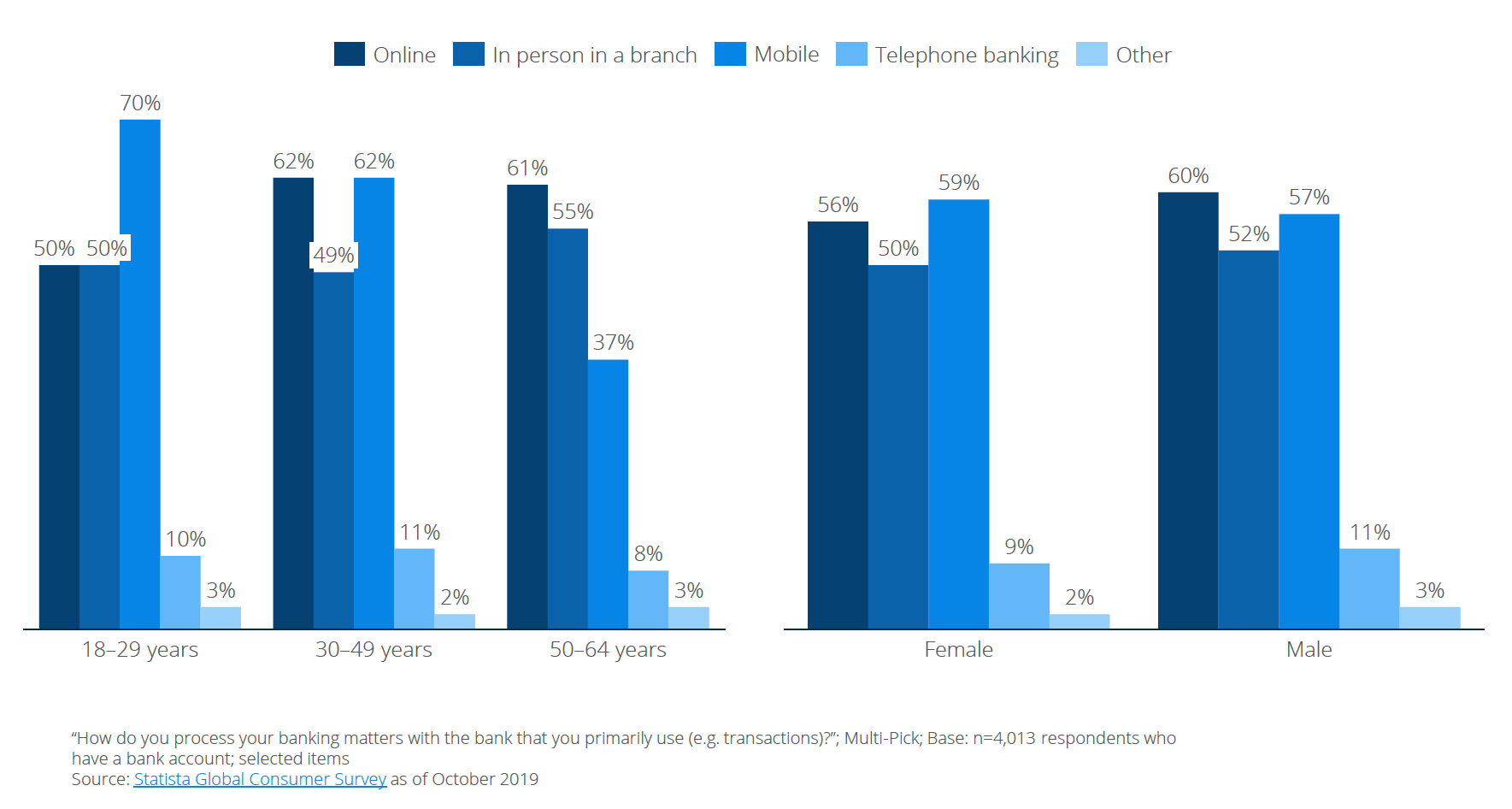 Changes in the telco industry
Similar to banking, fewer customers to be willing to go to a branch to take care of telco needs. After weeks in a lockdown situation, many will realize that it's possible to take care of many things they used to do in person over the internet. Customers will opt for online or in-app services. Virtual SIM will become the norm. Increased adoption of mobile apps and web-based services will make these options more viable as marketing channels for telco providers.
In general, there will be high demand for good, strong mobile connections. Experts expect lower churn from customers, allowing telcos to focus on upsells.
Change in monthly in-home data usage by device in the United States: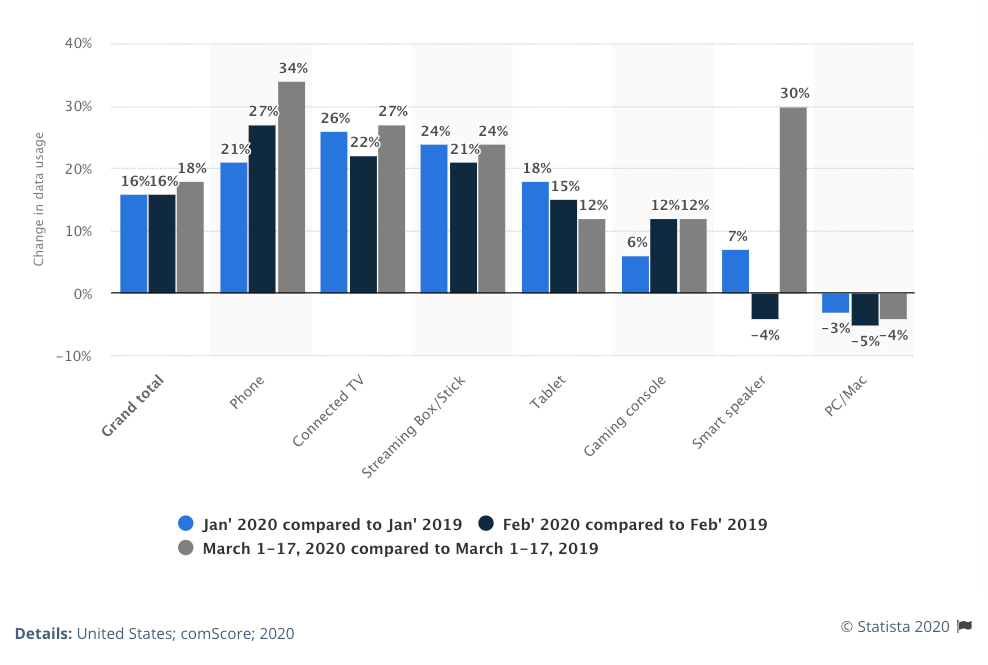 Changes in the grocery industry
During the crisis, a huge number of people were forced to try shopping for groceries online. But it's difficult to predict if this will become a long-term habit, mainly due to the poor customer experience many customers faced: unwanted substitutions, missing items, issues with delivery slots, and delays. This is an industry where the customer experience during the lockdown was far from ideal, and only the best companies have created new loyal customers.
Online grocery shopping behavior changes due to COVID-19 in the United States: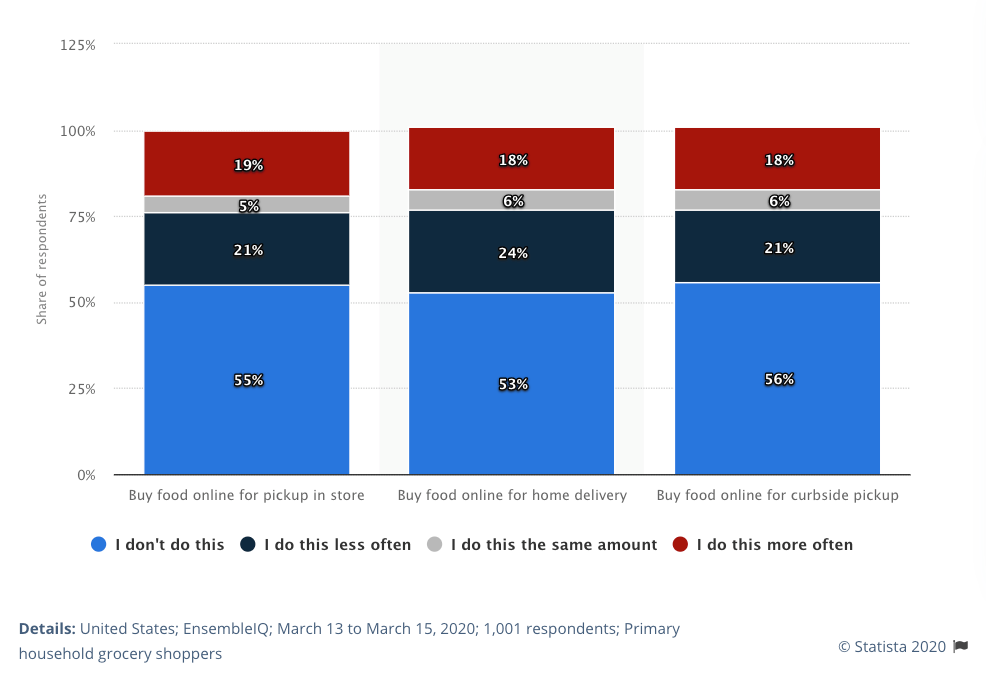 General changes for retail
A general decrease in footfall in stores will require companies to transition to online shopping to make up the difference. 
Those shoppers that do go to physical stores will expect contactless payment methods and established hygiene protocols. Even after governmental restrictions are lifted, many consumers will continue to be cautious about going to crowded stores. Around 80% of Americans plan to wait before resuming their normal activities after government shutdowns are lifted.
These changing consumer behaviors require a response from the companies that serve them. How should companies react, and how can they succeed in this new normal?
Share of consumers avoiding in-store shopping because of the coronavirus (COVID-19) in the United States, by age: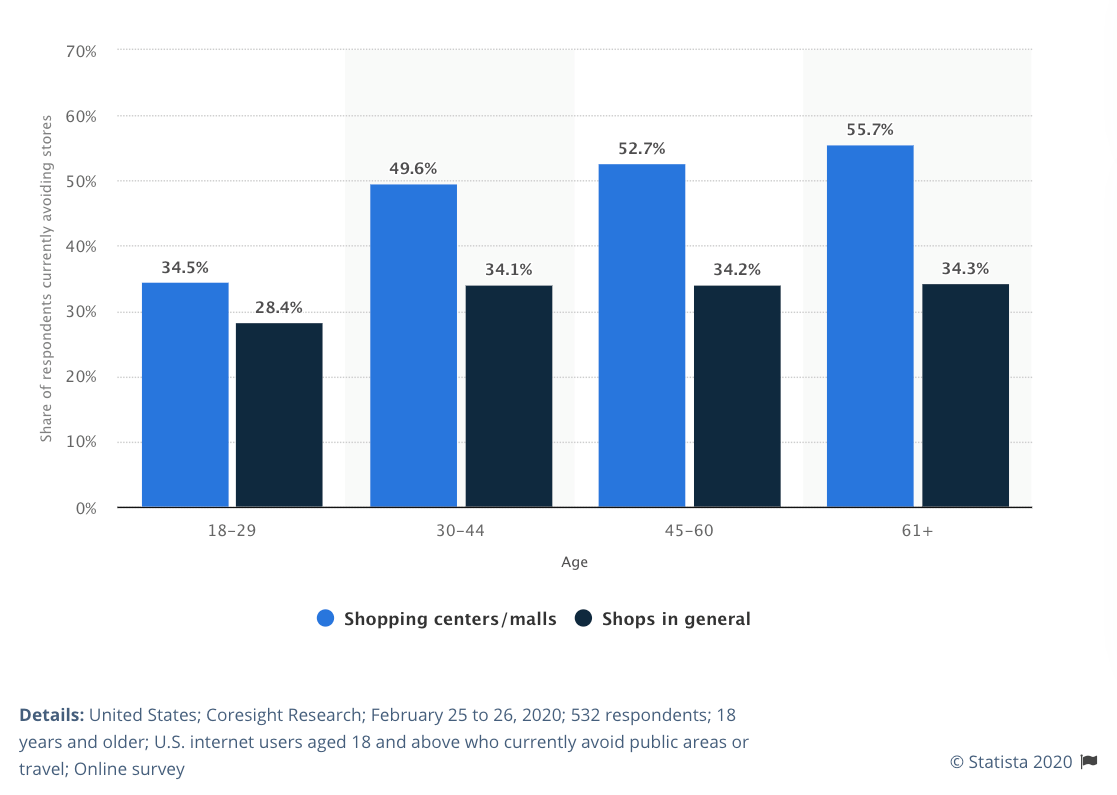 Loyalty is more important than ever
For the majority of companies, in the near term the new normal will involve a (perhaps abrupt) shift to online. For many, it's forced digital transformation.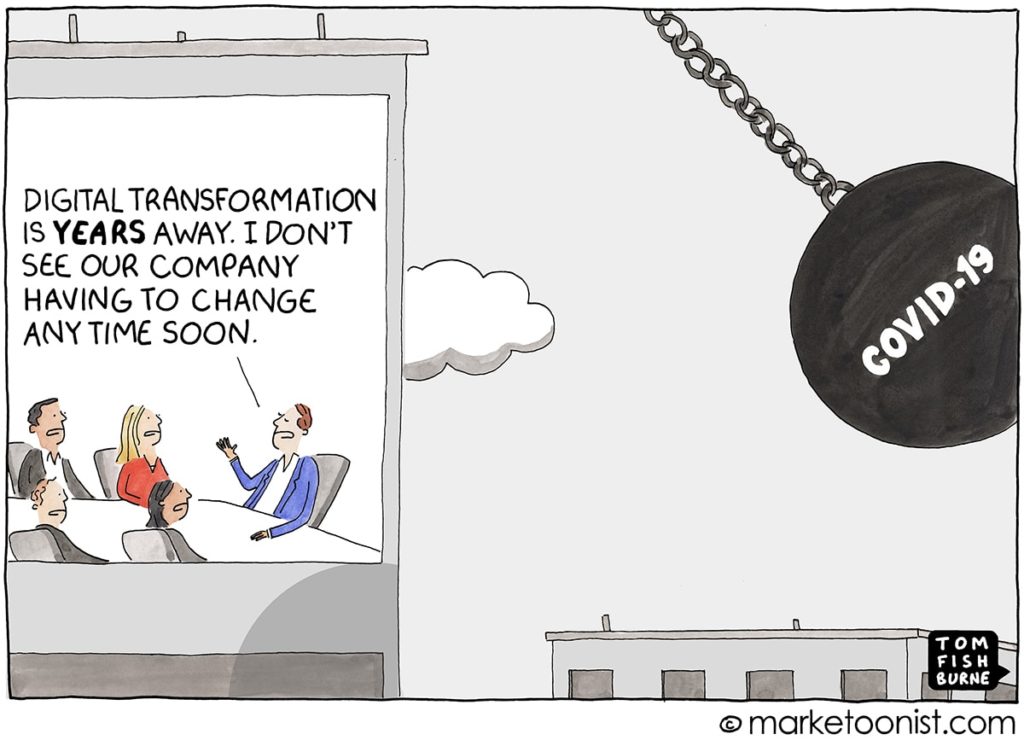 Similarly, customers were forced to try online. Many of them will continue to shop online over the next few weeks or months (due to COVID-19 concerns),  but the question remains whether the experience they got was good enough for them to want to stick with online shopping in the future.
During the coronavirus crisis, customers have been forced to interact with brands in a new way: digitally. Brands are experiencing an influx of new customers, consisting of both shoppers totally new to the brand and those who love the brand but have never shopped online. 
For those new customers, they can react to the new shopping experience in three ways :
They love it. Online shopping is easy, fun, convenient. They're converts and will primarily shop online in the future.
The kind of like it. Online shopping will become more important to them, but stores will still be used when convenient.
They hate online shopping and will never come to your site again. They'll go to brick-and-mortar as soon as they can.
To succeed in the new normal, you need to move as many customers as possible into the second and first reactions as soon as possible. Customers have a huge amount of stores to choose from, and no reason to tolerate poor experiences. Something like an unwanted product substitution on a grocery order can cause a brand to lose a customer for life.
On the other hand, once customers find a brand they can count on, they will keep shopping there, potentially turning into a brand evangelist. 
Ian Bremmer, President at the Eurasia Group, discusses what happens when new shoppers experience digital retail for the first time (full video here). Brands get the chance to develop loyal customers.
Customer loyalty is critically important – a point we've been pushing at Exponea for years. Develop loyal customers and you'll succeed in the new normal.
Building loyalty requires you to understand your customers and to interact with them in ways that will delight them. In the past, it was possible to do this by creating excellent in-store experiences. But in a world changed by coronavirus, companies will need to take a different approach: they'll need to embrace omni-channel experiences.
Experiences that delight and wow customers will need to take place, at least in part, digitally. Changing customer behavior means a significant portion of all customer experiences won't happen in person. Omni-channel is now table stakes, and the companies that can nail it will win loyal customers. 
But it's not enough to just be able to create omni-channel experiences. You need to understand your customers to a high degree, and know how their behavior has changed, so you can deliver the kind of experiences that will keep them coming back.
It's easier said than done. But the companies that get it right will become the future leaders of ecommerce, and those that get it wrong won't survive. That's why we've created a framework to help you succeed.
Lasting changes to U.S. shopping habits because of coronavirus: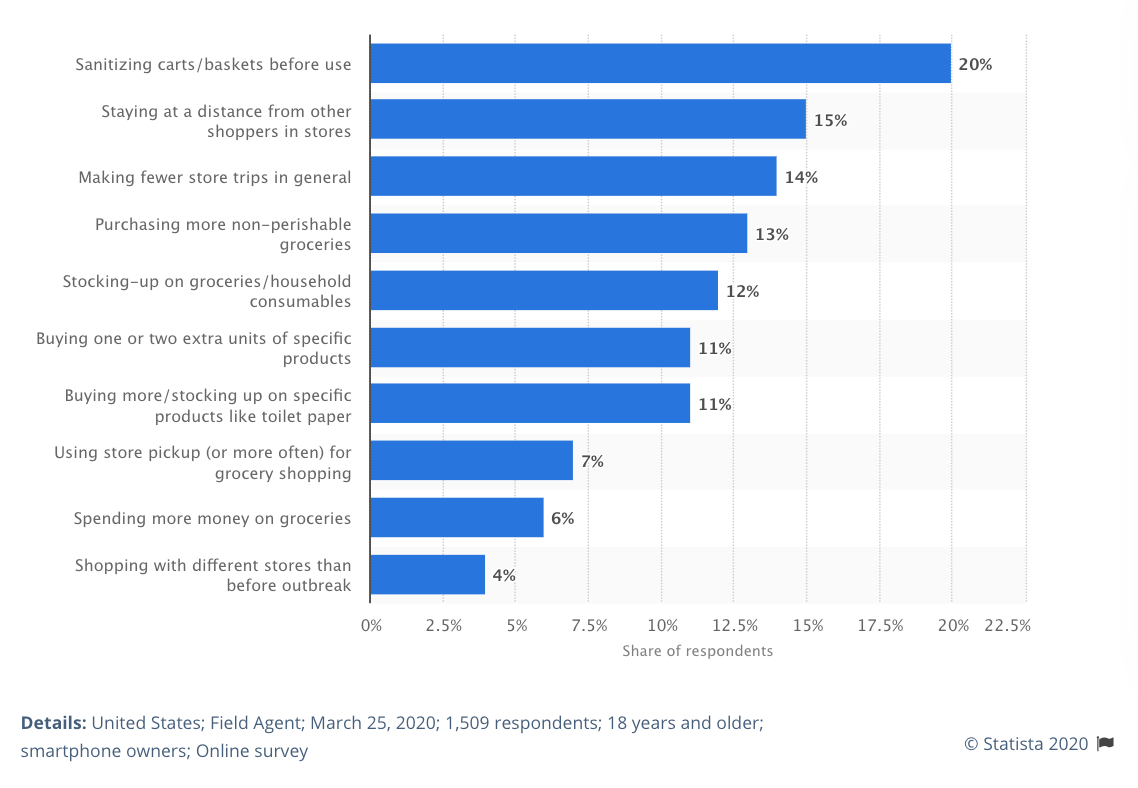 New Normal Fundamentals Framework
The pandemic has had a massive impact on all businesses, but it's not possible for each of them to react to it in a uniform way. How you react depends on where you are now as a business.
Exponea's framework revolves around three steps:
Understanding your customers and how they're changing.

This also requires understanding your analytical capabilities.

Understanding your current capabilities.

Specifically your omni-channel communication abilities and your ability to respond

Taking action and reflecting on your results.
Combining these steps lets you place yourself on the New Normal Ecommerce Quadrant.
New Normal Ecommerce Quadrant: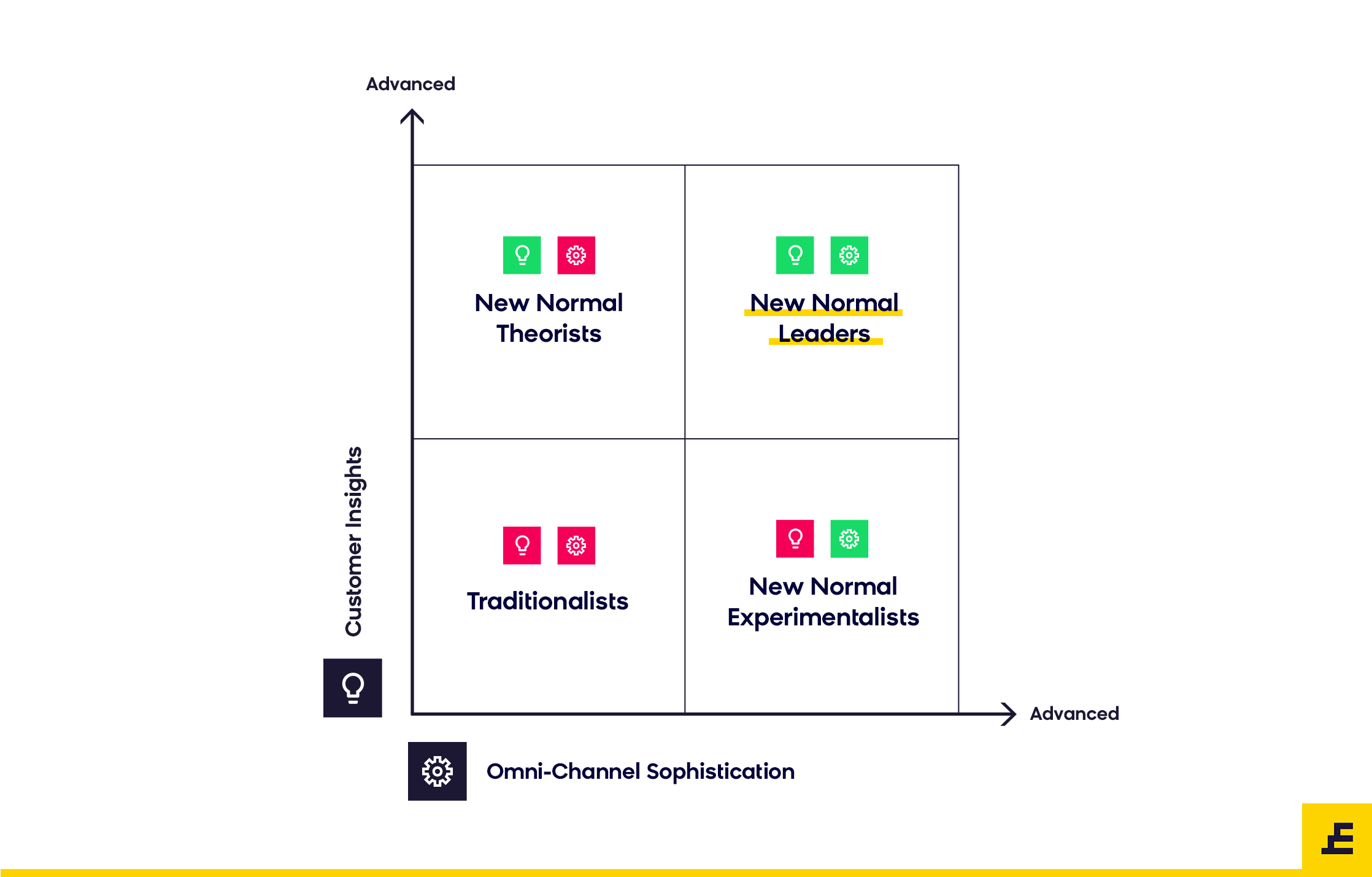 The quadrant plots your current omni-channel execution capabilities against your ability to discover customer insights. Depending on your current capabilities, you will fall into one of four categories:
Traditionalist:

Companies that are most likely new to ecommerce. They've been forced to change by COVID-19 or started just shortly before. Maybe they've had a digital storefront for a while, but it's unsophisticated. For companies in this quadrant, it's most important to establish good fundamentals.

New Normal Theorist:

Companies in this quadrant have good insights into their customers, but are lacking in the ability to execute. They might need to upgrade their marketing stack or make better use of the tools they currently have so they can turn their insights into action.

New Normal Experimentalist:

Advanced omni-channel execution capabilities, but lacks insight into their customers. If companies in this quadrant don't improve their customer understanding, they'll fail to build a loyal customer base.

New Normal Leader:

Companies that are prepared for the new normal. They can benefit from ideas for advanced use cases, but they have the foundation needed to succeed in the new environment.
Knowing where you fall in the quadrant is not a matter of intuition. It can be determined by some careful reflection. We've prepared a self-assessment that will show you where you fall. After you complete it, we'll send you recommendations for what to do depending on your quadrant.
The assessment was developed based on research done with our clients. The key points it addresses are below, along with the insights that led to us including them there.
New normal readiness assessment
The new normal readiness assessment consists of two parts: your ability to understand your customers from a digital perspective and your omni-channel marketing capabilities. 
1. How well do you understand your customers?
The following questions are a sample of what is addressed in the assessment. They will help you understand your ability to gain insights into customer behavior.
Do you know which channels bring you the highest value customers?
Insight: Based on recent analyses with an Exponea client, we discovered that AI-driven ads are not performing as well as in the past. Our hypothesis is that this is due to the AI models being trained on older behavioral data. AI models take some time to adjust, and they haven't caught up yet. 
In this case, you might want to decrease your investment in "smart" channels, and increase investment into channels like display ads and organic search.
Do you know how many touchpoints are needed before your customers make a purchase? 
Insight: For some of our clients, we have noticed a drastic increase in the number of customers that convert after just one touchpoint. This makes it a good time to reassess your best conversion channels and increase their spend.
The difficult economic situation means there is less room for error in your campaigns, so it is more critical than ever to get the most out of the channels you use. 
Do you know how customer behavior has recently changed per segment (e.g. age, gender, CLTV)?
Insight: Our work has revealed some interesting changes in the performance of certain segments.
For one customer, they saw an increase in the number of sessions initiated by customers browsing "Male" products, along with a simultaneous decrease in customers browsing "Female" products.
We also saw a decrease in the performance of mid-value (from a CLTV perspective) customers, but no change for low- and high-value customer segments.
Insights like these can drive where you spend your marketing budget, the content in your emails, and even how you personalize your site.
Do you know if your customers have recently started using different email clients?
Insight: We've noticed a marked uptick in the use of Outlook by customers. Our theory? Customers might be more likely to open marketing emails from their work device if they're working at home – something they wouldn't have done when they were in an office, surrounded by people.
Are your emails optimized for the email clients your customers are using?
Do you know if your customers have started browsing and shopping at different times?
Insight: Some of our clients have noticed a shift in the shopping habits of their customers: they're shopping later than they used to. You can react by changing the send time of your emails and even changing the language used in your messaging.
Your answers to these questions will help us understand where you fall along the X-axis on the quadrant. 
Next, you need to understand your omni-channel execution capabilities.
2. How ready are your omni-channel capabilities for the new normal?
These questions (a sample from the assessment) are informed by our experience working with brands with varying degrees of omni-channel sophistication. Your answers will give an idea of how developed your omni-channel capabilities are.
Do your customer profiles connect customer preferences, satisfaction scores, and survey responses to customers' transactional and behavioral data?
A successful omni-channel approach requires a complete picture of your customer: a single customer view.
Can you score visitor engagement and segment customers based on their overall value?
The coronavirus pandemic might have brought you a whole new set of customers. If you can quickly segment these customers based on their behavior, you can then find the best ways to communicate with them – ensuring they'll want to stay your customer.
Do customers get communications at times and frequencies they prefer, through the channels they prefer?
Frequency management can significantly improve engagement with your communications and improve your brand's relationship with customers.
Do your website and campaigns react to changes in customer behavior and inventory in real time?
The in-store experience is real time. Providing it on your site can be a serious WOW factor for new customers.  Also, real-time reactions are a must when facing fickle customers who might never return.
To succeed in the new normal and address this fragility, it is and will continue to be critical to be able to do things like pause campaigns for items that are restricted or not in stock. This can limit customer frustration and lead to an improved experience with your brand. 
Can your marketing team prototype and launch a new experience within hours of coming up with an idea?
Companies that react swiftly to changes will have far greater odds of success during these times. Needing IT's support for any changes to your site can add costly delays to your response times. Solutions like Exponea's Experiments allow you to react quickly.
While not exhaustive, the questions above will give you a good idea of your omni-channel sophistication and where you have room for improvement.
Take the assessment and get next steps
You can take the assessment yourself at the link below. Exponea will score your results and send them to you, along with a brief action plan for next steps you can take based on your results. 
This is offered free of charge, and is meant to help you get your bearings and discover where to focus your efforts.
Act fast. Act now.
Eventually we will overcome the coronavirus crisis. But the changes left in its wake will be permanent. It is imperative to take steps now to prepare for the new normal because this is the time when customers are forming their habits for years to come.
Exponea will continue to provide support to retailers both during this time and afterwards. Check back here for more resources, or subscribe to our mailing list to stay informed. 
These are uncertain times, but we are doing what we can to provide assistance to marketing professionals, both our clients and our readers.
One way we are helping our clients is by offering in-depth analyses of the changes happening to their customer base. These findings are for just one company, but the results might prove helpful to others. In light of that, we are sharing what we've found so far below.
Analysis of COVID-19 impact on one business (sneak peek)
These are a sample of some early results from an analysis done for one Exponea client in the fashion ecommerce industry. The results are specific to them, but they can help you develop your thinking about how to approach the new normal.
Touchpoint Analysis: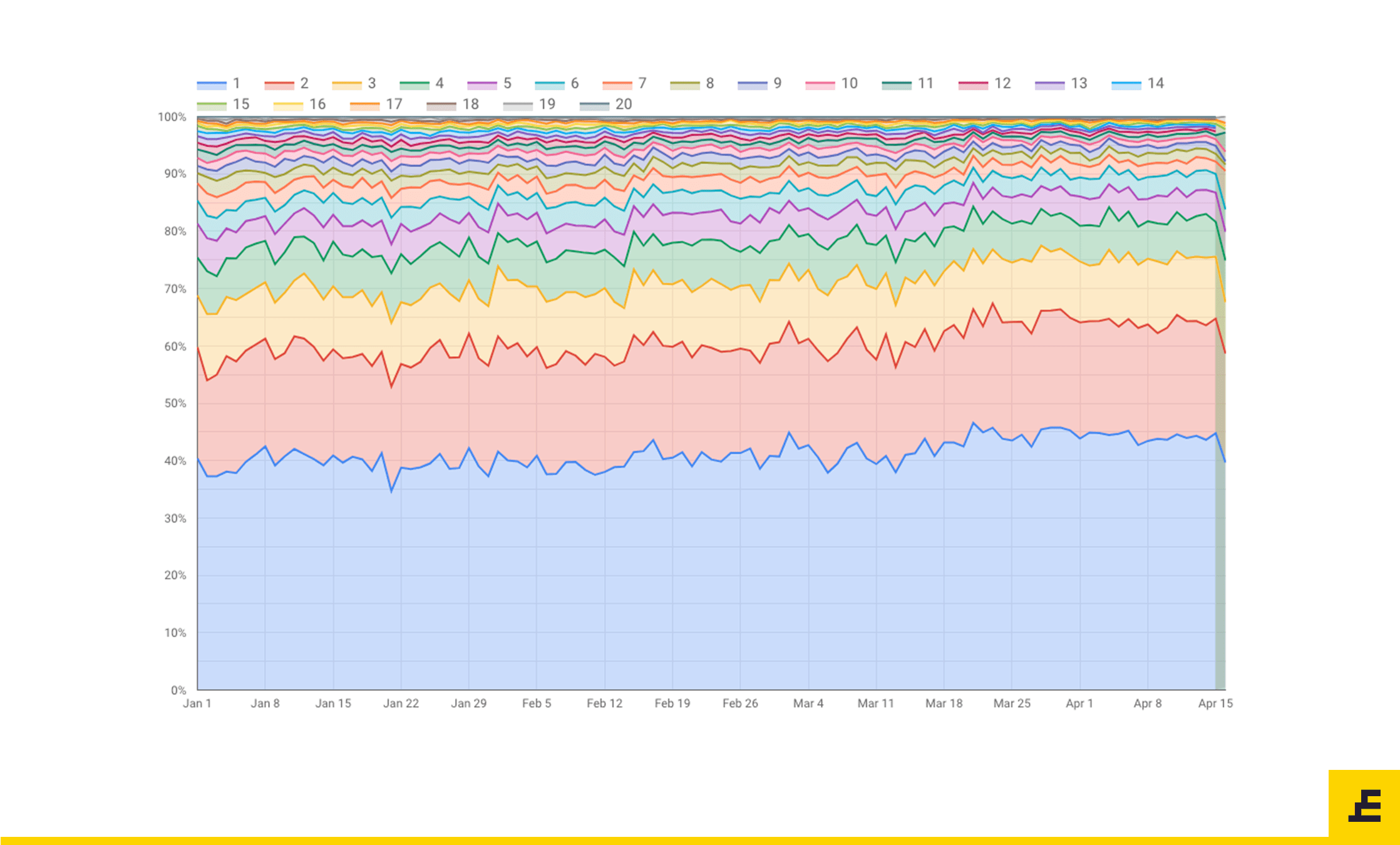 The chart above shows the number of touchpoints the customer base engaged with before a conversion over a 30 day window. The takeaway? The number of touchpoints attributed to a conversion is lower after government-mandated lockdown, meaning the customer journey has become shorter.
Recommendation: Refocus marketing budget from remarketing to acquisition campaigns due to faster ROI.
Channel Analysis: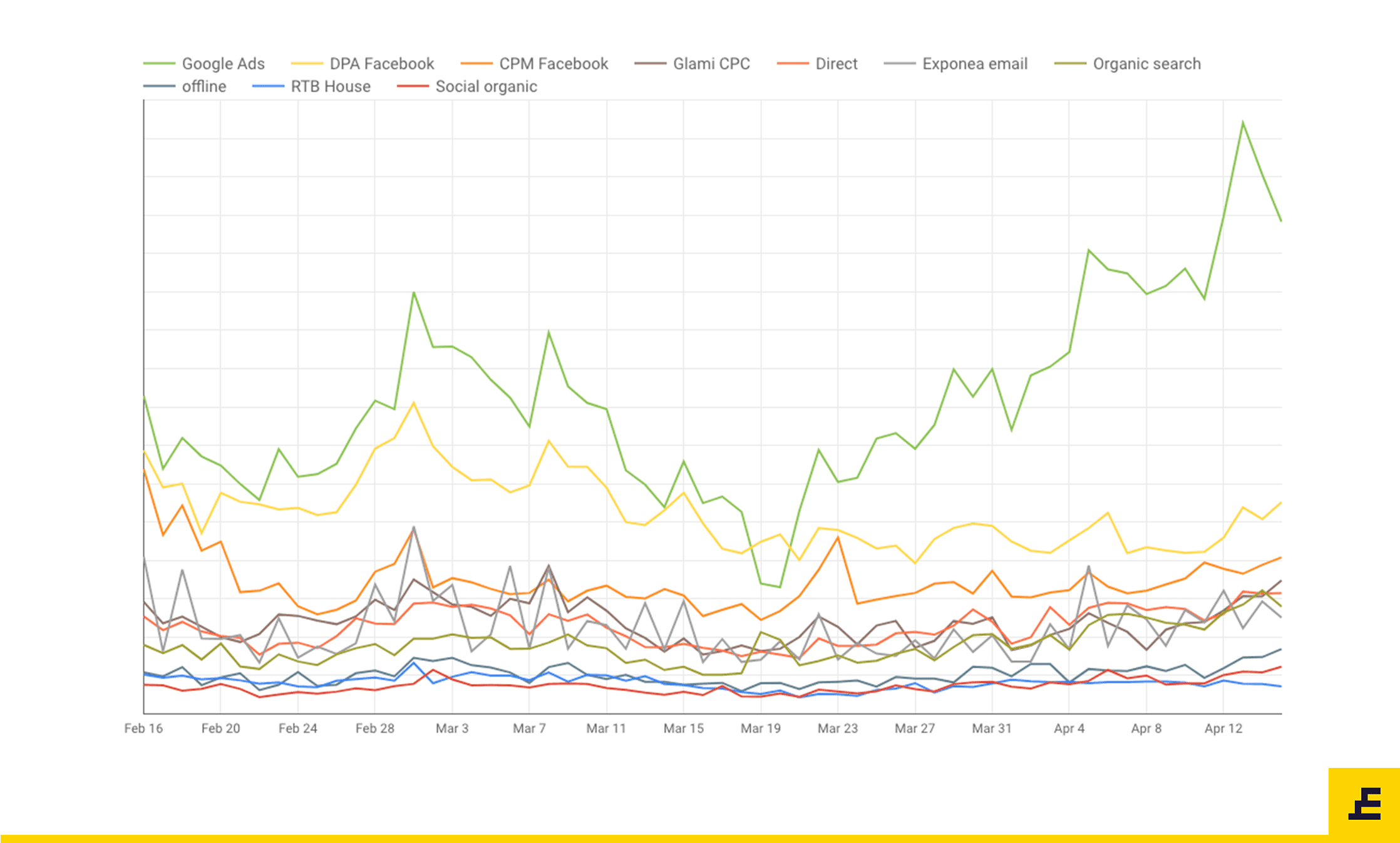 This chart shows the performance of channels before and after lockdown. What might seem surprising at first is actually intuitive: "smart channels" are performing worse than "dumb channels" after lockdown. The reason is that smart channels use some sort of machine learning algorithm to serve content (eg. Facebook DPA), but behavioral patterns have all recently changed. As machine learning is relatively slow, it hasn't had time to catch up to these new behavior patterns.
Recommendation: Reallocate budget (temporarily) from "smart" channels to supporting organic search.
Purchaser analysis: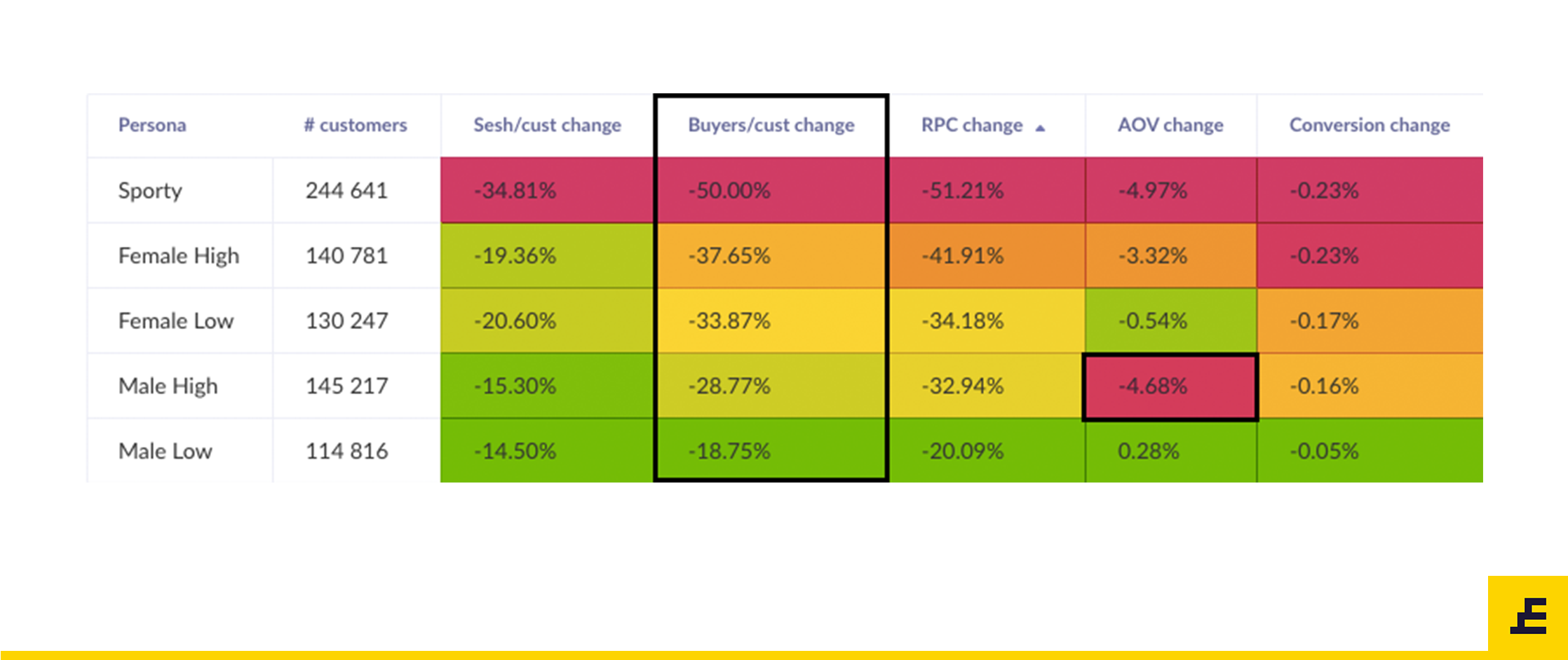 Here we can see a stronger decrease in sales to high-value customers than to low-value customers, as purchases move away from luxury products to cheaper items.
This can also be seen in the steep decrease in mid-value customers' Average Order Value. Low-value customers don't show such a big change in behavior.
We see that low-value male-product shoppers are the segment least affected by the lockdown, so it would be wise to focus a campaign on them for the time being. 
The sports-lover segment has been most impacted by the lockdown, so reducing campaigns for that segment is also a good idea.
Recommendation: Temporarily lower spend on lowest performing segments. Create lookalike audiences from best-performing segments.
Shopping time analysis:
We've noticed that customers are visiting and purchasing at different times during the lockdown. The peak of orders moved from 8pm to 9pm, with a drop in orders made in the early morning hours as well.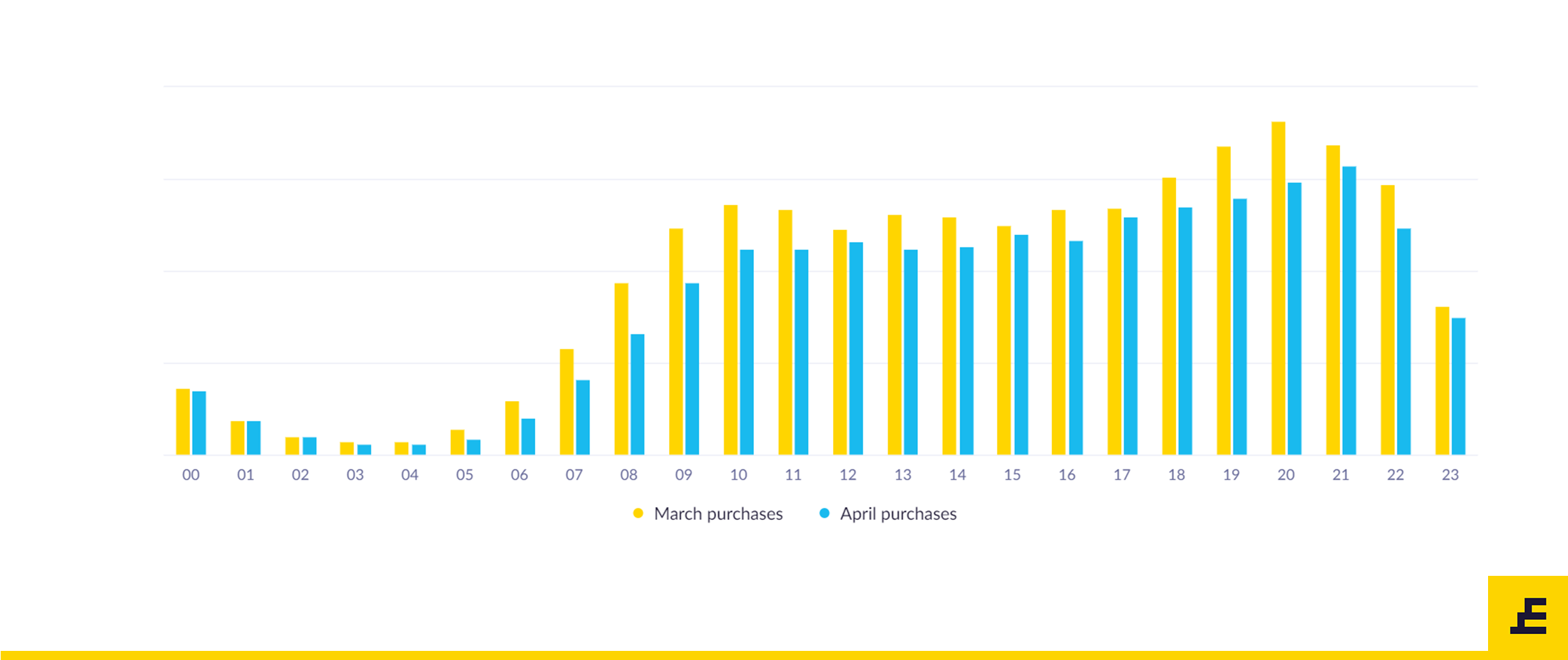 The same is also visible in times when customers visit the website. We are seeing a lot of late evening/night shopping, and customers are making fewer visits in the morning.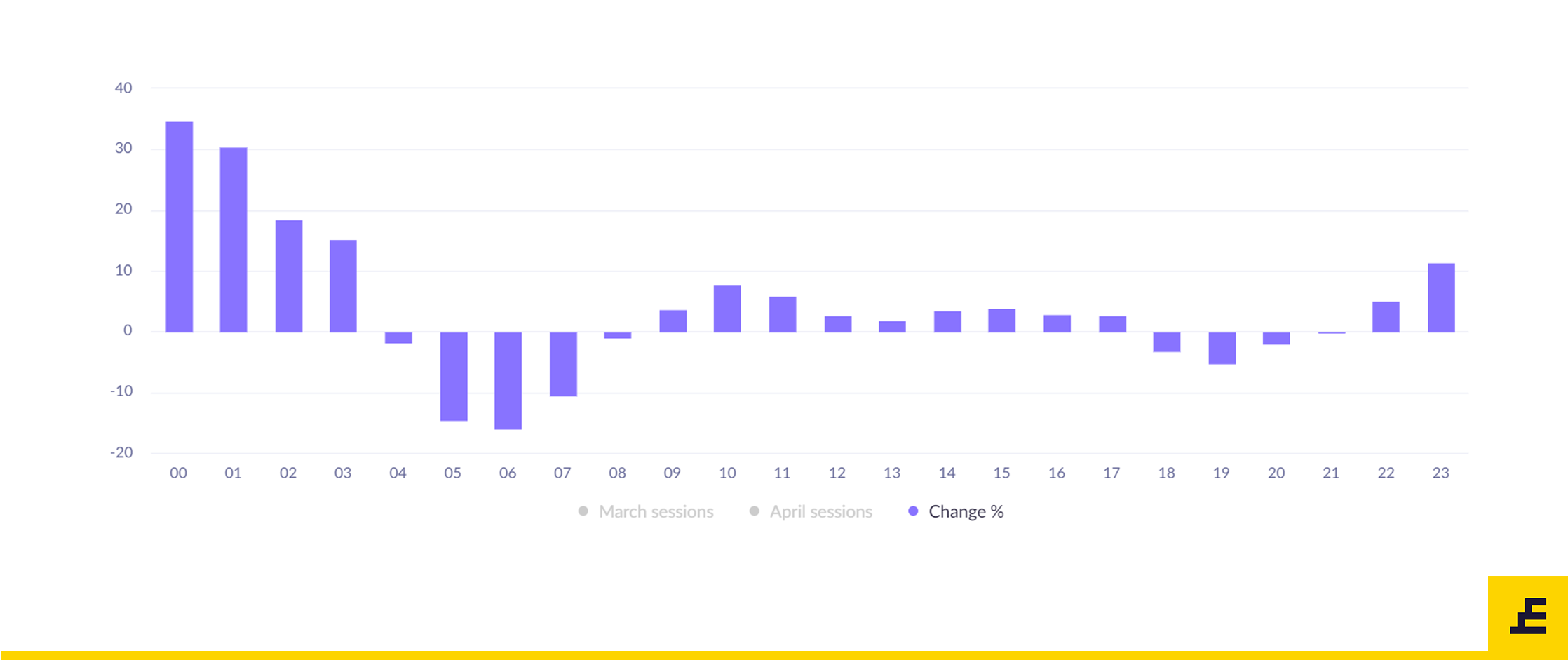 Recommendation: Experiment with the send time for your BAUs (experiment with optimal send time if available) to drive more traffic to your website.
Device usage analysis:
With more people staying at home, you would expect mobile browsing to drop by a bit. But the data tells something else – browsing via mobile actually grew by 5%. When looking at the specific devices people use to check their email, we noticed a significant spike in Outlook 2016 usage – 533% growth!
Recommendation: Optimize your templates for the email clients your customers are using (or at the very least, check how emails look in all email clients).
Browsing behavior analysis: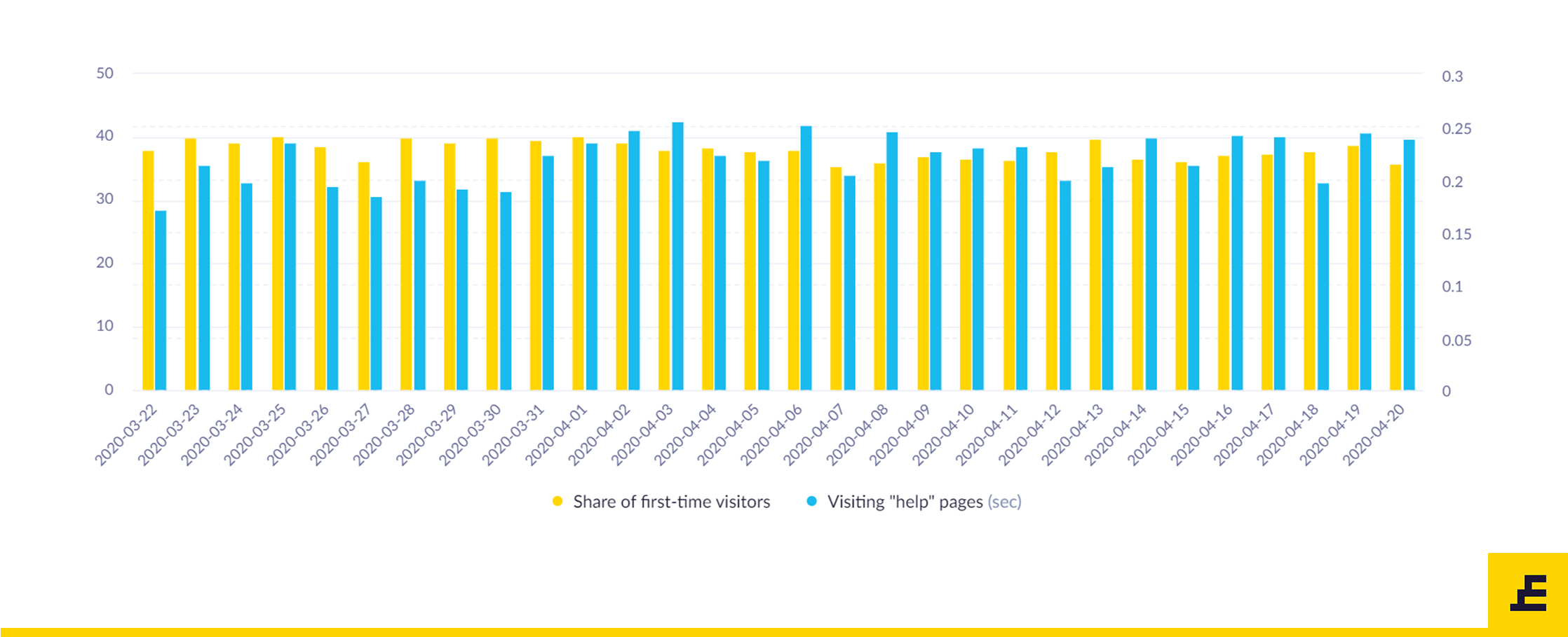 While the ratio of returning/new visitors hasn't changed dramatically, we noticed 50% more customers coming to the FAQ / Shopping information pages.
Recommendation: Increase the visibility of the most important information from your FAQ page, e.g. by putting it in a banner. Make it easy for customers to navigate and find information.
We are currently working on similar analyses for other clients. The first surprising fact was that there are very few findings that can be generalized. The severity of impact varies, as well as some of the trends we see. 
So far, what seems to be true across most of these clients is that machine learning does not react fast enough to behavioral changes. Consumer shopping times seem to be changing. And the behavior of previously established personas has changed since the lockdown period started.
These initial findings help clients understand the new behavior of their customers, and help them to decide where to focus their efforts. If you have the right tools, you can recreate these analyses for yourself. If not, you can contact us and we can see if we can help.
Hopefully this gives you some insight into what the new normal might look like and what to expect. Remember to take the assessment to find out your results and get an idea of the right next steps for your company.
Don't miss out on your free assessment:
The E-Commerce New Normal: See Where You Fall
Take a short assessment and get placed on the New Normal Ecommerce Quadrant + get personalized next steps
meet the authors
Peter Irikovsky
CEO at Exponea
Peter Irikovsky is the CEO of Exponea, the leading customer data & experience platform on the market. Prior to heading up the Exponea team, Peter demonstrated his passion for entrepreneurialism as the CEO of Slevomat Group, where he helped grow revenue to
€
100m in fewer than four years. His past experience also includes LRJ Capital, McKinsey, Groupon, and KPMG. 
Peter is a frequent speaker (Davos, Forbes, StartupGrind, US Embassy, EU commission), and serves as the head of the supervisory board at Duke of Edinburgh International Award in Slovakia, board member of National Monuments Foundation, and committee member at Millennium Calendar Prize. He is a Singularity University graduate and holds a degree in Computer Science.
Jordan Torpy
Technical CDXP Specialist
Jordan works closely with the content team and Exponea experts to create material that brings value to readers. With a background in teaching, training, and marketing, Jordan uses case studies, presentations, newsletters and more to illustrate what's possible in the martech world today.