IMRG recently had a podcast on the topic of important technologies for retailers in light of the coronavirus pandemic. If you didn't have time to listen, you can read a summary here.
Prefer to watch instead of read? Check out the video below.
Coronavirus in Conversation – Which technologies should retailers be investing in? from IMRG VIMEO on Vimeo.
Executive Summary
Try new technologies quickly and cheaply.

Prioritize technologies with flexible & powerful analytics to enable customer understanding & personalization.

Technologies connecting datasets to improve customer experience are a must-have. 
Choosing Technology
Most retailers are working with limited budgets. When it comes to technology investments, most companies are dramatically more risk-averse. 
When you've got limited cash, making investments - it's even more important to get it right.
But to survive and thrive, they need to try new approaches and technologies – quickly –  to see what works. And experimentation needs to be rigorously structured. Most retailers don't have a lot of experience with quick & cheap structured innovation, which is why experienced external advisors are in high demand.
Communicating with Customers in General
What the experts recommend is connecting datasets and doing deep-dive analytics to understand new patterns in customer behavior.
Safecharge's James Perret recommends "really doing some understanding, deep-dive data analytics on knowing what your audience is like. And what's going to be important to them later. Could be simple things like hygiene. Understanding how to clean the stores and advertising that."
James Perret
|
SafeCharge
One of the patterns taking shape is valuing safety first and foremost, convenience being secondary. Businesses who can combine the two are going to win. There's a lot of demand for contactless mobile payments and demonstrated hygiene precautions. 
While people in general have started valuing safety and hygiene much more, there's an important distinction in your segmentations you need to consider. 
Communicating with a New Customer Cohort
Aside from the customers that want to shop online, the customers that have been forced to are now coming to your website too. On the chart below, they are the late majority and laggards.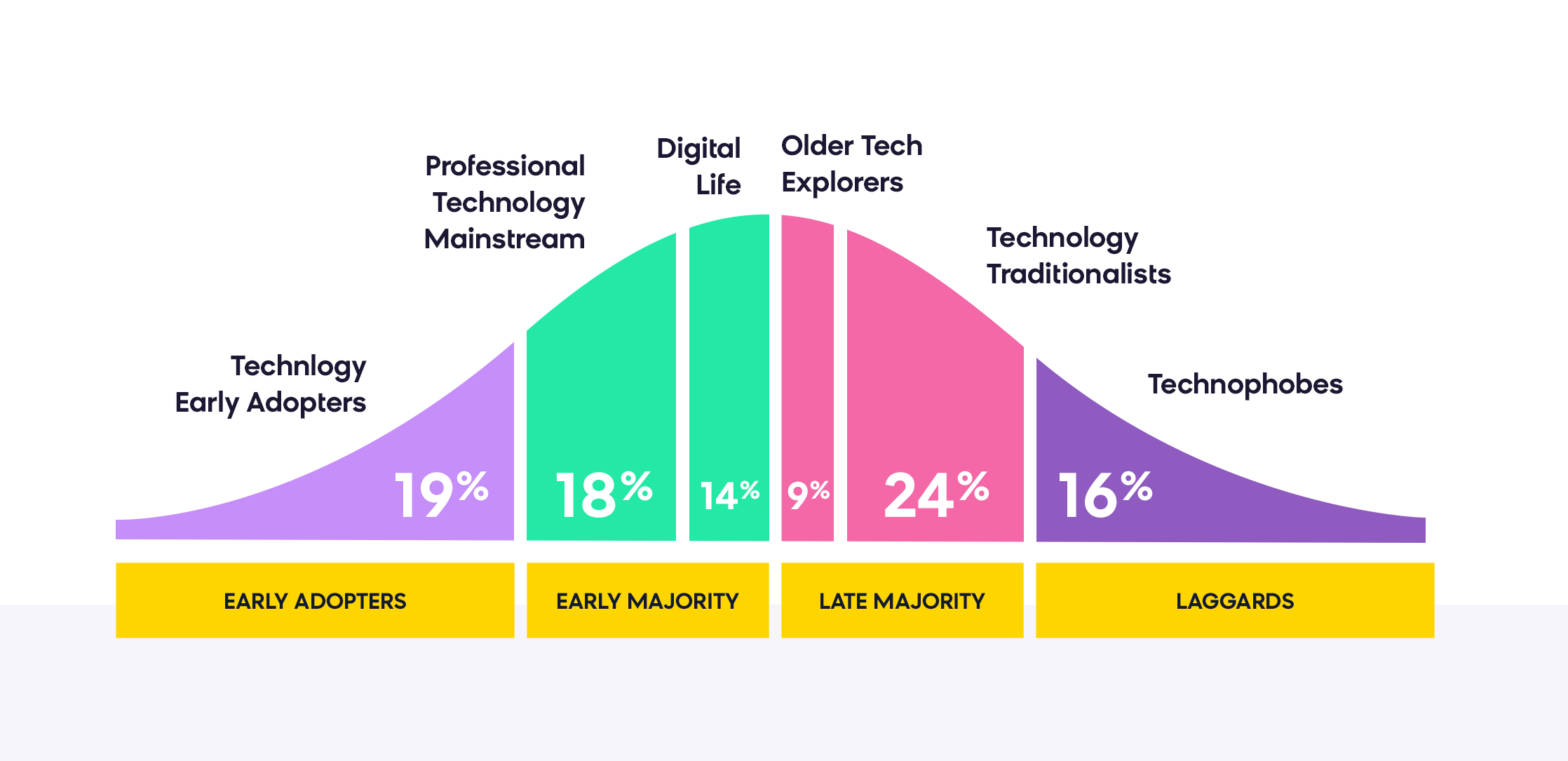 They need an even simpler, more intuitive customer experience. Your datasets need to be connected so you can serve this segment best. Your product categories – meaningful. Your customer service – delightful. You need to re-explain the online shopping & delivery process to these people specifically. 
Peter Jakus
|
VP Industry & Market Insights, Exponea
For the customers that aren't used to shopping online, it might be necessary to explain the basics. That really you can trust our shop - all the security badges, safe payment. Or even explain how it works with the delivery, with the shopping cart.
Managing Delivery Expectations
Due to national lockdowns and stricter border controls, international deliveries are now taking weeks to be completed. Some retailers are prioritizing essential goods in their deliveries to ensure the preservation of people's livelihoods. Retailers need to set expectations with their customers appropriately to prevent churn.
Tackling the New Normal
That sums up what was covered in the podcast. If you're looking for next steps, Exponea's got you covered.
As the experts discussed, success in the new normal isn't just about your technology. It's also about your agility and your competence with the tools you have. For a full overview on what it will take to succeed, read our article on ecommerce success in the new normal.
You'll also find an assessment that will help you determine your company's readiness for the new normal. You can jump straight to the assessment. After taking it, your company will discover its place on the New Normal Ecommerce Quadrant, and you'll get tailored next steps to help you succeed.
Finally, you can check our blog for the latest content surrounding the new normal and ecommerce.
Don't miss out on your free assessment:
The E-Commerce New Normal: See Where You Fall
Take a short assessment and get placed on the New Normal Ecommerce Quadrant + get personalized next steps
meet the author
Jordan Torpy
Technical CDXP Specialist
Jordan works closely with the content team and Exponea experts to create material that brings value to readers. With a background in teaching, training, and marketing, Jordan uses case studies, presentations, newsletters and more to illustrate what's possible in the martech world today.