After teaming up with Exponea, Vitkac now offers customers recommended products they actually want to see, significantly improving their experience on the site. This change directly led to a 23.2% increase in conversions, demonstrating the fact that what's good for the customer is good for Vitkac as well.

Vitkac is Poland's most exclusive shopping center, connecting customers with high-end luxury brands in their beautiful department store in Warsaw. Founded in 2011, Vitkac is one of the only resellers in Europe for a number of luxury brands, and the number one shopping destination for the fashion-conscious crowd in Warsaw.
As a complement to their successful department store, Vitkac also has an online shop where customers can hunt for the same luxury goods from the comfort of their devices. But competition amongst fashion e-commerce retailers is fierce, and it's difficult to create the kind of online shop that customers actually want to buy from once, let alone repeatedly. 
Vitkac knew that to succeed in e-commerce, they would need to deliver customers smooth, enjoyable shopping experiences. The kind of experience that keeps customers coming back. So when it was time to make some changes to their website, Vitkac wanted to use an experienced partner. 
UX Optimization
Vitkac chose to go with Exponea, thanks in part to a robust, AI-powered recommendation system. Prior to working with Exponea, if a customer was viewing one of Vitkac's product detail pages, there was no way to navigate to another product without first going back to the main category page (e.g. Men's Shoes). There were no "recently viewed" items or "similar products" to help connect the customer with the product that's right for them.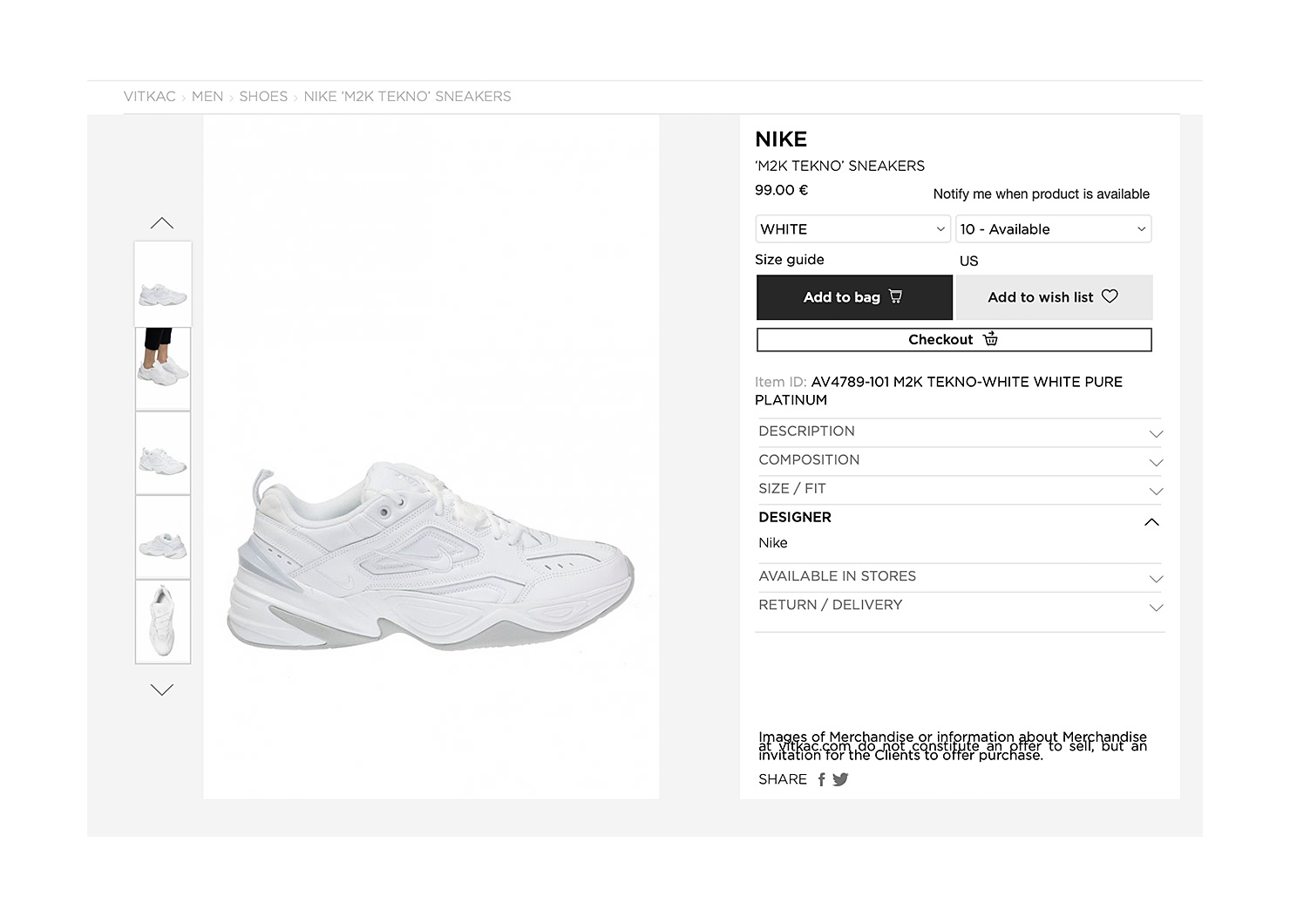 Source: https://www.vitkac.com / Product detail page before Exponea
This added friction to the shopping experience, making it more difficult for customers to find products they might be interested in. It also made for a less enjoyable site to navigate, which potentially reduced the number of repeat visitors.
To solve this problem, Exponea proposed adding recommended products to the product detail page, as shown below.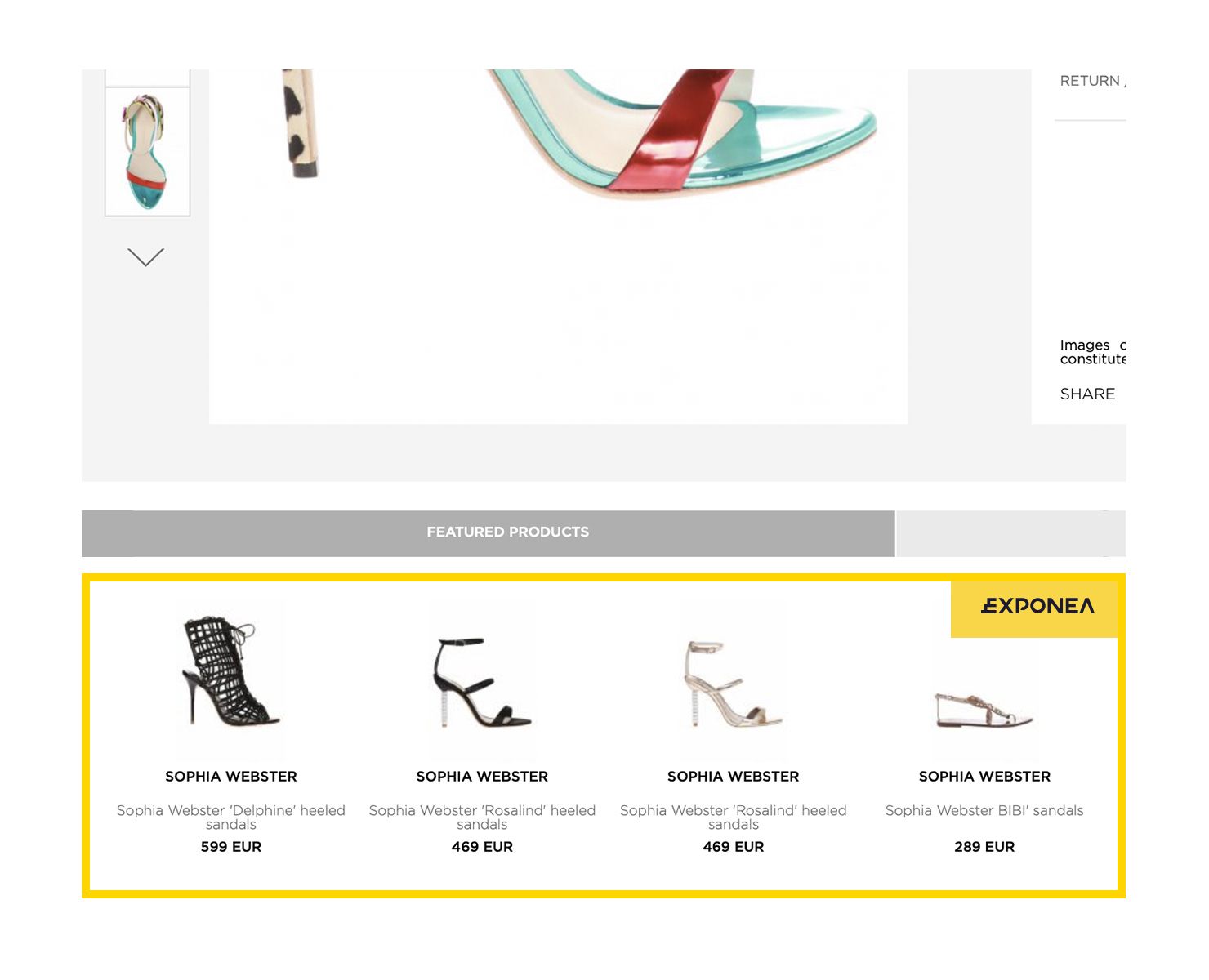 Source: https://www.vitkac.com
These recommendations made it easier for customers to move seamlessly from one product to the next, removing frustration from the online shopping experience. Now shopping on the website more closely resembled the in-store experience. 
Powerful Recommendations
Simply adding new items to the product detail page would have been an improvement to the original site, thanks to the improved user experience. Vitkac could have done what many sites do, and just added "bestsellers" or "recently viewed items" to the product detail page and called it a day. But Vitkac partnered with Exponea thanks to Exponea's powerful recommendation models, so they weren't going to settle for less than the cutting-edge best.
So Exponea created rules for their recommendation models that, when combined with powerful AI, would suggest products to customers that they would actually be interested in buying. Here are some of the rules Exponea's recommendation model used to stand out from the rest:
In-stock items only.

Nothing frustrates customers more than being recommended something they'd really like to buy, only to find that it's actually out of stock.

No previously purchased items.

When shops recommend products that a customer recently bought from that store, it makes the shop look clueless and sloppy.

Recommendations match gender and category of item being viewed.

Many shops will recommend a dress to someone looking at a men's suit. Again, such bad recommendations are frustrating for customers.
These rules, along with a few others, were incorporated into the recommendation model. All that was left was testing.
The Exponea Impact
Exponea created an AB test to check the impact of their new recommendation models. After letting the test run for eleven days, it was clear that the new recommendations were successful. In this short time, Vitkac saw an overall 9.30% increase in their conversion rate. Satisfied with the result, Vitkac decided to keep the new product recommendations.
Giving the recommendation models more time has proven even more successful. After running for five months, the impact has actually increased, leading to an overall conversion rate uplift of 23.21%. These recommendations, along with the other work Vitkac and Exponea did together, led to a 585% overall ROI in the first six months of working together. In true Exponea fashion, it's a win-win-win situation: Vitkac gets an excellent ROI from Exponea, Vitkac customers get a better customer experience, and Exponea has a successful client. 
If you're interested in seeing how a powerful solution like Exponea can help your business, then schedule a demo today. See how intelligent recommendation models and a customer-centric data platform can help with your challenges and goals. Start creating win-win experiences for your business and your customers.
Your Customers Want an Experience. Give it to Them.
86% of customers are willing to pay more for a better customer experience.
meet the author
Jordan Torpy
Technical CDXP Specialist
Jordan works closely with the content team and Exponea experts to create material that brings value to readers. With a background in teaching, training, and marketing, Jordan uses case studies, presentations, newsletters and more to illustrate what's possible in the martech world today.