Popular high street fashion brand River Island had a successful email marketing program in place. But as a tech-savvy company that is always looking for ways to innovate, test, and close the gap on any inefficiencies, River Island wanted to evaluate how its emailing strategy could be further optimized.
The marketing team was looking for a way to fine-tune its email program. Specifically, the team wanted to improve domain reputation and build trust in the brand by offering a good customer communication experience. The team wanted to accomplish these goals while not losing revenue from email. 
Sending too many emails to inactive customers can annoy them and lead to high unsubscribe rates. At the same time, sending too few emails to loyal customers could lead to a drop in revenue. The team needed to find that sweet spot of sending the right amount of emails to the right customer.
Exponea proposed running an A/B test for at least three weeks, where we would set up an out-of-the-box frequency management policy that had been developed after consulting with our in-house email deliverability experts and data scientists. 
We hypothesized that this 'Smart Newsletter Policy' would lead to better inbox placement for River Island and we would see a boost in engagement and improved revenue per customer. The frequency management policy segmented the newsletter audiences into eight broad categories based on historic engagement with email send limits as outlined below.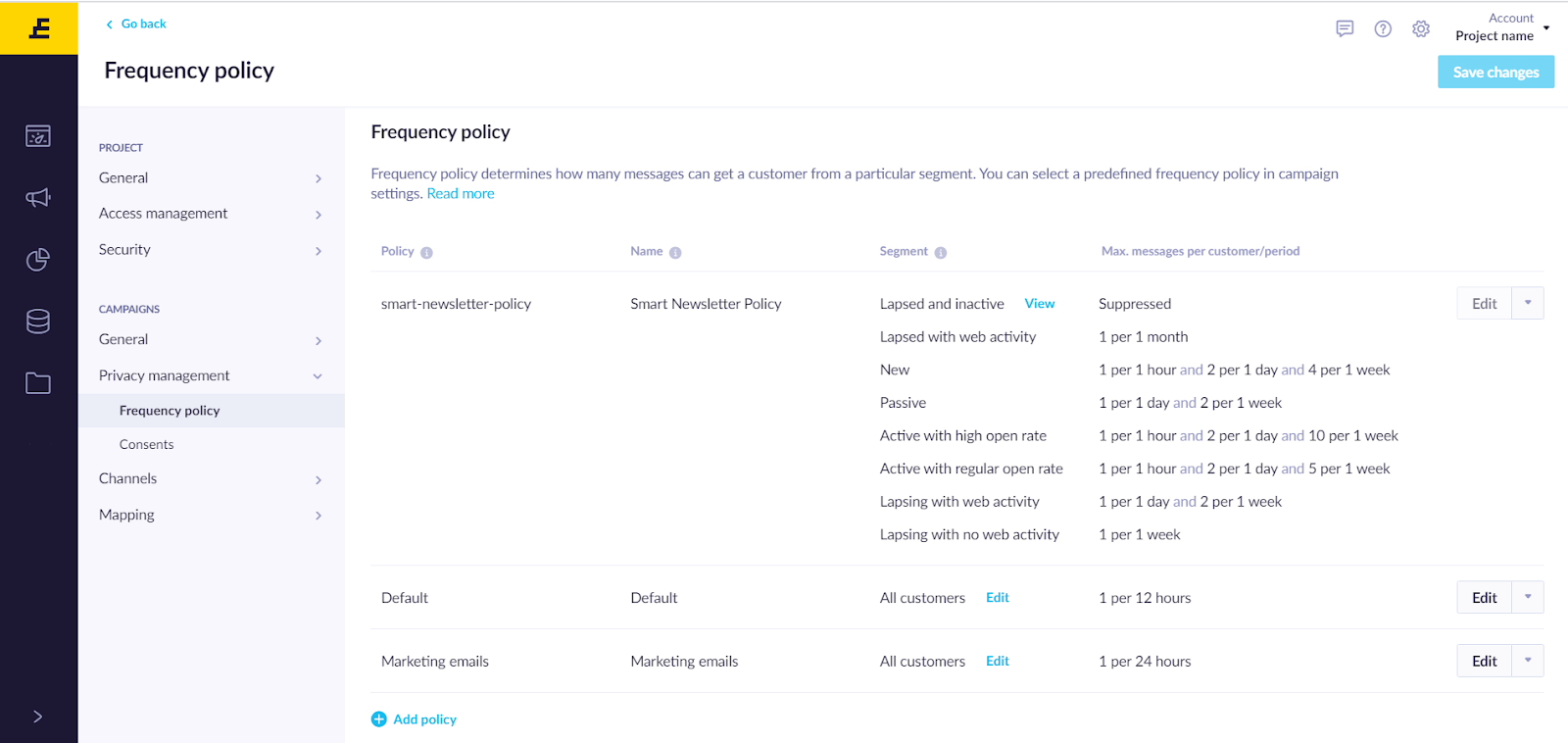 Furthermore, as an added bonus after running the initial A/B test, we also set up Campaign Prioritizations. We set up a system such that if a customer qualifies for two similar campaigns, but is only supposed to receive one email in a specified time period, the prioritization set by the River Island team would determine which was more relevant for the customer and send that one. 
The results were impressive. After a two-phase A/B test run where incremental changes were made, there were significant improvements.
30.9% increase in revenue per email and 30.7% increase in orders per email owing to a 22.5% decrease in overall send volume.

0.2% increase in revenue per customer which meant that implementing a smart send policy led to higher engagement and improved deliverability without affecting revenue.

26% increase in open rates by creating segments and only sending emails to customers who were engaging with them

12.8% decrease in unsubscribe rates due to capping that was applied to lapsing and passive audiences, who did not receive more than one email a week. 
You can learn more about how specifically River Island made these improvements by exploring the frequency management use case at hand. 
With Exponea's world-renowned Customer Data & Experience Platform, results like River Island's are always possible. Schedule a demo today to see how Exponea can transform your email marketing, or another aspect of your business, to help achieve the results your business is looking for.
INTERESTED IN EXPONEA?
Discover The Next Generation Of CDP
Exponea's CDXP gives marketers the complete toolset they need for creating incredible customer experiences, by bringing together AI-driven marketing automation, real-time analytics and UX optimization with a best-in-class CDP.