Your job today probably looks different than it did a few weeks ago. I know mine does. The world's been turned upside down in a matter of days. 
As marketers, many of us are lucky – our jobs can usually be done remotely, without too much interruption. It's just a matter of getting used to a new set up: a new location (hello small apartment), new "coworkers" (I'm typing this with a cat in my lap), way more teleconferencing. We're pretty fortunate that way.
A lot of us probably even see this as an opportunity: "Let's tell our customers we're monitoring the situation!" Check your inbox and you'll see tons of emails along those lines. Maybe you've sent them yourself. 
It makes sense. That's a marketer's natural instinct. Grab onto what's happening and use it to your advantage. 
But in this case, it might not be the right tack. The current situation is extremely difficult for a lot of people, and sending these sorts of messages can come across as disingenuous, out of touch, disrespectful, or even unethical.
Particularly egregious content will go viral, and that's not the kind of reach you want to get right now.
Most importantly, some of the opportunistic marketing I've seen is just plain wrong. These are tough times, and we've got to try and help each other out – not take advantage of each other.
But the truth is, we've still got a job to do. So, how do we do our best work in the midst of a tragedy? 
This is my best effort at some guidelines to help you do your best work. Above all, you will need to be ethical, be proactive, and be responsive. And no matter what, don't forget your humanity. I'll also share some examples of companies that are doing a great job, and I'll update this article as I find more. 
If you have seen some examples of good ethical marketing during these times, please share them with me at jordan.torpy@exponea.com and I'll add them here.

Be Ethical
Being ethical might mean different things for different people, companies, countries, and cultures. I won't try to give a one-size-fits-all answer to what it means to be ethical.
But I think we can establish some general guidelines that we as marketers can follow during these times, structured as some easy-to-follow do's and don'ts.
Don't fear-monger.
Many people are already in a state of panic. People have lost (or might soon lose) their jobs, they might be uncertain about their housing, they're worried about their health and the health of their family members. 
Don't make things worse than they need to be. Now is not the time for using loss aversion in your messaging. Consider removing "going fast!" messaging from important products. Be considerate about the language used in emails you send. You might want to remove any attempts to create urgency: most of us have got or will soon get some perspective on what's truly urgent.
Do be honest and transparent.
I live in the Czech Republic, where a few online grocery stores have become extremely popular over the last few weeks. They've been doing a great job with their messaging. One of the stores, Kosik.cz, made a full landing page showing what steps they've taken to keep their customers healthy. 
Another site, Rohlik.cz, was recently overwhelmed by visitors to their site. Instead of just letting the site crash, visitors were redirected to a new page. They were told that the site was full, but they'll get a chance to shop after a determined amount of time. You could enter your email address if you didn't want to wait on the site.
Instead of freaking out customers with a 404 page, they get an honest look at what's happening behind the scenes.
Don't use empty platitudes.
How do you feel when you get an email from a company you haven't shopped at in years, telling you that they care about you? 
Now how do you think your mailing list feels if you do the same?
It's important to show you care, but it can't feel like the empty words of a corporation. Think before you send off an email campaign: how would I feel if I received this? It's something you should always be doing, but it's even more important to do now.
Do communicate with your customers and add value.
You need to be more careful with your communications, but you still need to communicate. It just needs to be honest. We all have BS sensors, and they're hypersensitive these days. It's critical to be authentic.
That might mean admitting to some shortcomings. You might need to turn off your free one-day shipping banner for a little while. You might have to cancel some orders. But if you're open with your customers, they'll appreciate it. And they'll remember it when this is all over.
A few other examples:
Coursera, an online learning platform, has compiled some of their best resources and shared them as a newsletter: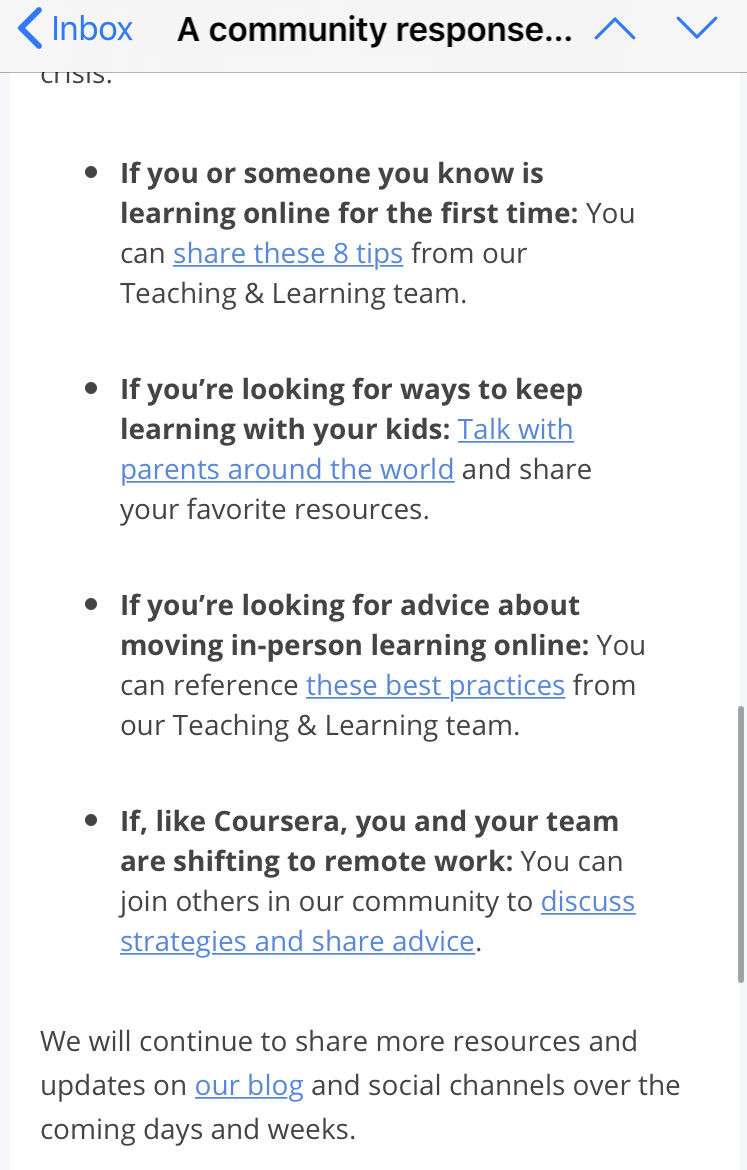 Sports app / club examples:
In the very beginning Classpass offered the option to pause your account, which is now mandatory. They are encouraging customers to keep up their workout routine by offering on-demand / online sessions across a number of disciplines.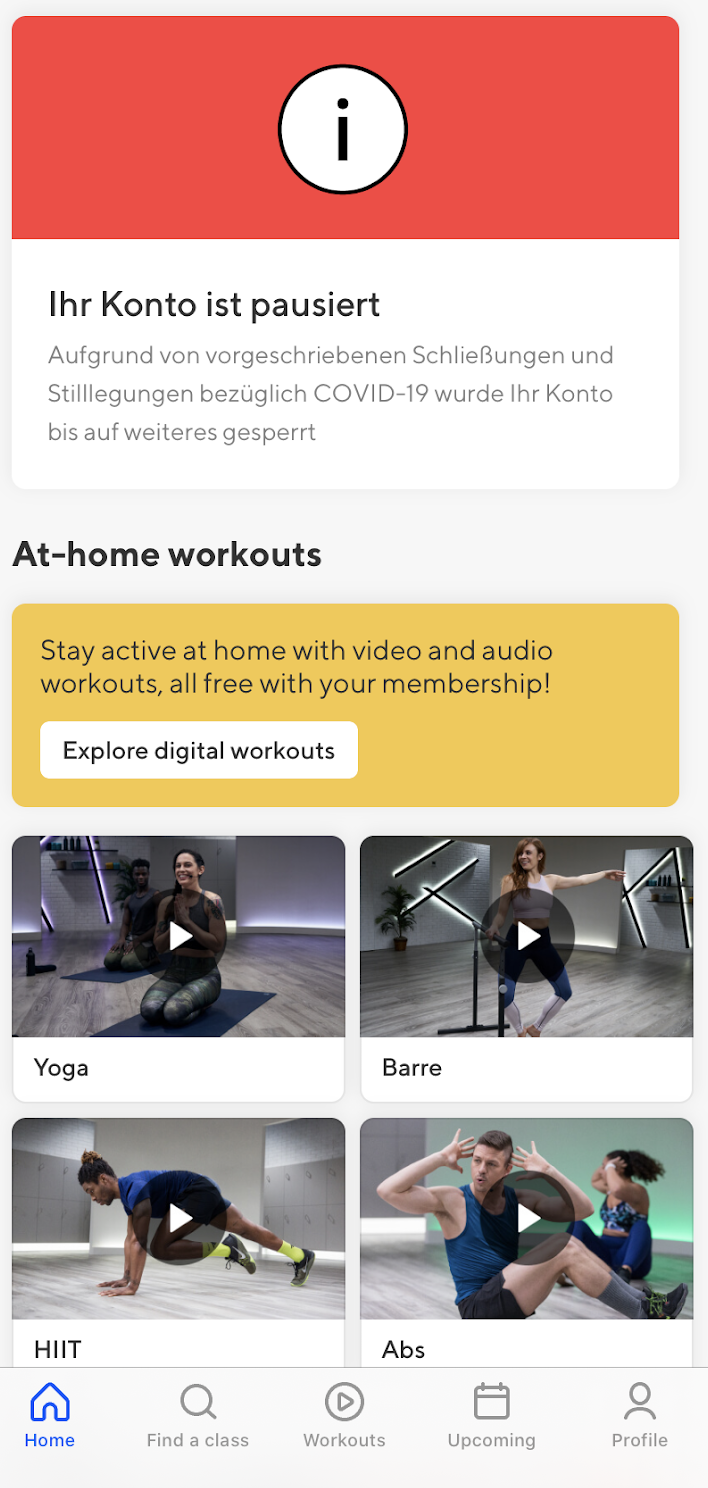 Be Proactive
This is no time for business as usual. If you're doing everything the same way you were three weeks ago, you're doing something wrong.
Fortunately, most marketing organizations have become much more agile in recent years. They also have much more customer data then marketers could even dream of a decade ago. These two factors combined make it much easier for marketers to proactively react to a rapidly changing situation.
At Exponea, we put together a marketer's checklist for some of the most immediate things you should do right now in response to this crisis. 
Once you've made your way through that, you need to do what marketers do best: be creative. Think of ways to help your customers in difficult times.
Here's another good example from a Czech company: Mall.cz. They're a retail site that sells just about anything you could want. When you land on their homepage, they show a banner that says "We're all in this together" with a picture of some of the most in-demand goods.
Click on the banner, and it takes you to a dedicated page with all of those goods in one place. Easy to find, easy to buy, and it actually helps customers in difficult times. 
This is the work of a proactive marketing team. How can you do the same with your business?
Some other examples: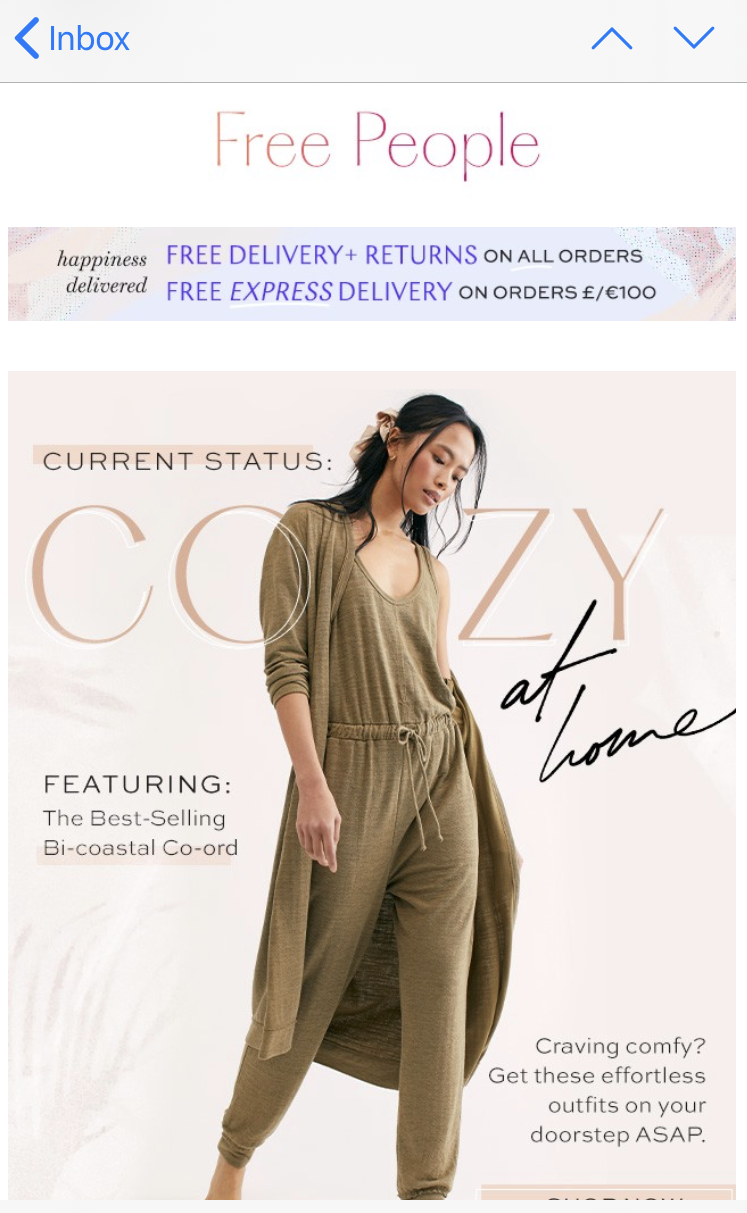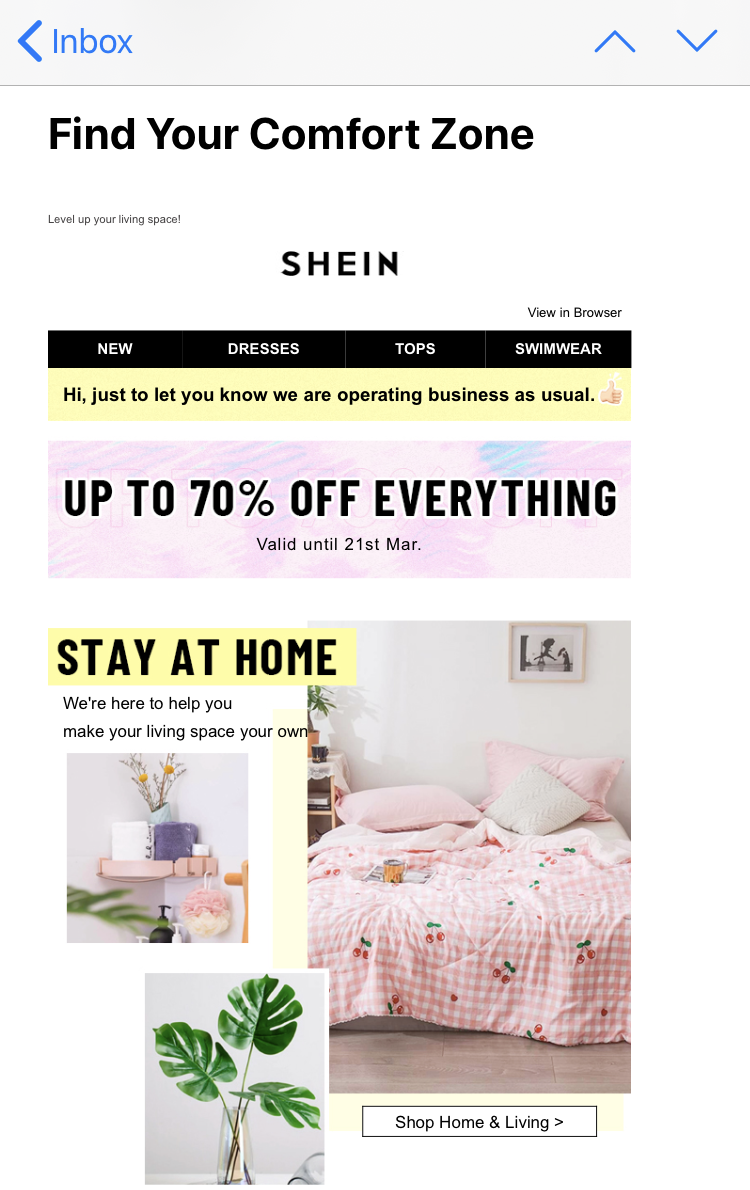 Some brands have taken to advertising their home wear or loungewear together with witty subject lines. 
Be Responsive
One of the most difficult parts of the current crisis is just how uncertain everything is. Volatile swings in the stock market, quickly shifting exchange rates, and strict government decrees are hard to predict but have massive impacts.
Staying on top of it all and being responsive is tough. But it's also a marketing team's time to shine. In these situations, humans can react faster than AI and technology. Use your intuition and wit to react and your customers will appreciate it.
An example: Wolt is a Dutch-based food-delivery application that operates throughout Europe. Here in the Czech Republic, restaurants have been closed to the public, causing a huge spike in demand for delivery services.
But customers might be concerned about catching something from delivery drivers. And delivery drivers are certainly worried about their own health. 
So Wolt quickly introduced a "no-contact-delivery" option in their application, and explained what they'd done via their blog, app, and website.
Deliveroo, the UK-based delivery app, has taken a very similar approach. You can even leave notes for your driver on where to leave your order. They've also introduced a fund to support drivers who aren't able to work due to illness, which is a nice thoughtful touch.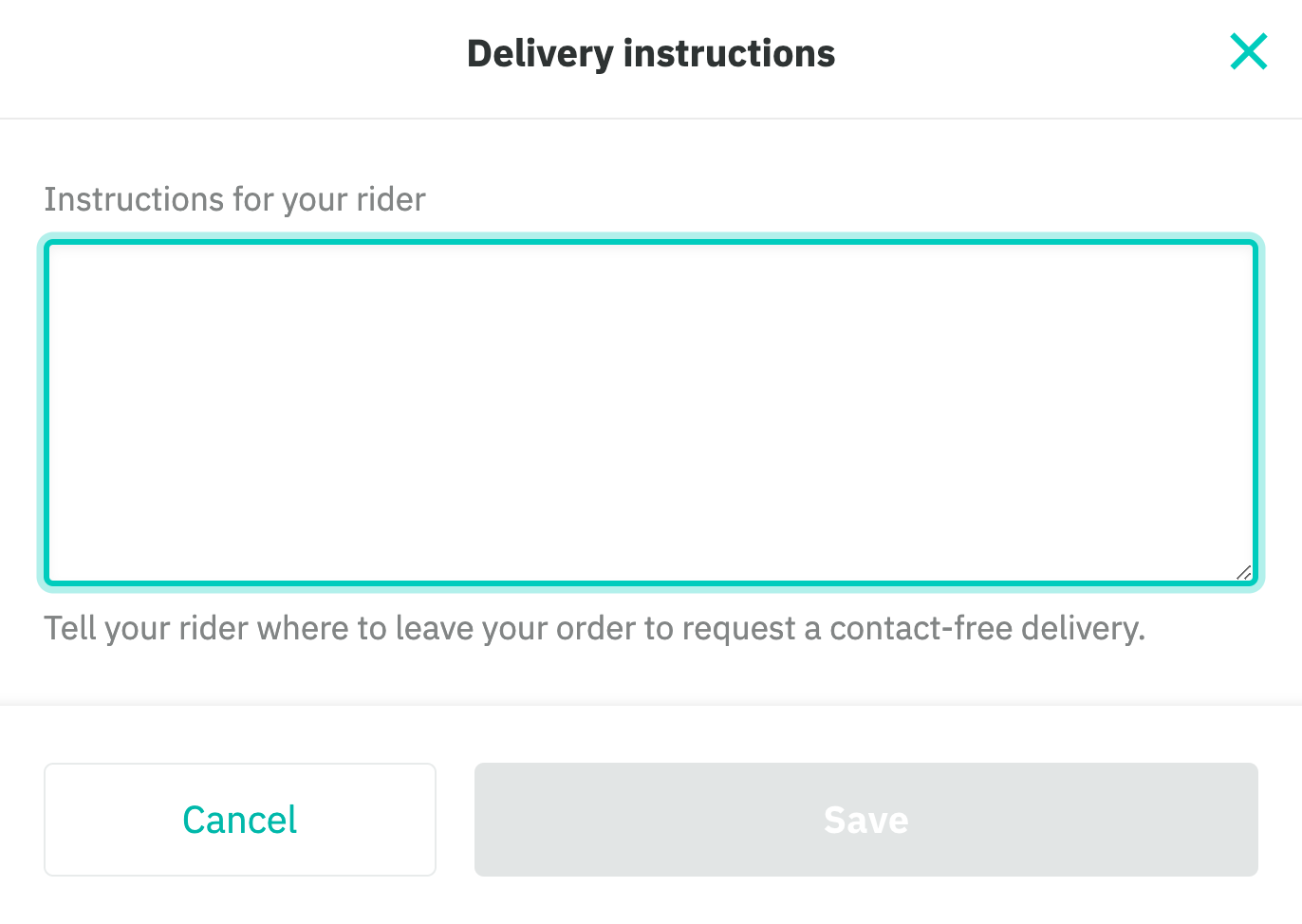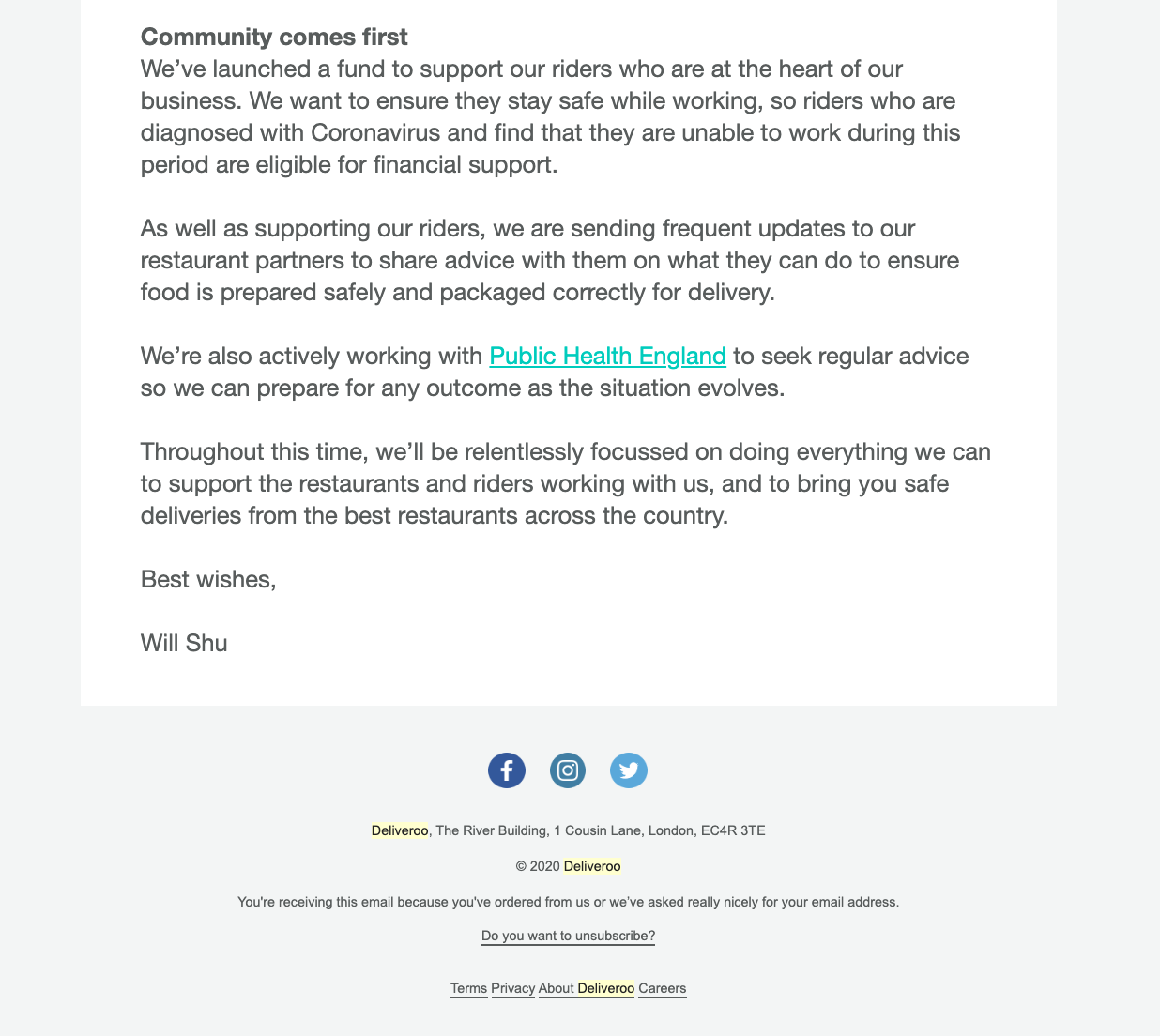 The quick responses of Wolt and Deliveroo not only reduced fear and solved a problem; it was also the responsible thing to do. They didn't pretend there was no crisis, they didn't make a joke out of it. They took the health of their employees and customers seriously and made a positive change, quickly.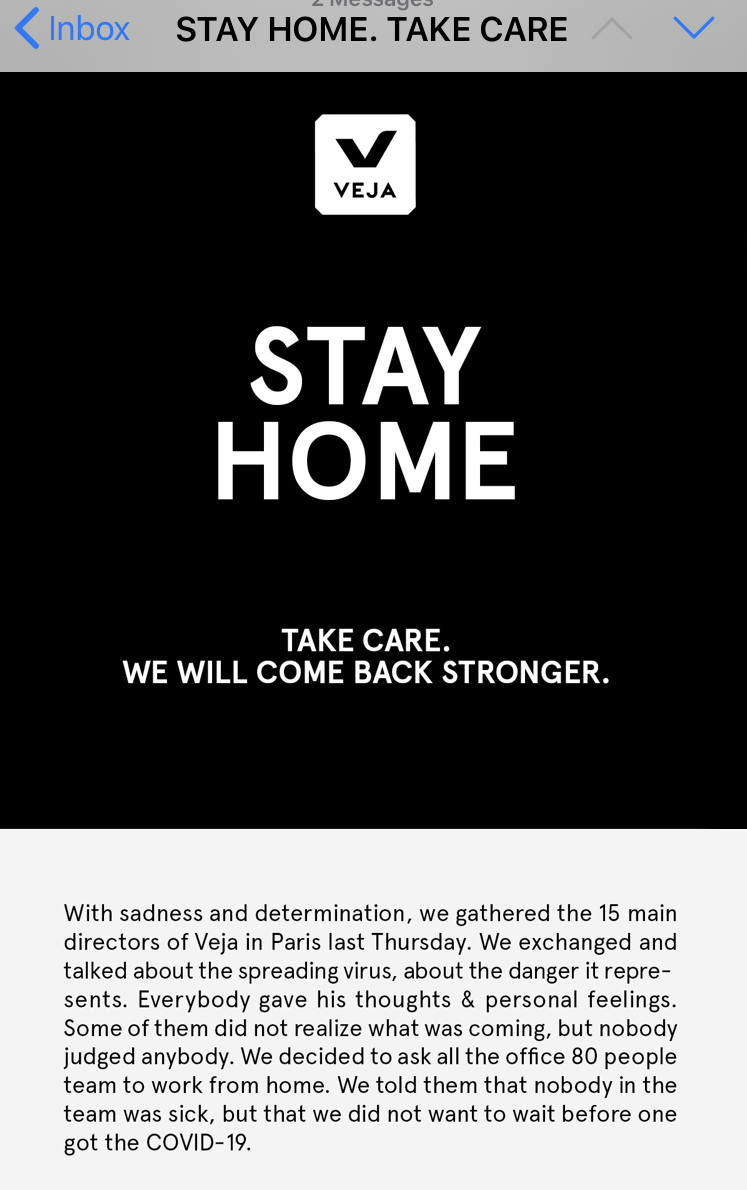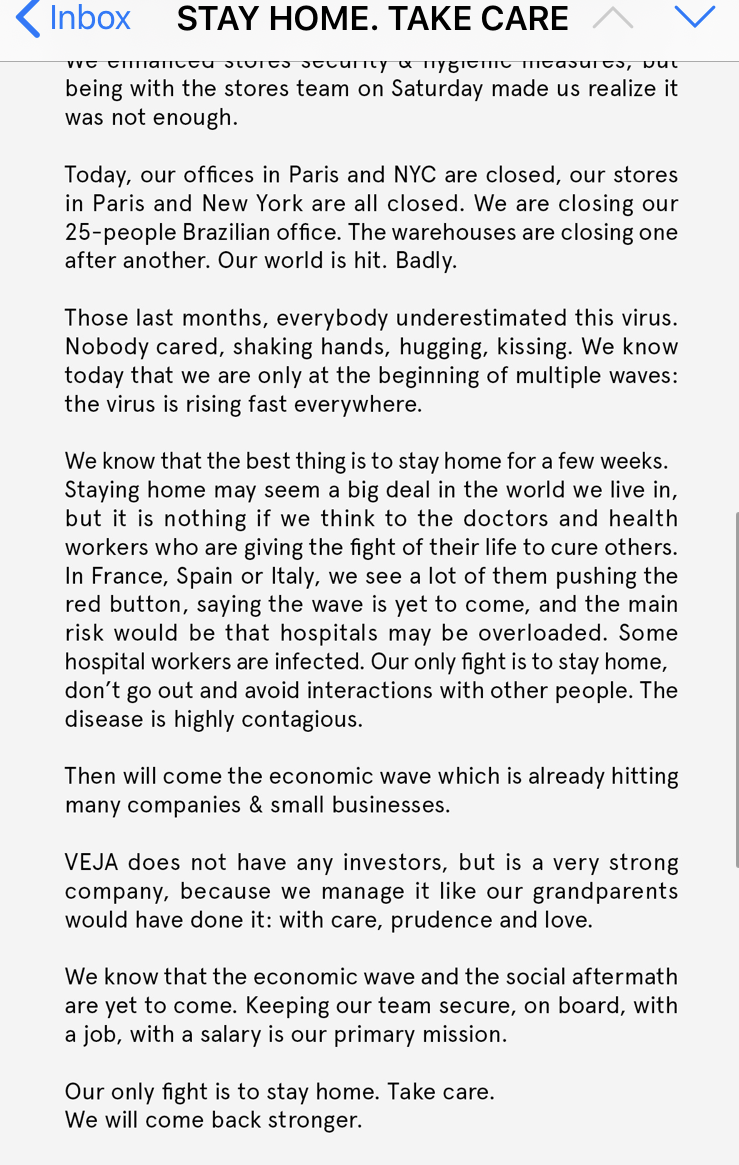 Veja, a French footwear brand, share a personal story about what they're going through and why they're sending employees home.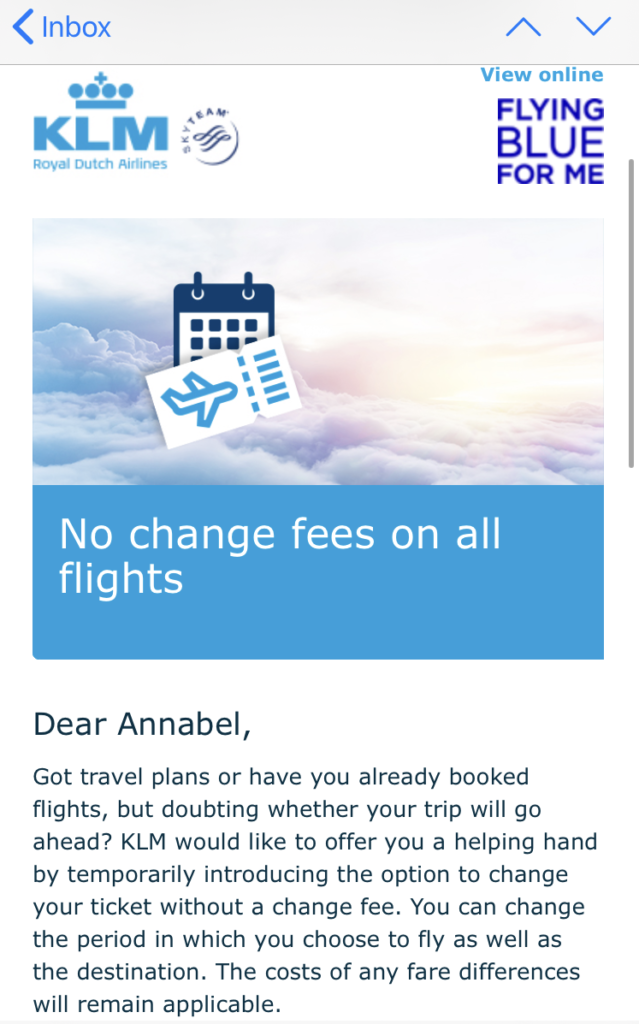 KLM, a Dutch airline, announced that there will be no change fees on all flights due to the uncertain times ahead with travelling. 
Too many businesses are acting as if nothing has changed. Others are sending emails that say they're concerned, then going about business as usual. Don't be like them. Be responsive and adapt to what's going on. Again, your customers will appreciate it.
Don't Forget Your Humanity
No matter what else, never forget that you're marketing to real people. It's easy to generalize your customers and think of them as an anonymous mass. Exponea puts customers into segments, and it's easy to reduce your customers to the segments they fall into.
Our segments can be extremely granular, but they never tell the full story. The person seeing your campaign, getting your emails, reading your push notifications – they're probably going through a lot right now.
Try to remember that as you're being proactive and responsive. It will help you make campaigns that resonate, that help the people you're trying to reach. Because like Mall.cz says, we're all in this together.
meet the author
Jordan Torpy
Technical CDXP Specialist
Jordan works closely with the content team and Exponea experts to create material that brings value to readers. With a background in teaching, training, and marketing, Jordan uses case studies, presentations, newsletters and more to illustrate what's possible in the martech world today.