Scott Silverman, Co-Founder of CommerceNext, hosted a webinar on the Impact of COVID-19 on Retail and eCommerce. He was joined by Sucharita Kodali, VP and Principal Analyst, Forrester Research, Chris Hardisty, SVP, E-Commerce Clarks, Barkha Saxena, Chief Data Officer, Poshmark and Angela Triana, Director of CRM, Altar'd State.
Sucharita Kodali began the call reviewing a Bizrate Insights survey executed in March 2020 and compared the results to a 2008 Forrester study. When asked "what is your sentiment around the national economy?" The general sentiment from the survey was that respondents felt less optimistic about the economy in general and their financial situation in particular than they did in Q1 2008. A detailed breakdown is shown below.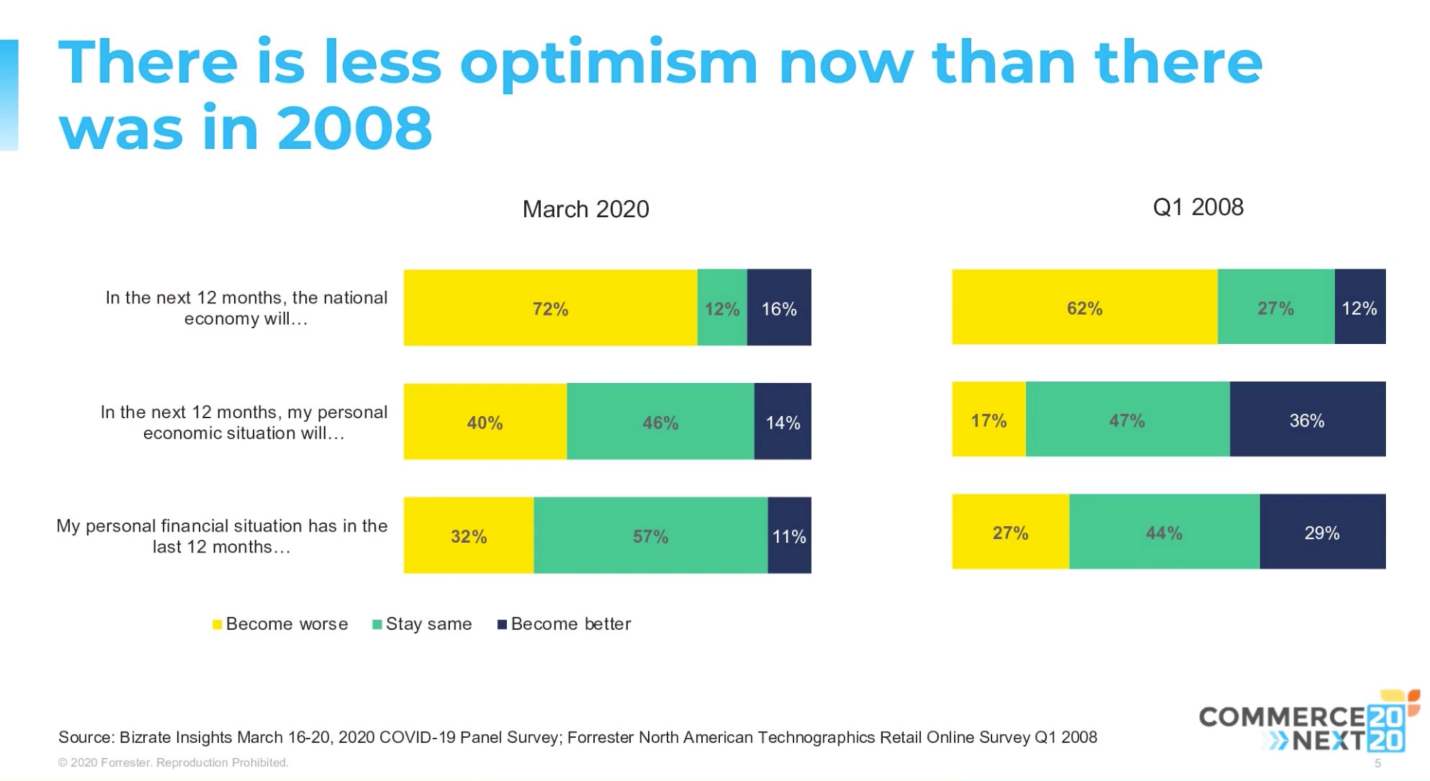 72% of respondents thought it would be worse compared to 62% in 2008.  Particularly pronounced was that 40% believe their personal situation in 2020 would get worse vs. 17% in 2008 and 32% said their personal finances have already become worse, compared to 27% in 2008.
"The challenge with this is that it's changing so quickly – overnight we're seeing changes in behavior and sentiment" said Kodali. To give a sense of how things have changed, research firm McKinsey completed a survey on Monday, a day prior to Forrester's and before strict governmental regulations were implemented, showing a more positive perspective compared to Forrester's research.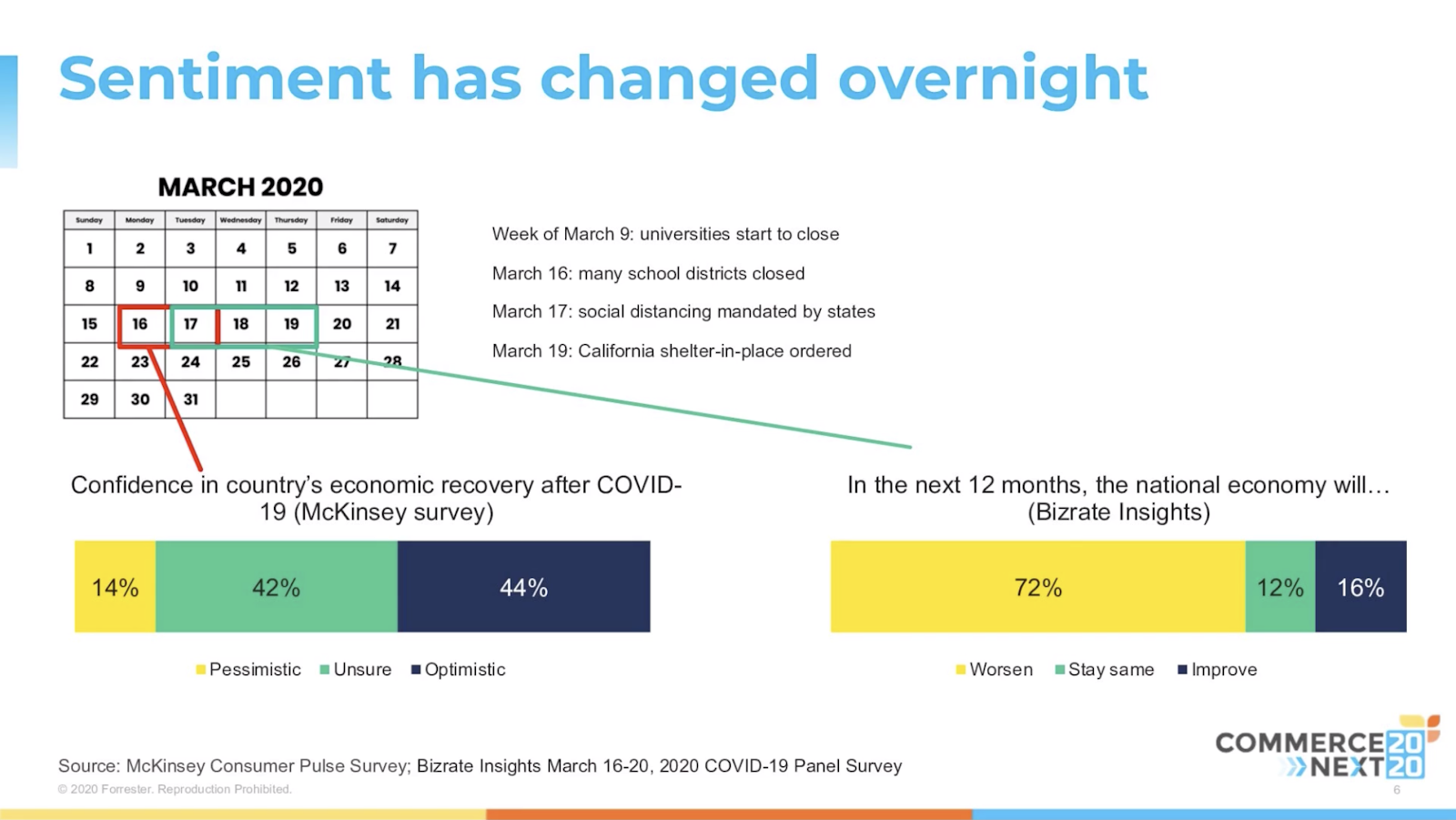 "We've been frequently asked how much eCommerce will be impacted by this, one thing we did not anticipate is that consumers are only buying certain items and many items are out of stock.  The customer experience isn't as great even as a few weeks ago which is driving consumers back to stores. Many consumers just want life to get back to normal." says Kodali.
From here, Scott Silverman reviewed the CommerceNext survey data.  Respondents were predominantly in business for non-essential goods and the survey was completed March 16-17. 44% of businesses are seeing higher traffic, while 75% of offline is lower.  In Feb of 2020 80% of businesses were at plan or ahead of plan compared to 54% in March. Additionally, while only 21% of businesses were behind plan in February, that number more than doubled to 47% in March.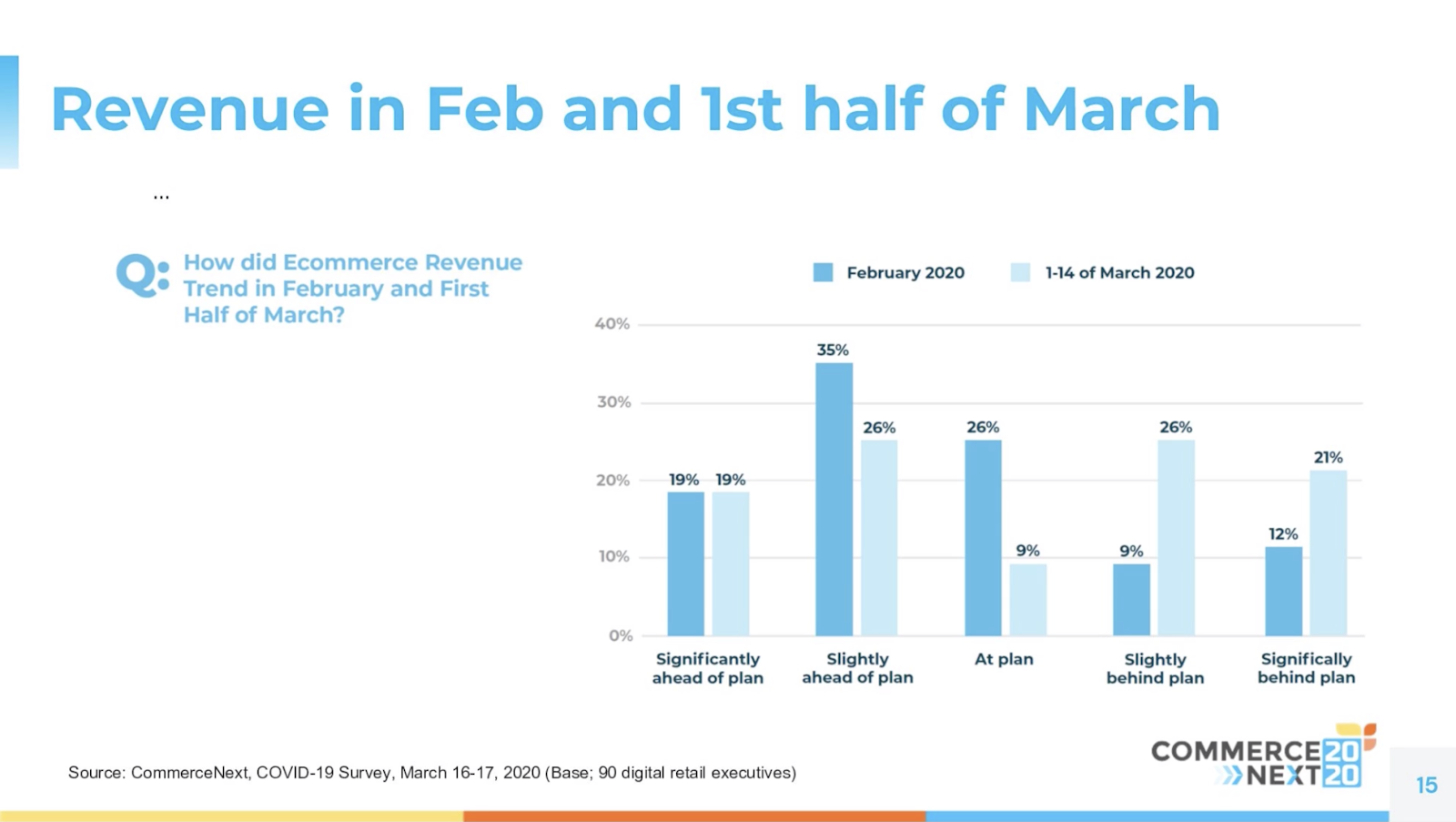 When panelists were asked how their organizations are being impact by the Coronavirus, they provided the following insight:
"The most important thing we can do right now is keep our environment safe and communicate with our customers regarding store closures and help with regular activities like returns. There is a lot of communication from a lot of companies but we want to be clear with how we're reacting" said Chris Hardisty.
"We need to help our community of sellers sell and make our buyers feel safe in their purchases" said Barkha Saxena.
"CRM is cross-channel, we were very experiential in our stores and are shifting that online. We are implementing Exponea and believe it will take us to the next level" said Angelia Traino.
To close the chat, Scott asked the panelists what were their key takeaways and next steps:
Chris Hardisty stated "This is uncharted territory.  None of us know how some of this will play out weeks from now let alone months from now."
Followed by Barkha who stated "We are founded on community, we are leveraging that during these times, even with the shift to virtual."
"We need to provide our customers an escape during this #crisis" said Angela Triano in closing.
So what's Exponea's take on this?
We have experienced our customers managing an intense increase in online traffic and activities.  They are doing their best to communicate digitally. One of their challenges is determining how to quickly be of value to multiple new segments while maintaining relationships with their loyal, digitally native segments.  Our customers are also experiencing new working conditions while trying to provide calm and reassurance to their customers. We think it's fair to say the CRM manager role, and an organization focused on the customer over the channel, will rise to importance out of necessity following this pandemic.  
It has been Exponea's vision that the world was already moving in this direction, but the pandemic has catapulted us into the age of the "New Normal."  For some, they were already there, for others this is all new – but one thing is for sure – we have all been impacted and brands need to understand how to engage with their customers better than ever before.  
To provide resources and assistance during the crisis, Exponea launched ecommerce.exponea.com providing regular updates on the impact COVID-19 is having on the eCommerce industry.  Additionally, in an effort to make communications easier, we are giving away our Web Layers starter product.
To view the webinar in its entirety, click here.