Retention is KING! Great. What now?
On March 21, Exponea hosted the second Online Retail Challenger's event at London's National Theatre. Expert speakers from Exponea, Missguided, EGO Shoes, and Sofology shared their advice about how to foster customer loyalty, offering actionable strategies and tips.
The event kicked off with a keynote speech from Exponea's CEO, Peter Irikovsky, about how important customer loyalty is. The rest of the day's presentations explored the following topics:

Why marketers don't focus on customer loyalty, despite knowing its importance

How to foster customer loyalty through personalization on-site, and personalized communication

How to foster customer loyalty through omni-channel communication

How to solve several scenarios using no automation, using some automation, and using fully customer-centric automation
We then had the opportunity to speak with industry experts about their experiences in fostering customer loyalty. We spoke with:
Nicola Fox – Head of CRM for Missguided

Lauren Percival – Head of Marketing for EGO Shoes

Nicola Cottrell – Head of CRM for Sofology
Video of these interviews will be released on the blog at a later date, so keep an eye out!
Peter Irikovsky's keynote speech is summarized below. For a full review of what was covered during Online Retail Challengers, check out our Guide to Fostering Customer Loyalty.
Keynote Speech
Peter began his Keynote with a list of ways companies piss their customers off, and solutions to those problems. The point was this: companies today aren't focused on improving the customer experience, causing them to miss opportunities to foster loyalty.
He brought up an example of how quickly customers can become frustrated: a customer opens a ride-share app and is unable to find a ride within 15 minutes. If this happens three times in a row, there's a 90% probability that the customer will never open that app again.
For fashion companies, the cost of pissing off a customer is even greater: say a customer is recommended a product, but when they try to add it to their cart, they're told it's not available in their size. This only has to happen two times in a row to create a 90% probability that the customer will now ignore that brand forever.
Peter also talked next about the importance of investing where it matters; showing that investments made to drive loyalty have a greater ROI than investments made to acquire new customers. He also discussed the shift in thinking that some top organizations are beginning to go through: Rather than arranging marketing efforts by channel, it all needs to be organized around the customer.

In addition, organizations are evolving their approach to customer relationship management, with more forward thinking companies focused on driving growth through customer loyalty. The most innovative companies even have a position like Loyalty Manager or Growth Manager, focused on improving customer lifetime value, and creating this growth.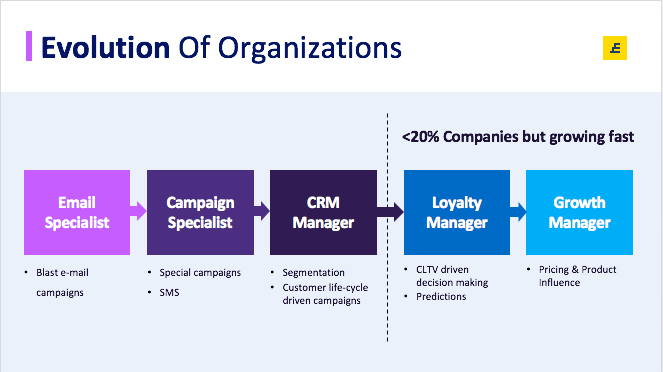 Peter concluded with the idea that there was a new paradigm in business today: growth through loyalty. Finally, he asked who at the event had one person in their C-Suite who was focused on customer loyalty. Not many hands went up.
It's time to make customer loyalty a priority. If you're ready to get started, take a look at our latest e-book, which is what the Online Retail Challengers presentation was based on. It's packed with even more personalization and omni-channel strategies than we had time to cover in the event.
What Should You Read Next? Author's Hand-Picked Recommendation:
Develop a Perfect Customer Loyalty Program
It costs 500% more to acquire a customer than to retain one. Yet only 18% of companies today focus on retention. Why?