If you aren't using Artificial Intelligence (AI) to communicate with your customers, your company is already falling behind. This article looks at the state of AI in online fashion retail, comparing companies that use it and companies that don't.
This article will also discuss how AI is currently used by fashion retailers, and how we believe it will be used in 2021 and beyond. We took a moment to speak with Lisa Carr, Head of E-Commerce Trading at Agent Provocateur, to find out how she has viewed the development of AI in online fashion retail. This article combines our findings and hers.
Listen to this article
How to Use Artificial Intelligence (AI) in Online Fashion Retail | Audio Version
The State of Artificial Intelligence (AI) in 2021
I believe that AI is imperative to a business's success. Without AI, businesses are missing sales opportunities and efficiencies within their teams. It is an integral part of any business, not just e-commerce or digital.
Nowadays, AI is often communicated as a black box – you feed it data and you get great results, fast. Although this may be true in certain AI fashion use cases, most of the time, we are still far from such instant successes. The reality is that commercial AI is still in its infancy and we are on the frontier of its development and application in the real world.
Most current AI algorithms make predictions and choices like humans would: they learn from historical data. But as we begin providing AI with higher quality training data, its precision may dramatically improve.
That said, AI (supported by big data) already ignited the so-called 4th industrial revolution. In 2016, the industry magazine Business of Fashion proclaimed that no area of life or business will be insulated from AI.
Today these technologies, as well as easy access to their utilization, are disturbing every industry (not just fashion) like never before. And the use of artificial intelligence in fashion retail is continuing to grow, into 2021, and even into the more distant future.
Many Companies Are Attempting to Incorporate AI
According to a study by IMRG & Hive, three quarters of fashion retailers will invest in AI over the next 24 months. E-commerce giant Alibaba, who is already heavily involved in fashion retail, invested $15bn in R&D labs in a push to become the AI leader.
We asked Lisa if she felt AI would be a determining factor in a fashion retailer's success:
I think that there are requirements within the industry for businesses to increase efficiencies and output to reach higher sales targets. Removing long and convoluted tasks that do not require human thinking is necessary. Replacing them with intelligent machine learning is a must.
The Impact of AI on Online Fashion Retail in 2021
The ever-increasing scale and granularity of personalization in online fashion retail is impossible to manage without the assistance of AI and related automated processes. Gartner predicts that by 2021, customers will manage 85% of their relationships with an enterprise without interacting with a human.
A growing number of companies who have adopted these new technologies are raising the bar on service and personalization, which customers have learned to expect.
Currently, 44% of UK fashion retailers are facing bankruptcy. A lack of AI could be part of the reason: companies who didn't find a way to properly implement it are now struggling to be competitive with the ones that did.
We asked Lisa why these companies might have had trouble incorporating AI. She said, "I think that it can come down to the investment. It can sometimes be hard to quantify the time and human resources saved, versus committing to system upgrades/third party tools."
Whatever the reason, AI fashion e-commerce tools are becoming more and more necessary: McKinsey says that the top 20 percent of fashion businesses generated 144% of the industry's profits. The time of being average is gone – to survive, a business must become one of these top performing companies.
That's why implementing AI is now crucial. It helps companies streamline their costs, while at the same time providing the kind of customer experience that customers expect, allowing the companies who utilize AI well to compete with the major players.

How Do Customers Interact With AI in 2021?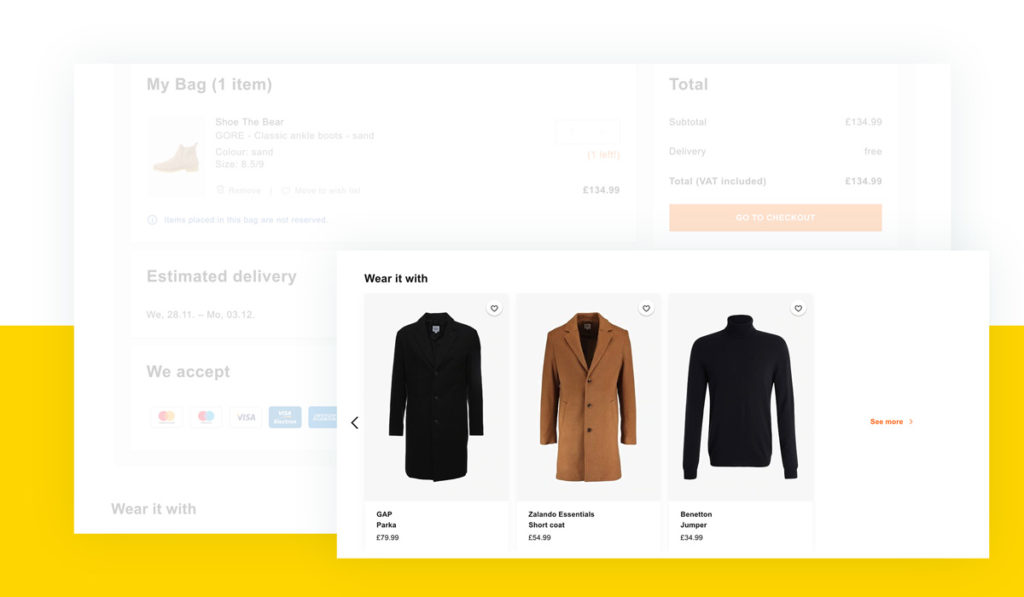 Generation Z is already highly accepting of AI, (personalization in particular), but older generations still tend to be wary of AI's impact on their lives.
The distrust may be in part because the companies utilizing AI still haven't found a way to communicate the positive impact effectively: an increase in sales is just a product of the seamless customer journey and better overall experience that AI offers.
Today's customers expect a lot from an online store:
That it won't "waste their time"

That they will find products that fit them

That the product they want will be in stock, with a large variety to choose from

That the experience will be personalized for them
This is exactly what AI can achieve. Thus, AI is slowly, yet steadily transforming the way customers shop for fashion products online.
How Can AI Be Used in 2021 for Online Fashion Retail?
Some AI use cases are highly niche, (e.g. Sephora's virtual artist, which lets customers try out makeup online). But some AI use cases are already becoming widely implemented, with a varying degree of success.
Using AI in 2021 for Visual Recognition
One of the most common online fashion AI use cases is visual recognition. This fashion algorithm recommends similar looking apparel to customers. Visual recognition is most often used on the detail pages of online stores, ensuring that customers will always find the right product.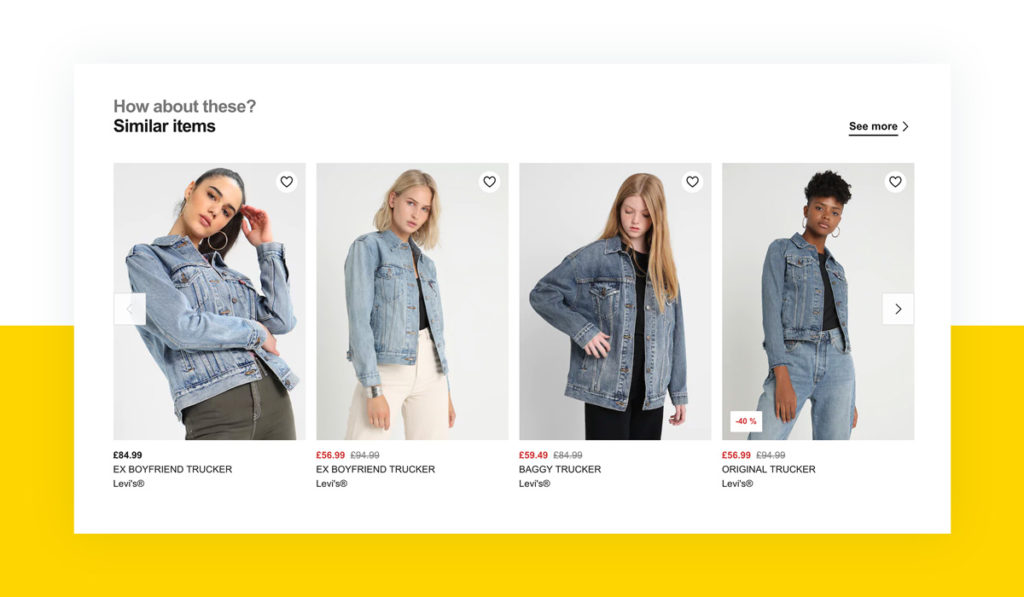 Source: ZALANDO's Detail Page
Visual recognition can help online fashion retailers recommend appropriate tags when adding new products to the store, saving time. Visual similarity can also be used with past products to help purchasing departments better understand the volume needed, minimizing overstock.
How to Use AI Fashion Tools in 2021 for Customer Purchase Predictions
Leveraging aggregated data from all your customers, AI algorithms are used to predict whether certain customers are showing signs of making a purchase soon (analyzing the number of visits to product pages, the frequency of newsletter opens, etc.)
These insights are then leveraged to ensure the purchase and create a positive customer experience.
Using AI in 2021 for Trend Predictions
Get ready for AI apparel and AI clothing styles: AI could be utilized to predict the next trend in fashion through monitoring social media and other data sources, learning from similar past behavior and its results. These insights could be used to inform purchasing departments of which types of products, or what sort of marketing campaigns to prepare.
That said, tread carefully when using social media to target customers with personalized offers. As Lisa told us, "Social media feels a little invasive when ads are served after having private message conversations."
Using AI in 2021 for Purchasing Recommendations
One of the worst problems fashion retailers are facing is overstocking.
AI can be used to predict which products should be purchased to meet the upcoming trends, and in what volume. This decision is based on the purchasing power of the customers, taking current stock into account as well, in hopes of reducing overstock.
Certain algorithms can also be used to predict supplier price changes, and to recommend ideal times to lower the purchasing costs.
Agent Provocateur is currently only using minimal AI on-site. Though they plan to expand their on-site use, they've focused their attention on other applications.
We use it for our on-site search results and product recommendations. Both of which have profitable results and are key e-commerce trading tools.
Using AI in 2021 for Inventory Management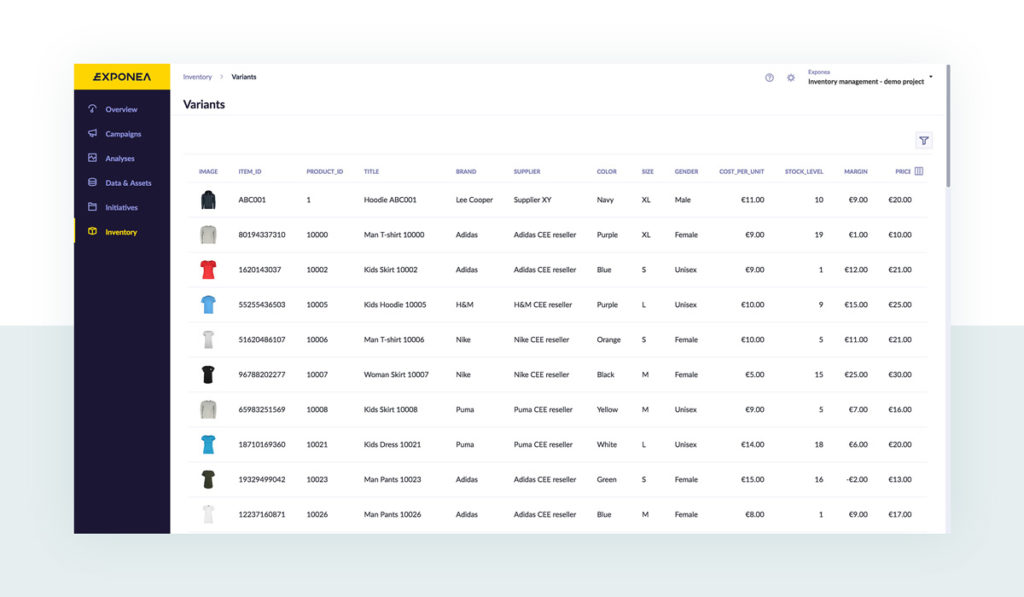 One particular application of artificial intelligence fashion retailers see a lot of promise in is inventory management. Fashion retailers tend to have significant capital tied up in their inventory; artificial intelligence is being used to help them increase stock turnover by taking into consideration the "need" to sell older stock as soon as possible.
This is a crucial AI use case that helps fashion retailers increase their profitability, because the longer you have the inventory in stock, the lower your chances of selling it.
Using AI in 2021 to Find an Ideal Price Point Recommendation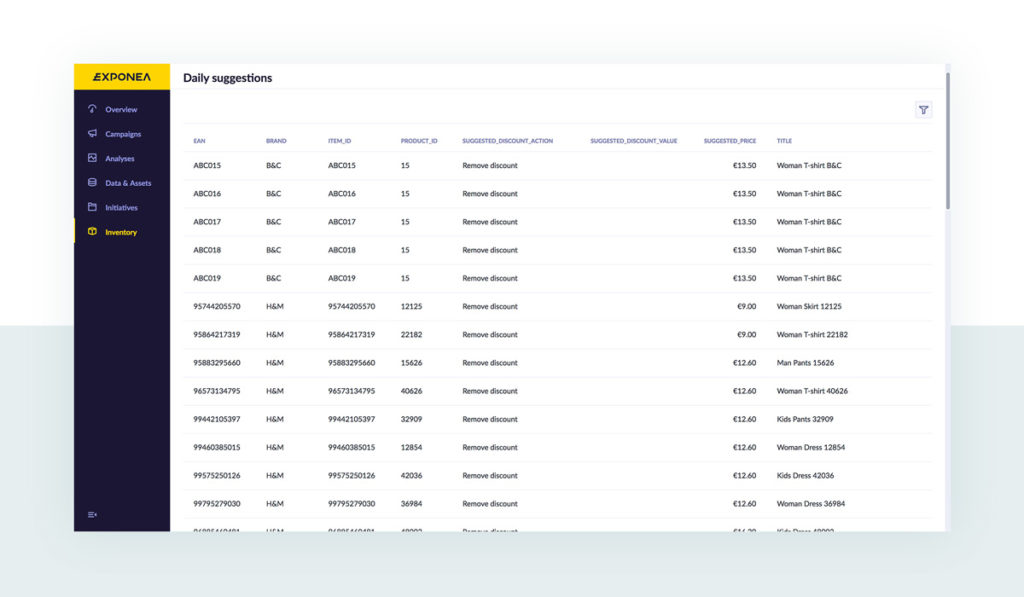 Using freely available data, AI can monitor your competitors' product prices and recommend ideal price points to maximize your revenue.
These changes can be automatically applied with broad strategies:
Keep the lowest prices, but retain at least a minimal margin

Maximize profitability by slightly increasing prices
Using AI Chatbots
AI chatbots, alternatively called smart assistants, are another way AI is used in fashion e-commerce. These AI chatbots could be used by online retailers to mimic customer service agents, helping their customers find what they are looking for. This greatly scalable method of customer service can increase a retailer's global conversion rate.
Fashion retailer, Levi, is a pioneer in the use of AI chatbots in online fashion retail; their chatbot helps their customers to find the perfect pair of jeans.
What Are the Realistic Expectations for the Future?
Each year, it becomes more and more important. AI is actually a core requirement to ensure you're not left behind as a business, to meet consumers' high levels of expectations. As consumers' lives get busier, any way to speed things up will be welcomed.
Without a doubt, the tasks currently executed with AI will grow in complexity, speed, and precision. Artificial intelligence will become embedded in our daily lives, enhancing our professional performance. This will create an ever-increasing divide between businesses who have found a way to utilize AI, and those who were too late.
One example of AI's evolutionary path is being implemented by Tommy Hilfiger. This highly recognized fashion brand wanted to use AI to kickstart their creative process. To do that, they announced a partnership with two major players: IBM & the Fashion Institute of Technology.
Avery Baker, Tommy Hilfiger's chief brand officer, said "the goal was to equip the next generation of retail leaders with new skills and bring informed inspiration to their designs with the help of AI." He continued by saying that "AI can identify upcoming trends faster than industry insiders to enhance the design process."
Companies armed with such a powerful utilization of AI will be able to produce new apparel faster than their competitors and with a higher probability of matching the market's needs with their collections, becoming more profitable than the competition.
Why Are SaaS Companies Like Exponea Leading The Charge
We've only just started our journey, so we're looking towards the future and working with Exponea to bring a new level of personalization with a luxury feel to all Agent Provocateur customers.
Proprietary algorithms developed solely by fashion retailers could have a lasting impact on their businesses, and are providing them with a competitive advantage. But their development isn't contributing to the evolution of AI across the whole industry.
SaaS companies, such as Exponea, have consultants on the lookout for repeating patterns across various online retailers. These SaaS companies supply AI development teams with insights that push the precision of the algorithms, which could be applied across the industry.
AI development teams are coming up with new solutions to test across multiple online retailers, proving their feasibility beyond a pure hypothesis or a single use.
That is the reason why we at Exponea are so highly focused on AI. By developing and perfecting our algorithms, we empower our clients to leverage our collective know-how to become highly competitive in their respective markets.

Want more? We've got you covered
What Should You Read Next? Author's Hand-Picked Recommendation:
The Formula for E-Commerce Success Revealed
Learn the metrics that matter, and how to apply them to your company to increase conversions and revenue.
meet the author
Samuel Kellett
Head of Content
Sam leads the content team at Exponea, where he manages the production of e-commerce articles and case studies, as well as the content for webinars and events. With his background in screenwriting and theatre, Sam brings a unique perspective to his role as Exponea's head of content. Sam's passion is storytelling: he is constantly exploring new and creative ways to explain complex topics.