Before I came to Exponea, I always thought of company values as nothing more than a branding tool. Exponea changed my perception on the importance of company values in enabling growth through values-based leadership.
But what actually made me write this article was joining a leadership academy with fellow Exponeans, and attending our all-company summit right after. All these experiences packed into just a few days can be summed up in this sentence:
"The moment when your heart starts beating yellow you discover the impact of values fostered by people who are on the same mission as yourself."
What are Exponea's values anyway?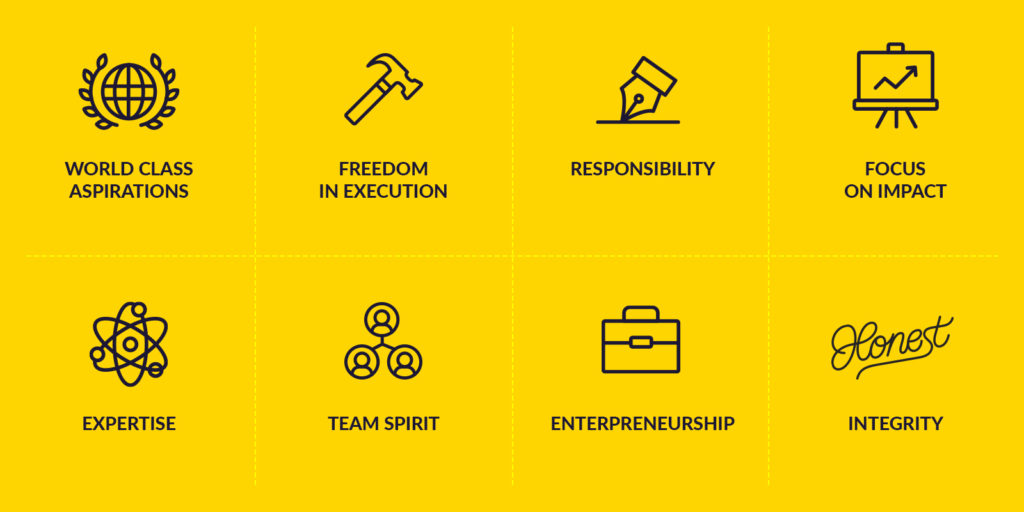 What is Values-Based Leadership & Why is it Important?
Values-based leadership is hailed as the only true leadership by some, and from what I've been seeing at Exponea, I'm starting to believe it.
The essence of this leadership style is staying true to your values and leading others by remaining consistent and aligned around them.
Even though the leader's tactics or overall strategy may change, consistent values provide the fixed backbone of an organization for all employees to align themselves around. This is particularly important for fast-growing businesses where it's incredibly important to stay both agile and high performing, even through times of heavy business transformation.
When The Right People Get Together, Magic Happens
The most important thing to realize with values-based leadership is that you can't force your values on people who don't share them, or worse, who have their own world-view that goes directly against your values. If you do, you are at risk of creating a toxic environment.
In order to make sure this doesn't happen at Exponea, one of the most important parts of our hiring process is to find professionals that share our common values, or who at the very least won't clash. This is done during our 3-step interview process, ending with our CEO having a short call with them to ensure that the new hire will be a great addition to Exponea.
Finding people who fit matters a lot, because common values enable you to connect with your colleagues, no matter what your personal story is, or what position you hold at the company. And these connections lead to less interpersonal friction.
Arguably the most important impact of values-based leadership is this: sharing values with your colleagues streamlines decision making across all the levels of the company.
You realize that you aren't overly concerned about whether the call you've made was the right one, as long as it adheres to your values. And since you work with the people who share those same values, you tend to naturally trust that your colleagues will make the right calls as well. Values-based leadership also reduces the need for stark management practices, leading to faster processes that move with a positive energy, and free us as a company from the risk of becoming paralyzed.
Don't get me wrong, values alone won't save you if the decisions aren't being made with enough thought and domain expertise. And, of course, not everyone perceives the values the same way you do, but my experience with Exponea has taught me that the overall benefits far outweigh the cons.
Framing Values On The Wall Won't Cut It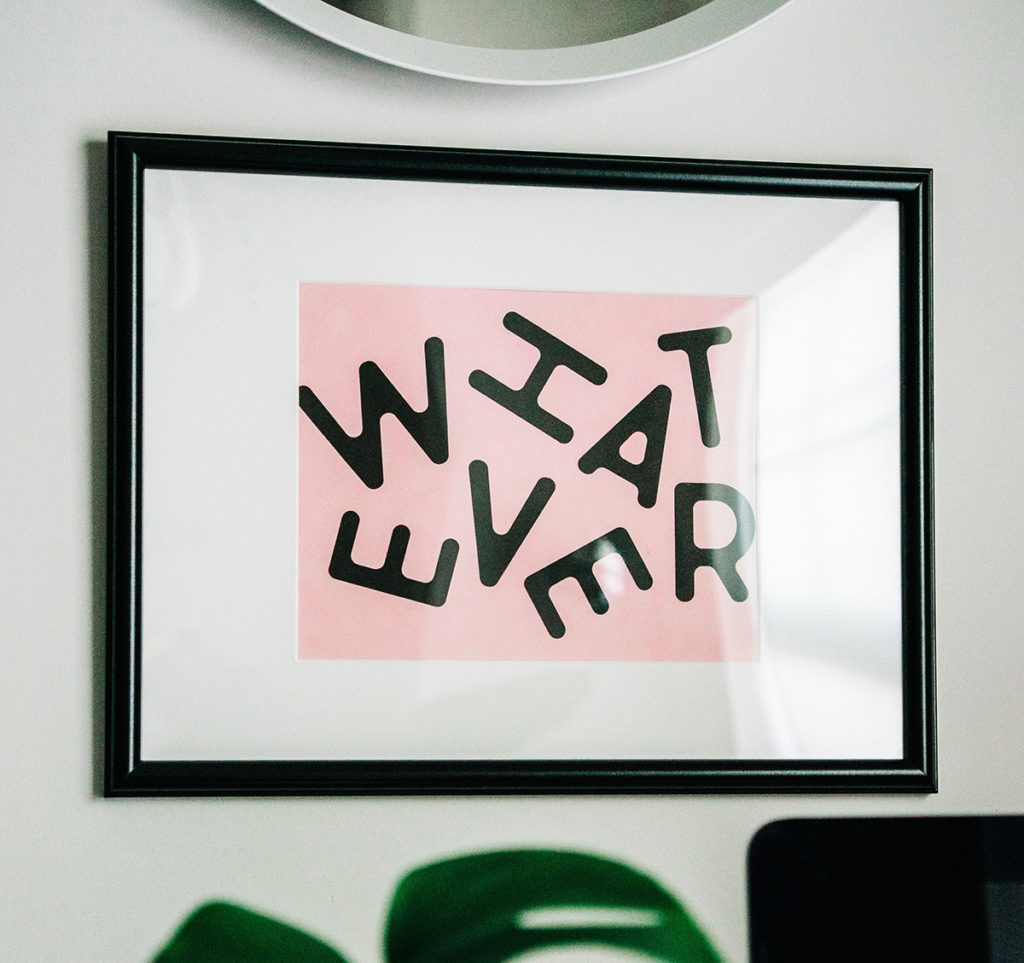 I believe values-based leadership works for Exponea because our CEO, along with the rest of our upper management, are active promoters of values-based leadership within their departments.
This role model behavior is supported by the active development of each of our values within the company.
Okay, so how do we work with our values?
Entrepreneurship
When someone goes to their team leader with a project that could help Exponea in some aspect, as long as there is a solid case for it, it will usually be approved, even if it doesn't fit the job role of the person who came up with it.
We don't put people in boxes; they have their core responsibilities, but they also have the freedom to grow as they like, taking on the challenges they want to tackle in order to help Exponea grow.
World Class Aspirations
We hired two highly qualified business & life coaches, and anyone in the company can go to them for help finding a way to become the best version of themselves.
Team Spirit
We give everyone who is responsible for leading a team at Exponea the opportunity to join our leadership program, where they are taught ways to best understand themselves and their colleagues.
Furthermore, we communicate very openly, making sure that we minimize walls between departments and teams.
Freedom of Execution
We work on the basis of OKRs. Roles have defined objectives with key results, and it's up to the Exponeans responsible to deliver on them. How they deliver is up to them.
Responsibility
Responsibility goes hand in hand with freedom of execution. Whenever we give someone freedom, they are responsible for the results. Both positive results, and failures to learn from.
Focus on Impact
We make sure to regularly ask questions and challenge what we and our colleagues are doing, to make sure it's delivering the most impact it can.
Integrity
Integrity is an ever-present topic within Exponea. We've had several all-company workshops on what it actually means to act with integrity.
Expertise
One of the benefits for each employee who has been with Exponea for at least six months is one month's salary to use for any training they choose, without any need for approval.
Is Values-Based Leadership For Everyone?
No, of course not. Probably the most difficult aspect of values-based leadership is that team leaders need to learn to deliver feedback, not only on a team members' performance, but on their culture fit and values as well. This can be very difficult for some types of leaders, and as such, can create a pressure for them.
To make values-based leadership work across the entire organization, the company also needs a strong CEO to champion the idea, as well as the support of everyone in a senior leadership position.
So if you choose to go for values-based leadership, you either need to go all in and not even attempt it. And that can be terrifying, especially for organizations that are already mature.
Why Did We Choose Values-Based Leadership?
Values-based leadership is one of the tools we use to develop future successful entrepreneurs who will share common values.
We derived our values by studying successful entrepreneurs, and we believe that they contain the core of what makes a successful entrepreneur. Teaching and nurturing these values will enable us to raise another generation of successful entrepreneurs, who would be able to build successful companies with positive working environments, and thus helping with the transformation of our region. We call this plan the Exponea Mafia, after the successful PayPal Mafia.
Another arm of this plan is Exponea Growth Participation Programme (Exponea's stock option programme), which will help those Ex-Exponean entrepreneurs gain enough capital to launch their companies.
Now what?
Even though this article may sound rather sugary with a dash of rainbow on top, but our culture isn't for everyone and we are, as any other company, dealing with daily challenges. And for the people who really want to make a difference, working at Exponea will give you the opportunity to find your mission worth pursuing.
If you'd like to reach out to me personally and find out if you & Exponea would be a good mutual fit, connect with me on LinkedIn or if you already know that you'd fit in just fine, feel free to apply.