I've been in the fashion business since 2009 – I've worked in marketing for fashion retailers and I ran my own fashion distribution and ecommerce company. During those years, I spoke with hundreds of brands, distributors, retailers and marketers from the industry. I've been to many fashion trade shows where I negotiated the purchase of overstock from companies. At Exponea, I have worked with dozens of our fashion clients. Inventory levels have always been an issue for most of us in the industry. 
If you're reading this article, chances are that you might need some help as well. If you've never struggled with inventory issues, then congratulations! But this might not be the right article for you. Carry on with your life in paradise. For everyone else, read on.
Bad purchase decisions don't only happen due to mistakes in judgment or internal factors. As the coronavirus outbreak is showing, external factors can also have an impact on plans. All of a sudden, inventory decisions that seemed reasonable 30 days ago don't make sense and could potentially weigh down business performance.
The most troubling aspect of inventory is the cash that it ties up. Since we're expecting lower demand with the coronavirus crisis, marketing budgets are likely to be cut – spiraling into even lower sales and lower inventory turnover. In response, most businesses will resort to dramatic stock clearance campaigns.
We have tremendous sympathy for all businesses currently impacted. To provide some help, we've prepared a guide on how to clear excess inventory in the most effective way while minimizing negative impacts on your business. Crisis or not, these are some of the things to keep in mind when dealing with excess inventory, especially for those in the fashion business.
We hope this guide helps you, and we're also ready to help you with the execution of the steps laid out here. Reach out to your team if you're an Exponea client. If you're not, you can contact me personally at petr.vaclavek@exponea.com and we can discuss how we can help you out today, at least with some guidance.
Goals of Clearing Inventory
1. Bring in as much cash as possible.
This one is obvious.
2. Bring in cash as fast as possible.
You want the cash in matter of days and weeks, not months and years. This becomes more critical during a crisis.
3. Minimize spend on promotion of clearance.
Since you're already sacrificing some of your profits, you don't really want to spend a lot of money on sales promotions.
4. Optimize for total margin and revenue.
It might sound a little counterintuitive, but it's important to keep margin in mind, even when clearing inventory. If you could choose, would you rather sell 8 items for 3 € each, or 6 items for 4 € each? 
In some cases, you actually might bring in more money, as long as you aren't too aggressive with your sales. I'll show how this is possible in the following section comparing 2 discounting models.
5. Don't hurt your future business.
Businesses are always fighting for survival – especially in crisis situations. I understand that. You want to bring in as much cash as you can now, regardless of the following months. I understand that. But a 50% discount on everything will hurt your business in the long term and won't be an effective solution now. It will cost you revenue during the sale as well as in the months following the sale, so you will end up in worse shape.
Comparing Two Clearance Models
Businesses care about numbers, so let's look at some. We'll compare two hypothetical scenarios of the results of a sale. 
Scenario A: Very aggressive promotion and discounting
Scenario B: Selective and smart campaigns and discounting
For the sake of simplification, I won't take into account any other costs with your inventory – carrying cost, shipping costs, etc.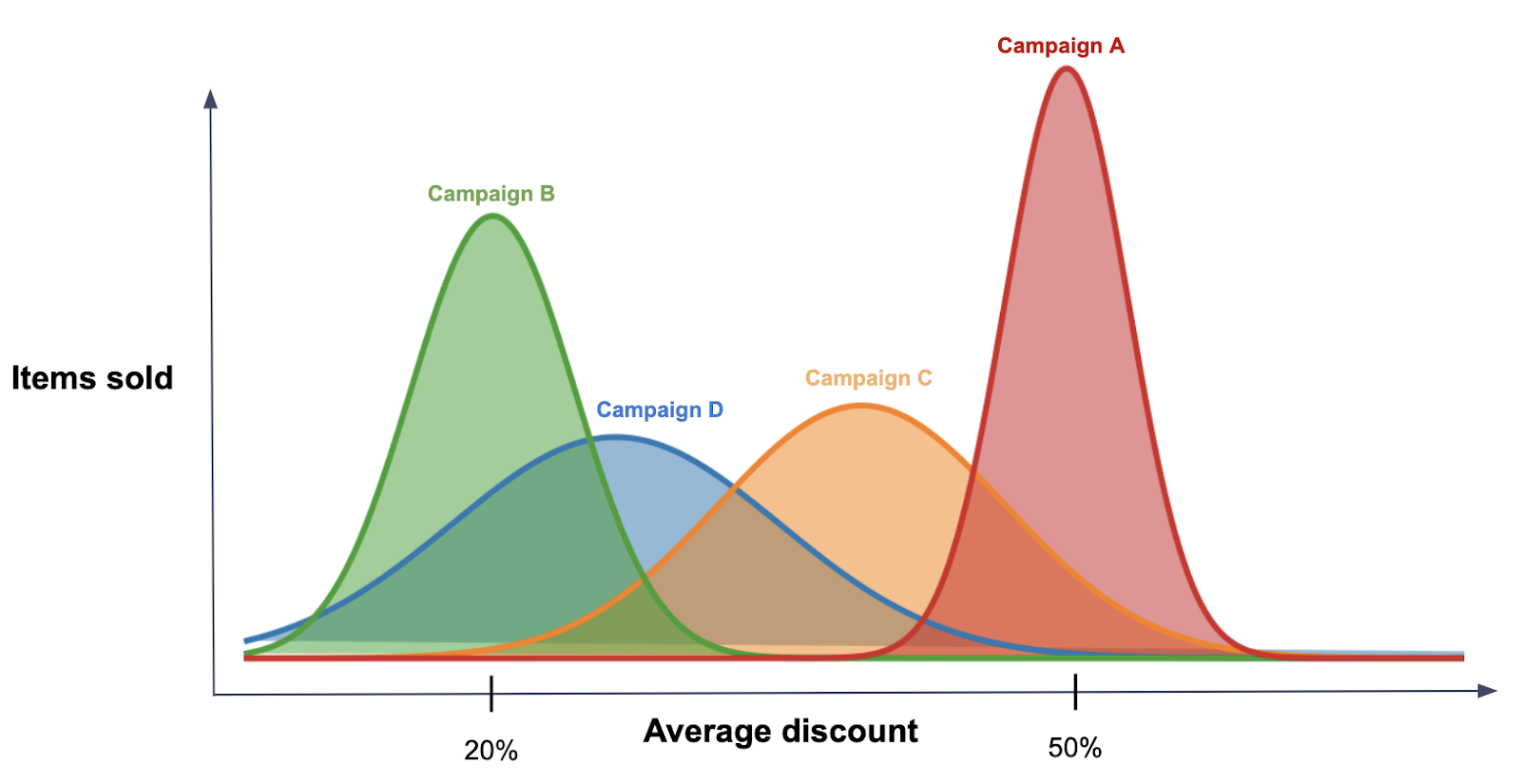 Scenario A: Everything must go – 50% OFF
A flat 50% discount on a significant portion of products available.
Scenario B: The most efficient, smart clearance
A lower average discount on products, carefully selected.
From the graph above, you can see that even higher discounts might not always bring better results. The execution of the campaign is crucial. 
Financial breakdown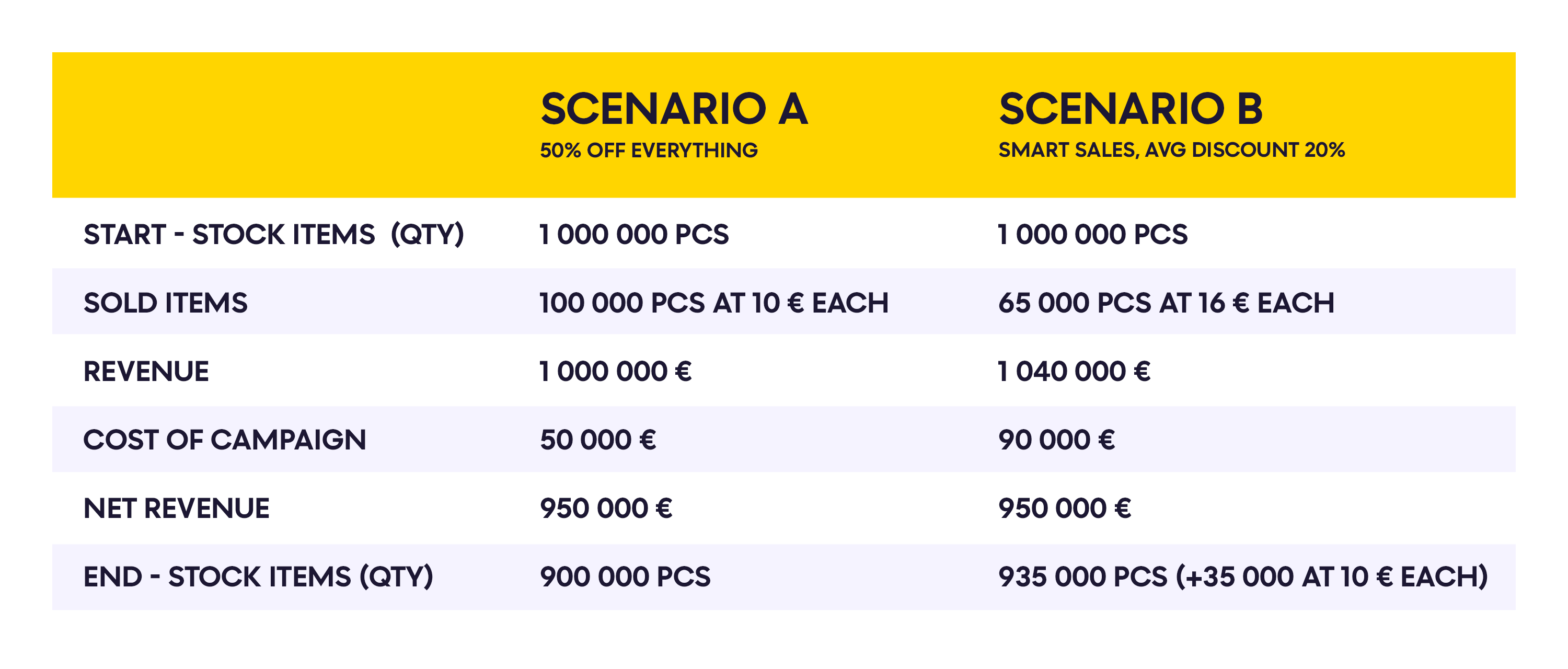 The question is – can you generate almost as much demand for a less attractive discount? Is it crazy to think that scenario B is possible? 
Conversion rates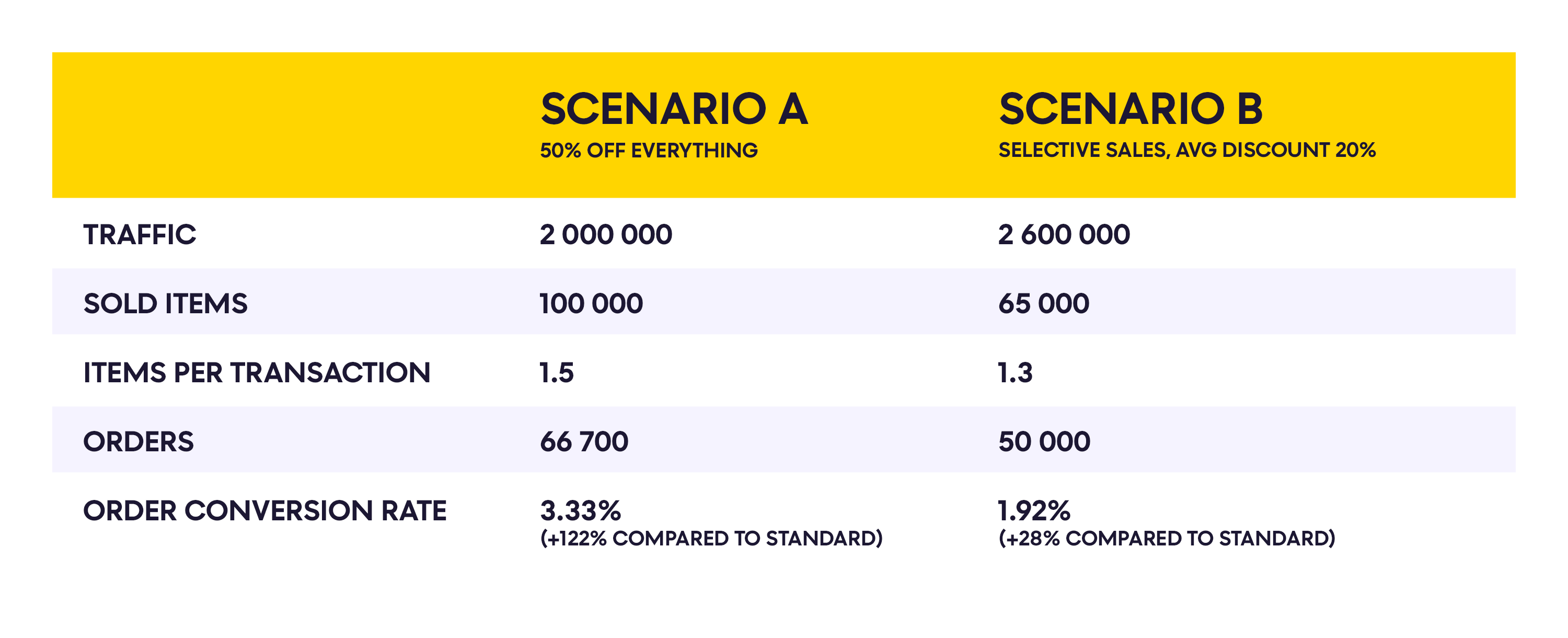 For a standard ecommerce shop with a site-wide conversion rate of 1.50%, they would need to increase their conversion rate by 122% for scenario A. 
For scenario B to bring in the same revenue, they would only need to increase their conversion rate by 28%, and they could afford a higher marketing budget to drive more traffic (see Cost of campaign in financial breakdown). 
For scenario B, we have what at first looks like a less attractive campaign, but an 80% higher marketing budget than scenario A, which should bring in at least 30% more traffic. 
I made the assumption that Scenario A will have on average 1.5 items per transaction and scenario B only 1.3 items per transaction, which doesn't necessarily have to be the case. It's possible that scenario B could have the same (or even more) items per transaction.
Scenario B doesn't seem impossible, right? 
The truth is, you might even be able to outperform scenario A with a clever clearance. I've often seen end-of-season 50%-off sales for some underperforming products, only to find out that the conversion rate stayed the same and traffic didn't increase. That means customers brought in less revenue, and it would have been better not to discount at all.
The long term impact on your business matters. You should always choose option B if you can deliver the same results without hurting your future business.
So how can you create the most effective inventory-clearing promotion in the history of your company? We've prepared some specific campaigns and tactics that can help you do just that.
Tactics
Sale Psychology
1. Perceived value of discounts
If you promise your customers a sale, you'll have to deliver a high-quality sale event. But it doesn't have to mean that all your products will be 50% off. Use the perceived value of each item to sort the items in the sale to deliver the highest perceived value, not the highest percent discount:
People don't always pick the cheapest option, but seeing that cheapest option increases their appetite. "I like this 50%-off sweater for 25 €, it's a good bargain, but I also like this one for 35 €, so I might as well buy the one for 40 €, which I like the most of all three anyway."
Or imagine a SPRINGSALE coupon with different discounts for  different amounts:
Spend more than 30 €, get 5 € discount
Spend more than 60 €, get 15 € discount
Spend more than 100 €, get 30 € discount
In percentage terms, what is the best discount? If you're a really lucky shopper and spend 100.01 €, it might be exactly 30%. But it's more likely that a customer will spend a bit more than 100 €. Let's say they spend 120 €. They still only get a 30 € discount, meaning the percentage value of the discount is 25%. If they spend 200 €, the discount percentage would drop to 15%. Much better than a flat 30% discount, right?
From tests I have personally conducted, a hard cash value of 30 € has as good of a marketing potential as a 30% discount, but the impact on the numbers is incomparable. Of course, you have to test what numbers work for your business, but you get the general idea.
2. Set prices carefully
As seen above, always consider a product's performance when you set prices.The customer is already interested in the sale and for them there's not a big difference between spending 25 € or 27 € on an item. The conversion rate for these 2 prices will be the same. But the difference in revenue is far from negligible when you make these decisions across hundreds of products.
3. Logic and reasoning for the sale
There should always be a reason for your sale and it always needs to be explained to the customer so it makes the biggest impact. You need to make sure they won't expect similar sales all the time, because the April sale can only happen in April.
4. Use category sorting to your advantage
Now you are directing all customers to the sale category. Use a good mix of High (Great product, low discount), Medium and Low perceived values (Highest discounts) for the best impact on revenue. 
Fundamentals on the Web
1. Remove any source of friction
It's truly fundamental, especially in a crisis, to communicate with your customers about the current status of your business. Inform customers about your shipping policy, your customer protection measures, and your assurance of risk-free goods.
2. If you have social proof, use it
Social proof drives action, especially on limited offers.
1537 products sold from this sale today.
Last piece in your size in stock.
Time limits and countdowns.
Even seemingly negative messages can serve as a social proof (so many people are buying, therefore shipping is taking longer):

3. Dedicated campaign visuals
If you want to show your customers that your sale is a big deal, you have to treat it as such. Campaigns deserve to have custom visuals. Try an unusual sale campaign to connected with the reason for the sale, as our friends from OluKai have done in recently.
Here are some sample modifications you can consider, but of course, there are many more. I've used Zalando as a canvas to show you how the promotions can look.
Labels over products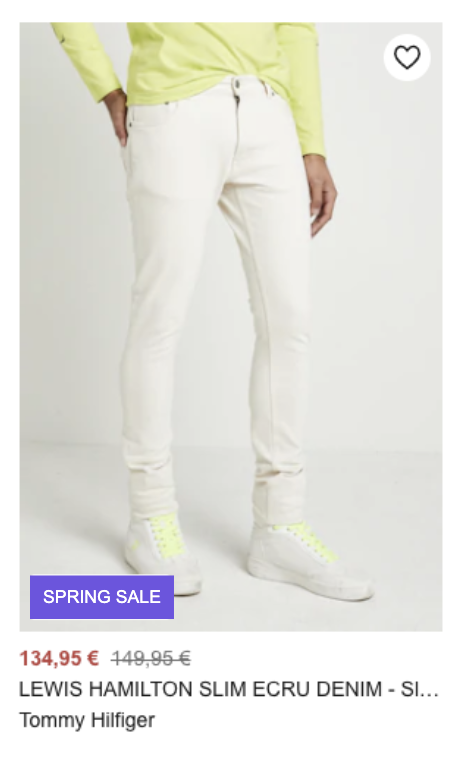 Product detail label
As much as 70% of traffic lands directly on the product page. Don't miss on the opportunity to promote your sale.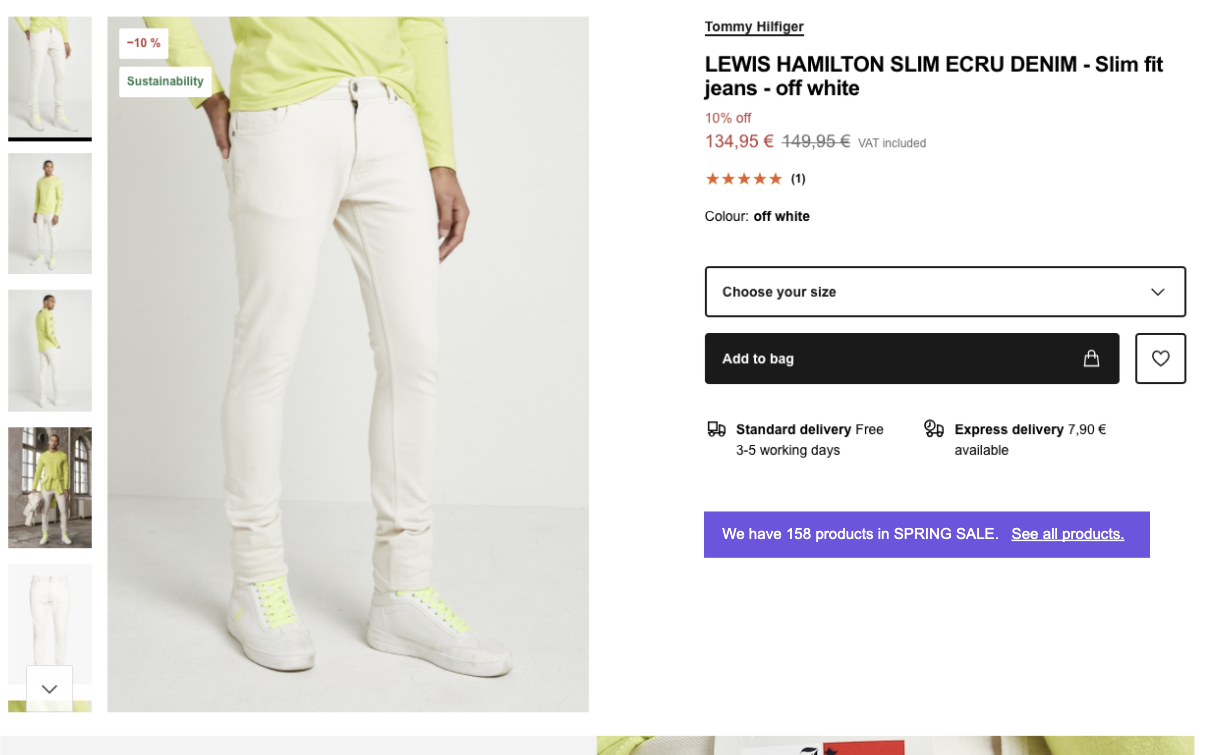 Banner in menu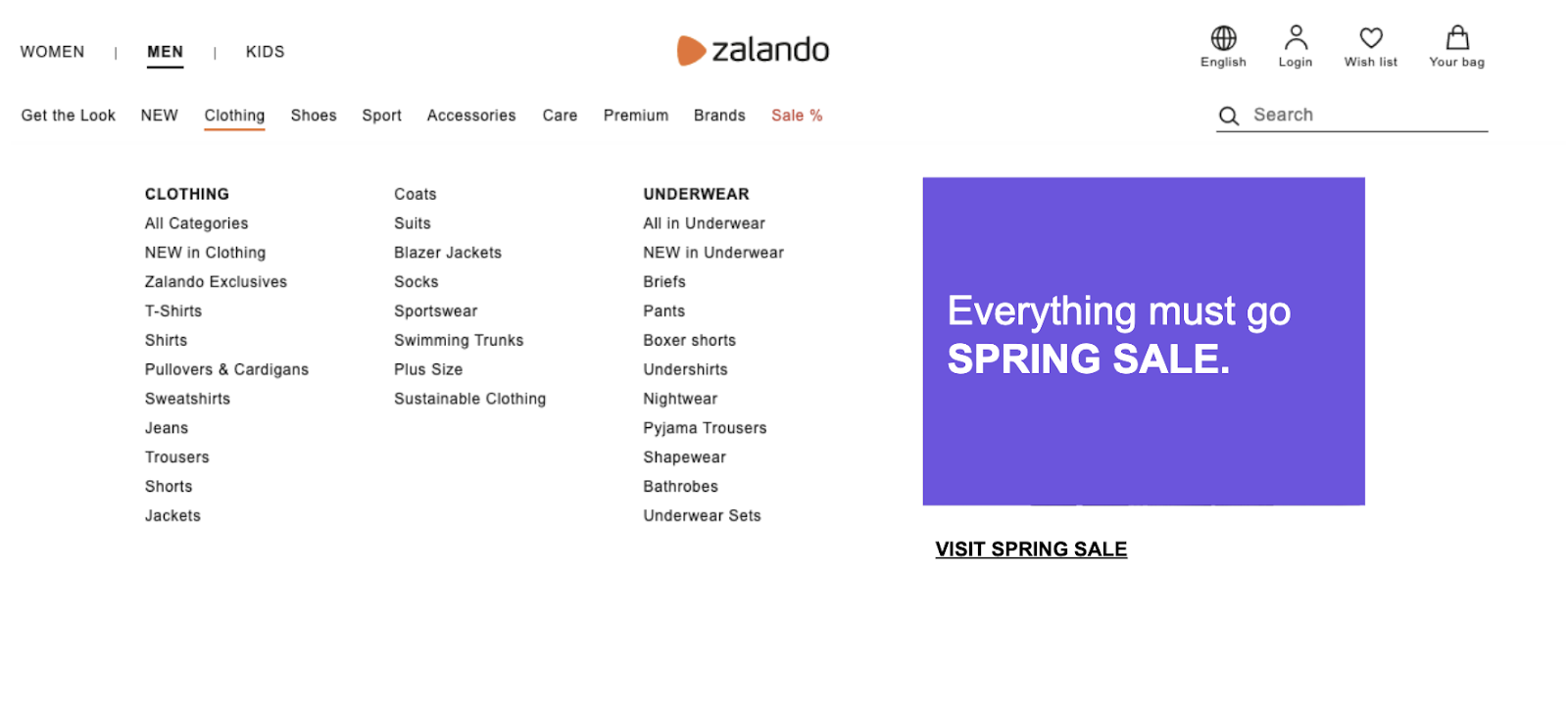 Notification bars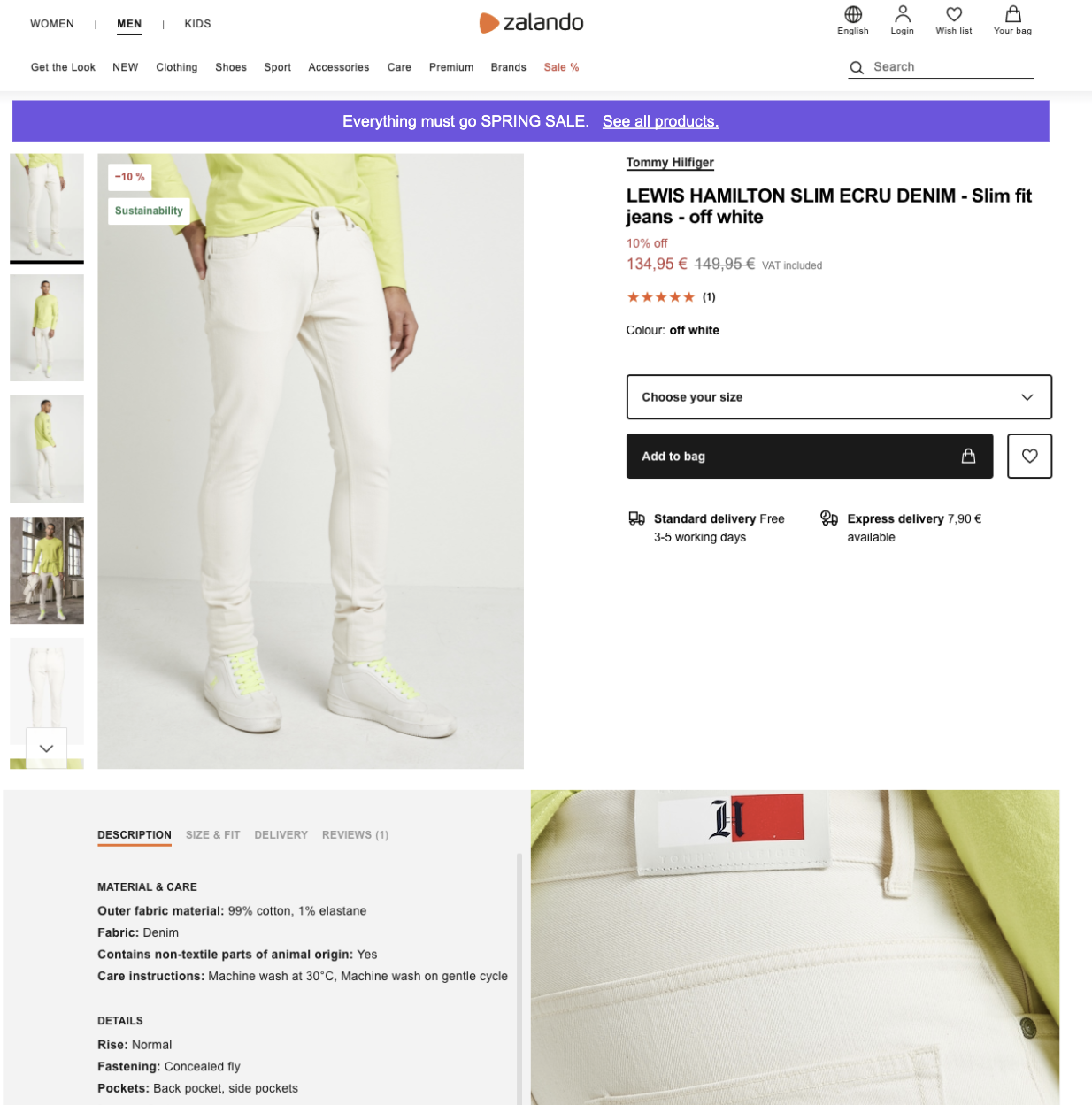 You probably get the idea. Promote your sale wherever you can, make sure customers know that it's a big deal.
Learn before you plan
1. Learn from your past sale campaigns
Do you analyze the performance of your previous sale campaigns? 
What worked well in your Black Friday campaign? 
You should always look back and learn from your conversion rates, units sold, extra traffic generated, average discounts. And all of this should be broken down by traffic source, customer segment, etc. Doing so allows you to effectively plan your next sale and adjust the logic of your campaign.
2. Understand your inventory, sales and traffic
This point is crucial. There is no way around this. You need to take a holistic approach to the data you use for decision making. 
Very often, I have noticed that businesses plan their clearance campaigns either completely blind or in silos. Marketing picks products to promote based on past sold units. Buyers see too many sneakers of a certain style, therefore they should be cleared out. The CFO needs to improve cash flow, so he tasks marketing guys to prepare a 50%-off sale for the next weekend. 
Of course, this works somewhat, but is it really the best we can do? Fashion ecommerce is a cut-throat business and only the most efficient businesses are able to profitably survive. All available data needs to be employed to make decisions.
Some advanced numbers you should be looking at:
Rolling revenue trend per subcategory compared to stock levels

"sweaters don't sell well this season, they've decreased as a share of overall sales as well, with this trend, there is no way we will be able to sell through 50% of it before summer."

Traffic volumes in a subcategory compared to stock levels

Because if not enough people are shopping, not enough people will end up buying.

Conversion rate trends in a subcategory broken down by traffic source

Daily margin and revenue generated for each unique customer who enters a category or views products from the category

Daily revenue and margin per each product detail view broken down by source

Commercial score – scoring how well the product performs relative to other products in the same category

Commercial score vs. stock levels –  how healthy stock levels are, based on the past performance of the product and trend of the category.

Sell Through Rate with trendline and forecast per category – compare current stock levels with recent sales performance and trend in the category.
There are many more metrics that can give you good insights. But these are the metrics I would personally use to prepare a good sale event.
I know you're busy with all the other stuff you have to do. If you already use Exponea, you can take advantage of our analytical capabilities. Reach out to your client services team for guidance.
As part of my job, I have been working on new features for Exponea that will help you effortlessly understand the complex picture of your inventory, sales and traffic and will help guide your decision making. Some clients are already enrolled in pilot testing of this new feature. 
Would you like your tools to tell you about each product's and category subsegments performance proactively? Reach out to me at petr.vaclavek@exponea.com.
Audience
1. Plan campaigns for segments, not for stores
In this day and age, you have more options to adapt to your different audiences. The old way of thinking is that all people have to see the same thing. This is no longer the case. You don't necessarily have to run all campaigns for all customers. In fact, you should run many different discount campaigns in parallel, based on customers' segments. 
For example – if a customer is loyal to one brand, you may run an automated campaign to send a discount voucher for this brand only to this customer.
2. Use channels you rarely use
Make sure you're using all the channels available to you. Push notifications, text messages, campaign banner ads, postcards (yes physical ones) sent to customers' homes.
Specific campaigns
Keep in mind the tactics mentioned above. Now it's time to plan out your campaign.
1. Personalized sale events
Everything below could be setup automatically to match customer's preferences. Thus you can delivery scalable personalized sale campaigns which will have higher performance.
New discounted products in your size –

37 discounted sneakers in size 45

Recent shopping intent

– React to customers engagement with personalized follow ups.

Are you shopping for pants? Free shipping voucher inside.
Are you shopping for pants? Buy 3 for the price of 2.

Recommended discounted products –

In email or on the web, you should have a dedicated box to show personalized recommended products for individual customers.

Category specific discounts –

Sweaters: up to 60% OFF

Most favorite brand –

Personalized brand in email subject <Nike>: up to 60% OFF

Most favorite category – Personalized category in email subject line
Products you have seen are discounted –

Personalized based on customers' interactions with products
2. Use product pricing tiers rather than flat discounts
Based on tactic 1, you should analyze at least the basic performance of the products over the last 30-180 days (based on your traffic) and compare it with your stock levels.
Compare views, purchases and stock levels for each item and sort products based on: 
Views

Purchases last 90 days

Stock level

Conversion rate = purchases / views * 100

Sell-through rate = items sold / (current stock level + items sold)
Now, in a spreadsheet, rate columns 3-5 based on your experience or business needs on a scale from 1 (being in the best shape) to 3 (being the biggest problem). See the table below:
Sample data for last 90 days

Score
8-9 – High discount
6-7 – Medium discount
4-5 – No or low discount
3 – No or very low discount to earn the right to include the products in the campaign
Feel free to enhance this table with any other relevant data from your business, or use custom weighting to give preference to one metric over another. 
If you don't have any clever way to figure out the best prices for your products yet, you might be interested in what we're building in Exponea. Reach out to me at petr.vaclavek@exponea.com and we can discuss how we can help you.
3. Don't send the same discount to everyone
There are multiple ways to segment your database to understand how big of a coupon each customer should receive.
You might use:
RFM analysis

Reactivation – long gone buyers? Lure them back.

Customer's willingness to buy without discounts.

Customers who didn't use a voucher, even during major events

Customers who always use vouchers.

What is the price range percentile of purchases by this customer compared to the product category – for example, a customer might always purchase products that are in the bottom 25% of prices, so you know they're price sensitive.

And other similar segments.
4. Refer a friend and double the impact
Ideally, you want to create a shopping frenzy. A situation where customers share the sale with other people.
Unlock a special sale category by inviting a friend

Secret campaign – make sure to share this with friends and earn your voucher

Random voucher – get a random category voucher with unlimited usage that you can exchange with friends for coupons for other categories as well

Combine orders with friends to increase oder volume (in combination with scaling discounts)

Wheel of fortune – get an extra 10% off the sale, valid only today, that you can share with friends.
5. Buy X, Get Y – higher volumes and perceived value
People don't mind spending more if they get more back. This type of campaigns increases overall order value.
Buy 3 for the price of 2, or even Buy 5, get 2 free – higher volumes and higher perceived value

Buy a sweater, get a shirt 50% off

Buy pants, get a free belt.

Buy 2 pairs of pants, get a luxurious Italian leather belt as a gift

Buy X, get some gift.
6. Secret sale / Selective sale
No public access to the sale, only selected customer segments can gain access. It might be in line with the customer segments mentioned in the point above: "Not the same discount for everyone".
Incentivize customers to share the sale with friends.
Some other ideas for segments: 
Low quality traffic – some sources and campaigns bring you lower quality traffic which you might try more aggressively to convert without exposing discounts to your loyal customers

First time visitors – generally tend to have lower conversion rates. A limited discount might push them to convert today.
7. Flash sale
In combination with other points in this section, you can run a flash sale. This can create a sense of urgency and drive more impulsive conversions. Set the end of the campaign to 24 hours, 48 hours, End of Day or End of Weekend.
8. 20% OFF + Free shipping for 50 fastest shoppers with this coupon code. Valid only today. 
Run daily on different segments with a new coupon. This way, the perception of urgency and limited nature of the sale will bring good results and won't hurt the business.
For the segment of customers who received the coupon today, the remaining discount countdown can be shown on the web or even in the email.
9. Scaling discounts
As I described above, the perceived value of this campaign is higher while minimizing the average discount. 
Above 30 €, get 5 € discount
Above 60 €, get 15 € discount
Above 100 €, get 30 € discount
Above 200 €, get 70 € discount
Above 300 €, get 120 € discount
There is also a benefit in motivating customers to chase the next threshold with recommended products or categories.  You can do it on the product detail cage, pre-cart, or directly in the cart.
During a crisis like the current one, with a decline in sales, you might even want to push vouchers and gift certificates for a customer's next purchase. This can help collect as much cash today as possible. 
10. Let customers donate their discount
Customers are looking for ways to help out. You can give them an outlet for this desire, helping a greater cause while also helping your sale.
Conscious consumer behavior is a growing trend. You can help meet customers' desire to help with a special event dedicated to relief: "We're lowering the price of products, so you can donate the rest." Optionally, you can match whatever they decide to donate. 
Full price 100 €, discounted 80 €, you can decide to donate up to 20 € (or even more) and include it in your order. 80 € product + 20 € donation = you pay 100  € and we will match your 20 € donation. Therefore we have donated altogether 40 €.
Supporting communication:
Customers have donated 12,711 € already.

You have donated 40 € to the coronavirus relief fund. Share with others so they can join you.
It is important to communicate this clearly. It really is a win-win-win situation, but it might backfire if executed poorly.
— 
I hope this article helps you to prepare the most efficient sale of your company's history. Good luck!
I'm open to suggestions of campaigns that you've seen working. If there's any campaign concept I should add, please reach out to me via email: petr.vaclavek@exponea.com. 
meet the author
Petr Václavek
Head of Product Innovation
Petr Václavek worked for 9 years in fashion business before joining Exponea in 2018. He's been working on new features to help fashion businesses gain insights from data to improve efficiency of the business.