recolution is a young German fashion company with a focus on organic, ethically-produced, 100% vegan clothing. Founded in 2010 in Hamburg, recolution is not just a retailer – they're a value-driven company that's active in their community. They've organized events like the Junk'n'Run, which brings people together to help clean up Hamburg.
Recolution wanted to scale up their digital marketing efforts and build a complete picture of their customers, so they turned to the market to find a solution. They soon found Exponea, which stood out as a high-powered solution from a value-driven company. 
The Situation
recolution is a brand with a strong identity. However, as they are still a young brand, new shoppers might be unaware of recolution's values and ideals. Exponea hypothesized that by creating a GDPR-compliant onboarding process, new customers would learn about the brand and would be more likely to become loyal customers.
The online shopping experience can feel very similar from one site to the next, which gives customers no reason to return to a particular shop. That's why a good customer onboarding process is a key differentiator for online retailers. Getting it right can help maximize customer lifetime value and fuel company growth through loyalty.
Exponea and recolution, along with their implementation partner Finc3, decided on a set of deliverables for a successful onboarding process, with the aim of increasing conversions, turning visitors into first-time buyers, and introducing newcomers to the brand. 
Exponea Deliverables
Double opt-in newsletter registration 
Mobile-responsive welcome banner
Automatic consent updates
Welcome coupons
The Solution
Exponea's solution consisted of multiple steps, shown in Exponea's drag-and-drop campaign builder below:
Let's take a closer look at those steps. 
Welcome banner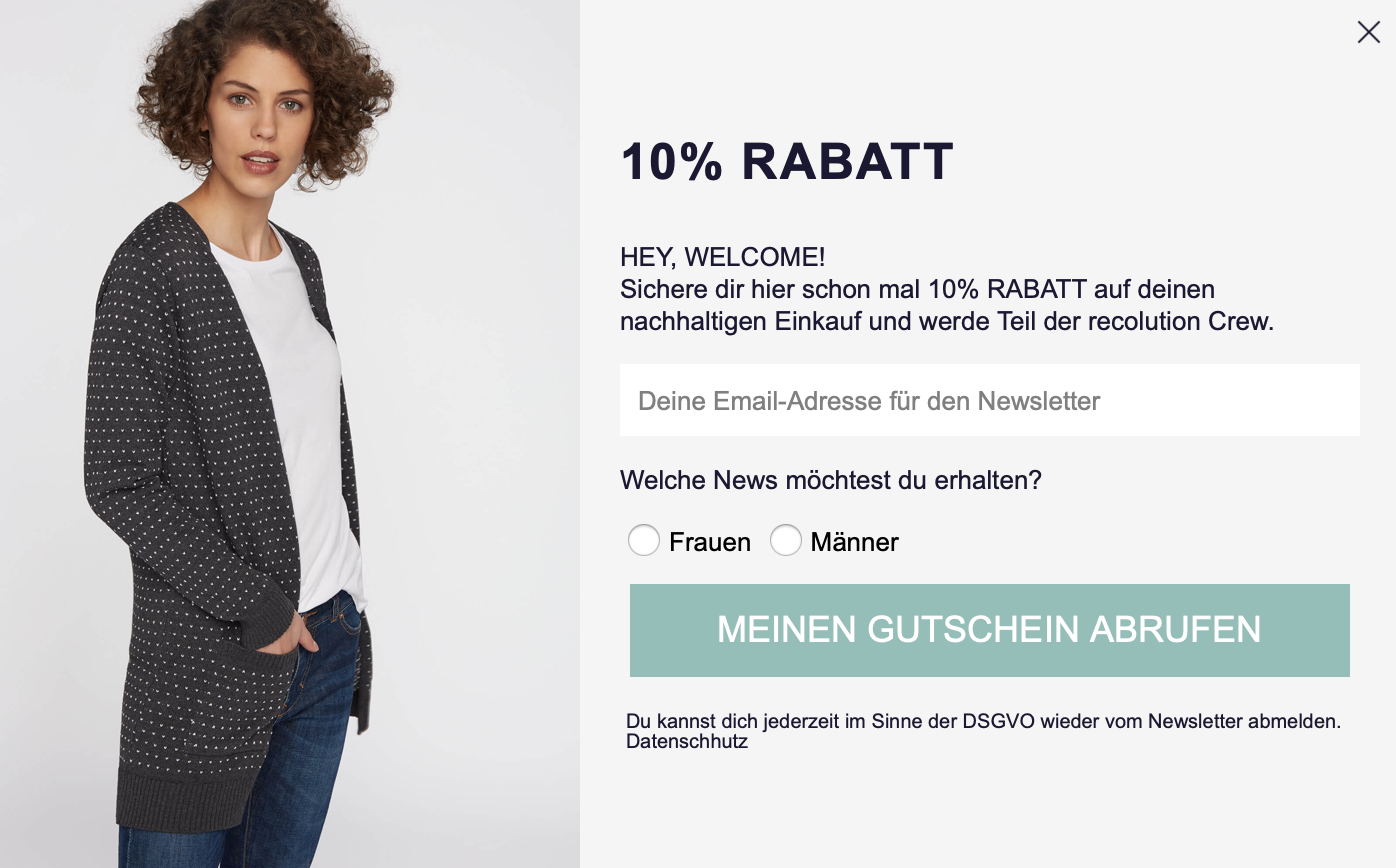 First-time visitors to the site see a weblayer (i.e. a banner) with the promise of a 10% discount code if they register for the newsletter. The weblayer was created in Exponea, which offers a variety of pre-built banner templates as well as the possibility to build banners from scratch. 
Double Opt-in Scenario
If a first-time visitor decides to subscribe to recolution's newsletter, then a double opt-in scenario is triggered. This means the visitor receives an email asking them to verify that they registered for the mailing list. If they click the link in the email, then their consent attributes are automatically updated in Exponea. All of this is set up in Exponea's Scenarios.
Double opt-in newsletter registration is a great way to maintain a healthy newsletter subscriber list. It's also a crucial step towards managing GDPR-related risks. recolution's confirmation email also provided an opportunity to introduce new customers to their brand and values.
The Impact
New visitors to recolution's site are now treated to a carefully crafted onboarding process. From the initial banner to the discount banner in their inbox, visitors get a memorable first shopping experience as well as an introduction to what makes recolution special.
The new customer onboarding had a positive business impact. The registration email showed impressive results:

After running the onboarding campaign for two months, the impact was clear: 

Beyond the immediate measurable impacts, recolution also benefits from a more targeted mailing list, thanks to the double opt-in scenario. Finally, they've planted the seeds of loyalty by introducing newcomers to what makes recolution different.
Key Takeaways
GDPR compliance is an opportunity.

Use it to build a more focused mailing list, communicate to customers that actually want to hear from you, and you'll start fostering loyal customers. You'll save costs on email, improve deliverability, and limit your risk to GDPR-related complaints.

You need to onboard new customers.

Shoppers have lots of options and not many reasons to stay loyal to one brand. Introduce them to your brand through a well-thought-out onboarding experience, and be sure to show what sets you apart.

Make your work easier with powerful tools.

Marketers today can achieve incredible results if they work with the right platforms. A customer data platform, like Exponea, can help you develop a complete picture of each of your individual customers and execute personalized campaigns. If you want to see how Exponea can help your business,

book a demo

today.
meet the author
Jordan Torpy
Technical CDXP Specialist
Jordan works closely with the content team and Exponea experts to create material that brings value to readers. With a background in teaching, training, and marketing, Jordan uses case studies, presentations, newsletters and more to illustrate what's possible in the martech world today.