Leveraging Exponea's integration with Facebook Lead Ads helped Yves Rocher create an automated source of leads.
Yves Rocher CZ, the Czech branch of the international cosmetics and beauty brand, sells their products through a network of stores and their online storefront. They rely on a number of channels to grow their customer base, with Facebook being an important part of their acquisition strategy.
Facebook offers a great tool for getting contact info for potential customers: Facebook Lead Ads. This lets interested customers submit their information to a brand directly while using Facebook. They can be used to collect things like names, email addresses, phone numbers, customer preferences, and more.
Before Exponea
Yves Rocher used Facebook Lead Ads to collect customer information, but it was a time-consuming manual process. 
First, they needed to collect a number of leads from Facebook. 

Then, they downloaded the list of leads collected. 

Then they uploaded the list of leads to their marketing program and used them in campaigns.
This whole process added friction to the customer journey. When a customer submitted their info on Facebook, it might have taken a day for that info to wind up in Yves Rocher's internal system. By the time they got some marketing email, they might have already forgotten what they signed up for.
The lag created a loss of momentum, which led to a less than ideal customer experience. Plus, the process of downloading the list of leads and uploading it again was a manual process, and required an employee's effort every time it needed to be done.
After Exponea
Exponea released an integration with Facebook Lead Ads, which significantly upgraded Yves Rocher's lead collection process.
Now, when a potential customer submits their information via a lead ad, it is instantly added to their customer profile in Exponea. That data can be instantly activated for marketing purposes, such as initiating a welcome flow or double-opt-in email scenario.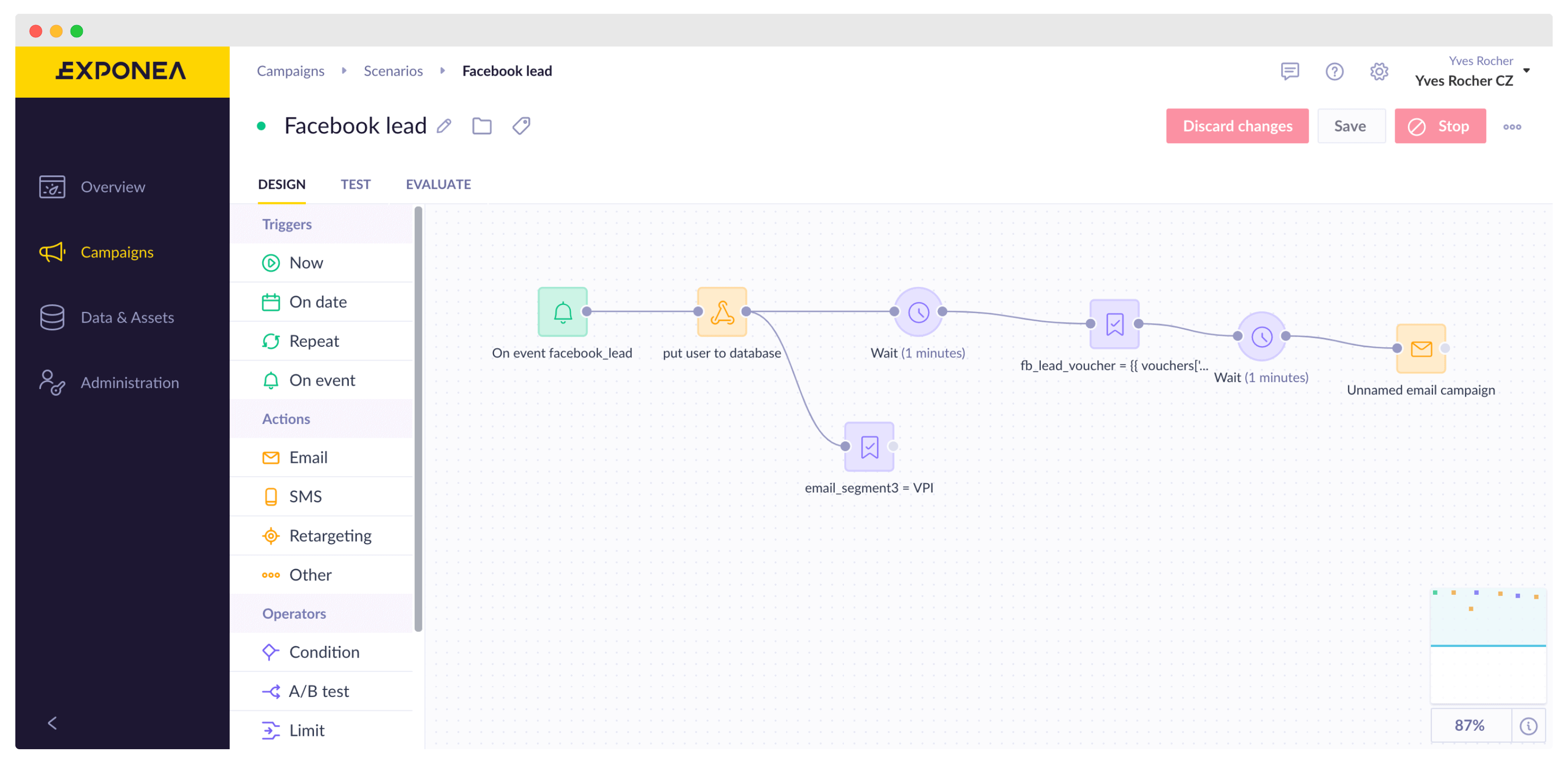 There's no longer any need to download contact information and upload it somewhere else. All submitted data is instantly available and ready for use.
This is a great time-saver for Yves Rocher, and completely automates what was once a time-intensive process. It also reduces friction in the customer experience, since customers can receive communication from Yves Rocher as soon as they submit their information via Facebook.
The integration also upgrades Yves Rocher's pre-existing marketing campaigns. The submission of a Facebook Lead Ad can serve as a trigger in campaigns they've already created – it just takes two clicks in a pre-existing scenario. This lets Yves Rocher leverage a new acquisition channel much faster than if they had to set up all new campaigns manually. And with Exponea's omni-channel campaign execution capabilities, they can engage with customers collected via Facebook on whatever channel they want to use.
Yves Rocher went from a time-intensive, repetitive process to a set-and-forget workflow that synergizes with their existing campaigns. Want to see how Exponea can help your business intelligently automate workflows and save you time? We'd love to talk. Schedule a demo and we can show you how.
meet the author
Jordan Torpy
Technical CDXP Specialist
Jordan works closely with the content team and Exponea experts to create material that brings value to readers. With a background in teaching, training, and marketing, Jordan uses case studies, presentations, newsletters and more to illustrate what's possible in the martech world today.