With over 2.41 billion monthly active users (+8% YOY), 1.59 billion daily active users (+8% YOY) and 1.74 billion mobile active users (+21% YOY), Facebook is a retargeting platform with an audience that's too big to ignore.
In fact, there's a great chance that some of your own website visitors are among these active users, providing the opportunity to create a Facebook retargeting strategy where your potential customers already are.
But, here's the thing:
Many brands use Facebook retargeting. Only a few use it to its full potential.
So what can be improved?
A more holistic approach to data sourcing (you don't get a complete picture without offline purchases, mobile app or call center data—just to name a few)

Integration of modern martech (where's my

AI-powered predictive analytics

?)

Communication with other channels (customers expect an

omni-channel experience

)
Enriched retargeting is here to do just that, where with the inclusion of a customer data platform, marketers can leverage all available data, granular segmentation, recommendations and AI-driven predictive analytics to create an enhanced Facebook retargeting strategy you can't ignore.
This article will cover the basics to get a better understanding of how it's done.
Let's dive in.
Key Takeaways
For Digital Marketing Managers and CMOs:
Having installed the Facebook Pixel, you'll instantly unlock event tracking on every page of your ecommerce website, enabling you to begin creating custom audiences that can be effectively retargeted to.

Enhance your Facebook retargeting strategy even further by including various, alternative data sources, personalised segmentation and AI-driven predictions in order to enrich your data.

Unleash highly-personalised content on your newly segmented audience to get them back on your website to convert.
Traditional Facebook Retargeting
Facebook provides pixel-based retargeting. 
What does that mean? 
A single pixel is issued per website. Once embedded, it tracks and groups your site's visitors for remarketing purposes.
The Facebook Pixel is a snippet of JavaScript code issued by Facebook when a business account is activated. It's added just once before the closing head tag (</head>) on any ecommerce website outside of the social media itself, so whenever a page loads, the pixel fires, alerting Facebook that a user has visited a specific page, tracking those users.
What are Custom Audiences?
Now that the pixel is capturing traffic on your website, you can create custom audiences (segments), based on the actions taken by visitors (events). There's a comprehensive list of events that can be tracked, which may include:
View content:

Key page views (ex: by tracking a product page, landing page, or article).

Add to cart:

Track when items are added to a shopping cart (ex: by tracking the "Add to Cart" button).

Purchase:

Purchases or checkout flow completions (ex: by tracking a "Thank You" or confirmation page).
EXAMPLE:
Did someone leave the website before making their purchase? No worries, people get busy.
With the Facebook Pixel installed, we can now retarget All Website Visitors (Custom Audience), but exclude All Buyers (Custom Audience), with products they showed interest in.
What is Facebook Retargeting?
By including and excluding Facebook Custom Audiences, we can now create custom retargeting strategies that populate a very specific and interested audience.
Facebook Retargeting places visible online advertising in front of our Custom Audience with the aim to bring them back to our website to make the purchase.
Enriched Facebook Retargeting
Enriched Facebook Retargeting utilizes the organizational capabilities of a customer data platform (CDP) to leverage all available online and offline data, granular segmentation, and AI-driven predictive analytics to create a more powerful Facebook retargeting strategy.
What is a CDP and how can it boost Traditional Facebook Retargeting?
A CDP unifies customer data from all channels and devices into individual customer profiles, called the single customer view (SCV), and makes them accessible to other systems.
Remember the data collected by the Facebook Pixel? Why not have it work alongside your existing customer data, mobile app, and/or offline purchases?
The CDP does just that by implementing a holistic, more inclusive approach: it leverages marketing opportunities from Instagram, Facebook, and Google, all without sacrificing cross-channel communication, mar-tech flexibility, and unsiloed customer data insights.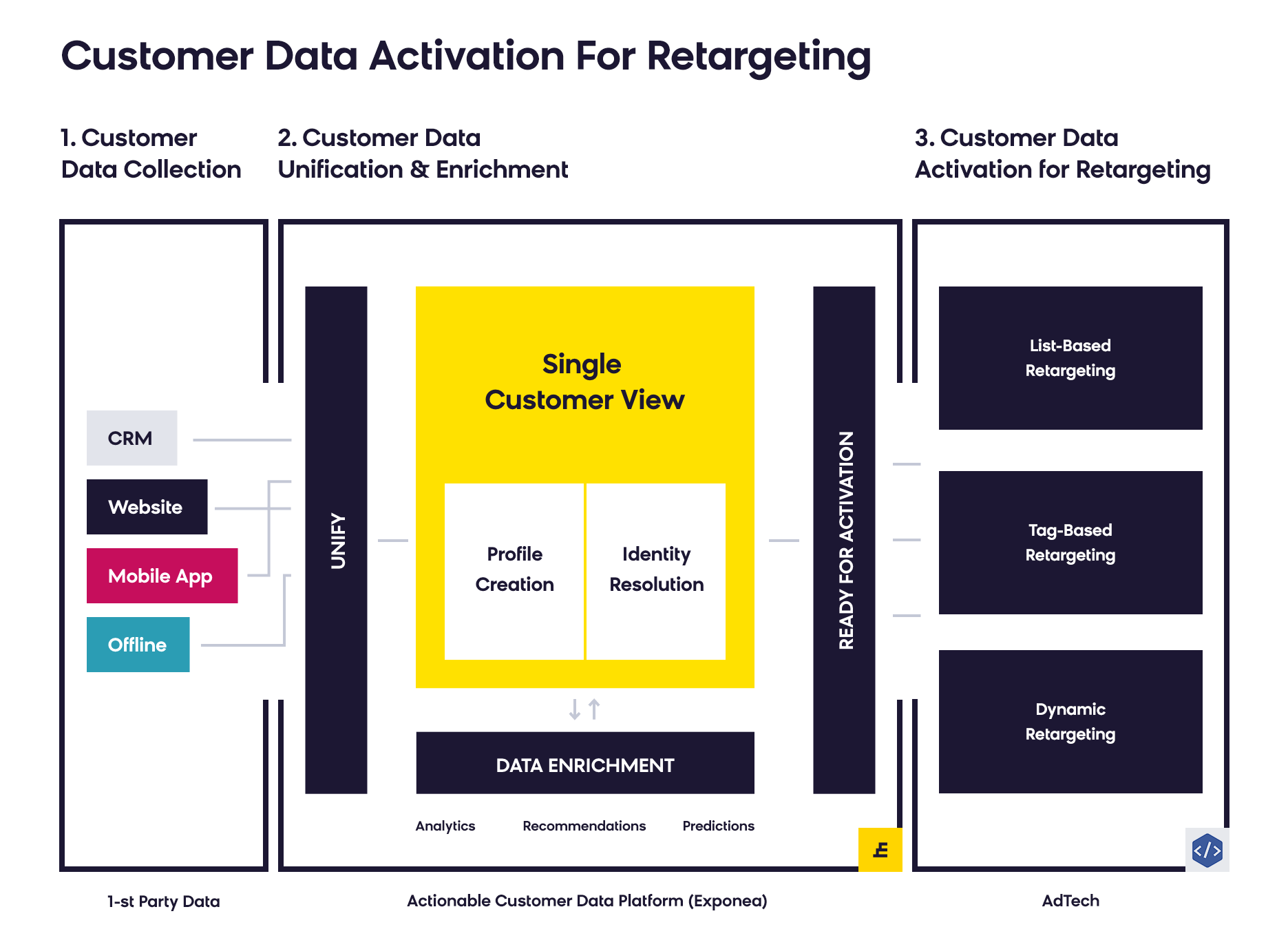 It's an investment towards understanding your multi-faceted customers on an individual level. Making analytics, identity management and data accessibility a real cinch.
What is Enriched Facebook Retargeting?
Once your data is un-siloed, IDed, and reorganized, it's ready to be put to work. But before we apply our Facebook retargeting strategy, data can be "enriched" to produce even better results:
Custom Segmentation:

The FB pixel bases the segments it creates on web engagement alone. Enriched retargeting, however, can provide a more precise segmentation by

recognizing customer behavior from across multiple data sources

(e.g. call center calls, mobile app behavior and offline purchases).




In addition, the CDP allows you to

reuse the segments you create throughout your various communication channels

(e.g. email, SMS, website banners, Facebook and/or Google retargeting).

Enhanced Recommendations:

Utilize more sophisticated recommendation algorithms that automatically showcase other products and offers not previously viewed or purchased, that are most likely to lead to a sale.
Predictive Analytics:

Using granular consumer insights, employ AI-powered predictive analytics to

understand when a customer is most likely to purchase or churn

, then

employ retargeting to get them back on the right track

.
For instance, instead of feeding Facebook past purchasers to find lookalike audiences to retarget to (the standard approach in e-commerce), consider feeding likely-to-purchase users (which is better because it's future-focused).
The future-thinking approach can

not only save costs

by clarifying who's most interested in your product or service, but

earn additional revenue

by bringing in just those ready to purchase.
Armed with a more refined understanding of your audience, you're ready to unleash a smarter, personalised, and more responsive Facebook retargeting strategy.
Enriched Facebook Retargeting Use Case
To provide a better understanding of enriched retargeting, consider the following use case.
Retargeting with the Use of Segmentation
An e-shop selling electronic goods had a strong focus on finance options, specifically payment  in monthly installments, for its customers. 
Research showed that B2C customers on finance plans made higher value purchases. On the opposite side of the spectrum, B2B represented a strong source of leads for long-term opportunity.
Finance options were only available if the customer was browsing products that cost more than £800 or their basket had exceeded this value. Such costly transactions, especially purchased through finance, did not occur on impulse.
As such, retargeting was a perfect tactic here, but only a small number of customers were interested in finance, and Facebook Ads did not have a way of identifying them.
To build this custom audience, the e-shop used an event called "finance_banner", which was generated when a customer clicked on a finance call-to-action on the product or banner page.
By combining Facebook retargeting with a CDP, the e-shop enriched every Facebook Pixel it received with internal information on B2B and B2C customers, segmenting them further to let Facebook retargeting know who to target, and with what communication.
Following the launch of the enriched retargeting use case, this e-shop reported an increase of approximately £40k a week from financed transactions compared to the average before the use case was launched.
Unified Single Customer View

Advanced Analytics and Segmentation

Email Management and Personalisation

Omni‑Channel Orchestration

Web Optimization and A/B Testing
Final Thoughts
With its enormous audience, Facebook Pixel is an excellent place to start when it comes to retargeting visitors on your website. 
If done wrong, you'll become that annoying brand that just keeps showing the same Facebook retargeting ad again and again for weeks on end. Which is not only annoying, extremely ineffective, but expensive as well. Don't be that brand. 
Instead, attain an advantageous step up from the competition, by leveraging a wide-spectrum of sourced data, granular segmentation and the machine learning capabilities of a CDP.
It's time to consider a more potent form of retargeting: enriched retargeting.
How Can Exponea Help?
If you're interested in learning more about improving your Facebook retargeting strategy, or how to get started with a customer data platform based on your organization's needs, watch our three-minute demo video, which covers:
Unified Single Customer View

Advanced Analytics and Segmentation

Email Management and Personalisation

Omni‑Channel Orchestration

Web Optimization and A/B Testing
Not quite ready? Discover additional methods for creating personalised customer experiences, as well as the steps to build your own personalisation strategy in our Customer Experience – Ecommerce Edition ebook.
The Winning Combo: CDP + Predictive Analytics
Predictive analytics is a game-changer in retail. Get a step up from the competition by reading our latest ebook
meet the author
Robert Heger
Inbound Content Specialist
Robert is the Inbound Content Specialist at Exponea, where he spends much of his time researching and writing to create Exponea's articles and e-books. Robert's previous experience revolved around project management, business strategy and innovation. With Exponea, Robert has been leveraging his talents for the world of e-commerce.