Exponea Mobile App Marketing enables you to track and understand the actions of your mobile app users and drive engagement through their mobile devices. Enrich your single customer profile with the data collected through your mobile app, and use them as a part of your omni-channel strategy.
Connect with your customers everywhere they go
Continue the conversations with your customers everywhere they go through the channel that is always in their pocket. Connect with your customers once they leave their desktop and let them continue from where they left off, using your mobile app.
Example Use Cases
Boost in-app purchases and use push notifications to inform your customers of discounts, personalized offers, new arrivals, or transactional updates (e.g. order dispatch, payment receipt, etc.).
Re-engage your customers and remind them of the goods they left in their shopping cart and send them a push notification which will show them the goods and enable them to finalize the purchase via your mobile application.
Increase conversion through rich push notifications
A picture is worth a thousand words. Since the human brain processes visual information several times faster than text, the rich push notifications enable you to deliver a more engaging push notification experience. This will boost your app usage and increase the interaction between your brand and your customers.
Exponea Visual Push Notification Designer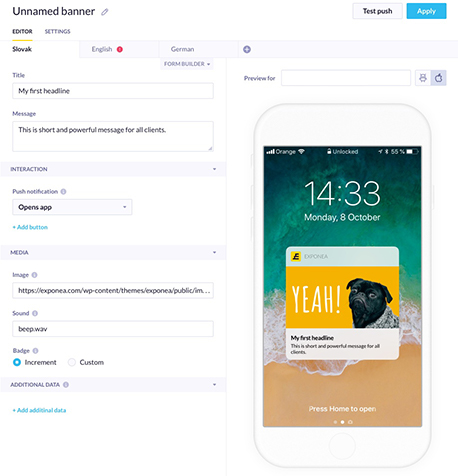 Example Use Cases
Recommend the right products based on customer browsing activity in the mobile app, desktop/mobile browser.
Send rich push notification with a CTA button to easily convert customers into buyers.
Send location and time relevant messages
Connect geo-location data with customer preferences and target them with personalized offers that not only fit their taste but are also relevant to their location (e.g. discounts in their favorite brick-and-mortar store).
Combine mobile app marketing with omni-channel
Use data collected through your mobile app, and execute personalized campaigns through other channels. Communicate and promote products to your customers based on their activity (e.g. recommend the right products based on the products browsed in the mobile app). 
Mobile App Marketing is a part of the Exponea Omni-Channel Orchestration module
See the recent Mobile App Marketing updates.