German furniture store Connox used Exponea's advanced features to make UX improvements to their site, leading to big increases in conversion rate and average order value.

Connox is one of the market-leading online shops for furniture and accessories for the home. Founded in 2005 in Germany, Connox has grown to 125 employees and offers high-quality products from more than 450 brands. They sell to customers around the world, and inspire everyone who shop there to live their motto: be unique.
As Connox continued to grow, they knew they needed a platform that could help support their growth, while also helping them create even better experiences for their customers. After a review of the market, they decided on Exponea. 
The Situation
Connox has an extensive product catalog. On the one hand, this means that customers have a great chance of finding a product that's perfect for them. On the other hand, browsing through such a large catalog can add friction to the buying experience.
It's easy for customers to get tired of going from the product page to the catalog and back again. And they might leave the site without finding a product they want to buy. Each visit to a product page adds just a little bit of friction, and eventually they'll leave.
Connox wanted to find a way to make it easier for customers to explore their catalog and find products they'll want to buy. But making changes to the site required the help of the IT team, and wasn't a fast process. They needed a way to test and implement their new ideas fast, without extra strain on IT resources.
Exponea gave them the tools they needed to do just that.
The Hypothesis
Connox allows customers to create a list of their favorite products. All they have to do is click on a heart icon on the product page.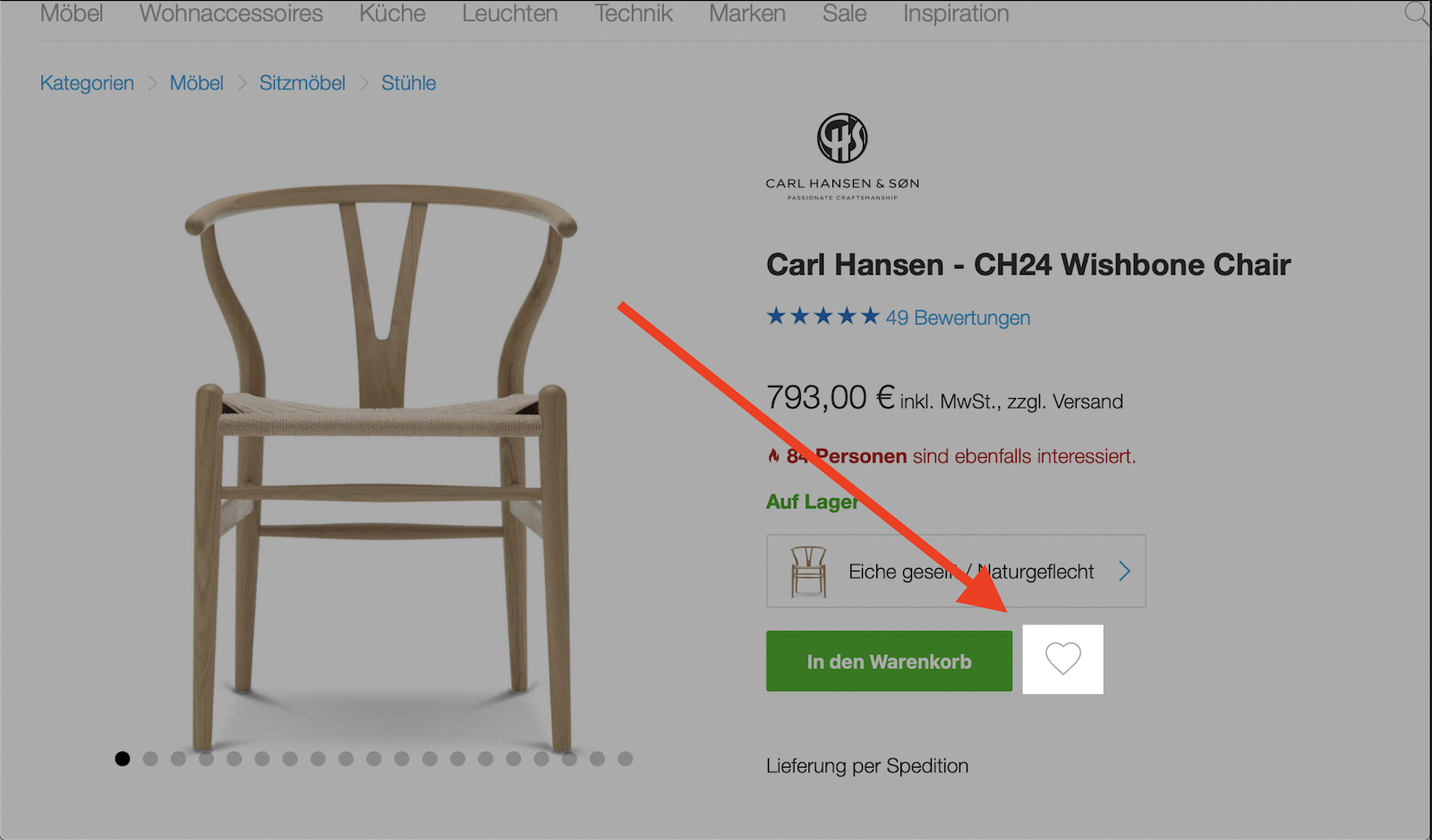 This gives customers to narrow down Connox's large catalog to items that they're really interested in buying.
The problem, however, was that this heart icon could only be found on the product page. Customers still needed to go from the catalog to the product, and this still created friction for the customers. 
Connox predicted that if they could add the heart icon to the catalog page, customers would be able to create their favorites list without needing to visit multiple different product pages. This would reduce friction in the shopping experience, which would drive a higher conversion rate.
The Solution
Exponea lets users design and implement messaging shown to customers via a feature called weblayers.
Connox used this feature to put the heart icon directly on product images on the category page, as shown below.
Connox was able to implement these changes in just two days, without any requirement for additional IT resources. But it wasn't enough to just make the changes. They also needed to know if the changes would have any impact on the behavior of their customers.
Exponea's A/B testing functionality made it possible for them to see the results of the change. All Connox needed to do was wait and see if their changes would make an impact.
The Results
After letting their A/B test run, Connox was ready to see the results. And the impact was impressive.
Page-wide conversion rate increased by 13.6%

Users who favorited items increased their conversion rate by 95.5%

The bounce rate from product pages decreased by 24.4%

The average order value increased by 6.8%
Clearly, a smoother shopping experience led to higher conversion rates, more revenue for Connox, and happier customers. The decrease in the bounce rate might mean that customers were visiting product pages more intentionally, making it less likely for them to end their session without purchasing. 
This is a great case of how relatively small changes can make a big impact, thanks to a marketer-friendly platform. If you are currently looking for a platform that will help you implement your ideas, become more customer-centric, and create value for your company, we'd love to talk. Schedule a demo and we'll show you how Exponea can grow your business.
meet the author
Jordan Torpy
Technical CDXP Specialist
Jordan works closely with the content team and Exponea experts to create material that brings value to readers. With a background in teaching, training, and marketing, Jordan uses case studies, presentations, newsletters and more to illustrate what's possible in the martech world today.