At Exponea, we know that culture matters.
It is one of the many reasons that we have worked so hard over the years to perfect our Customer Data & Experience Platform, a product that our customers can build their workplace culture around.
But one of the best things not seen publicly about Exponea is our own personal workplace culture. It is our culture that drives the output that the marketplace sees daily. A culture that is rooted in respecting the value and opinions of all people regardless of gender, race, religion, or what corner of the world they work in.
That's why winning a Comparably award for Best Companies for Women 2020 is such an honor for Exponea. It provides the outside recognition of what has always been known to those inside Exponea: that the company is a great place not only for women to work and grow, but for all employees, regardless of their background, to do the same.
"Having been in leadership roles as a female for more than a decade, this award is near and dear to my heart, said Amanda Elam, Chief Marketing Officer for Exponea. "To build a company where females are not only able to succeed but actually lead is an honor. I look forward to a future where this isn't such a rare honor but rather one that can be celebrated by all companies."
Comparably is a platform that allows employees to anonymously provide specific compensation and culture data about their company.
Rankings were determined based on a set of 50 questions in 20 core culture metrics. Examples of these metrics include compensation, career growth, leadership, and work environment. The answer to each question was given a numerical score and then compared to companies of similar size across North America.
We are proud to say Exponea's reviews have been exemplary in almost every way, particularly the reviews submitted by female employees.
Some highlights from Exponea's reviews include:
Exponea ranks in the top five percent of companies its size for gender score

Female employees combined to give Exponea an A+ rating for 14 different metrics, including outlook, workplace culture, happiness, and compensation

100 percent of females surveyed believe they are paid fairly for their work

100 percent of females also would recommend working at Exponea to others

CEO Peter Irikovsky received an A+ rating from surveyed employees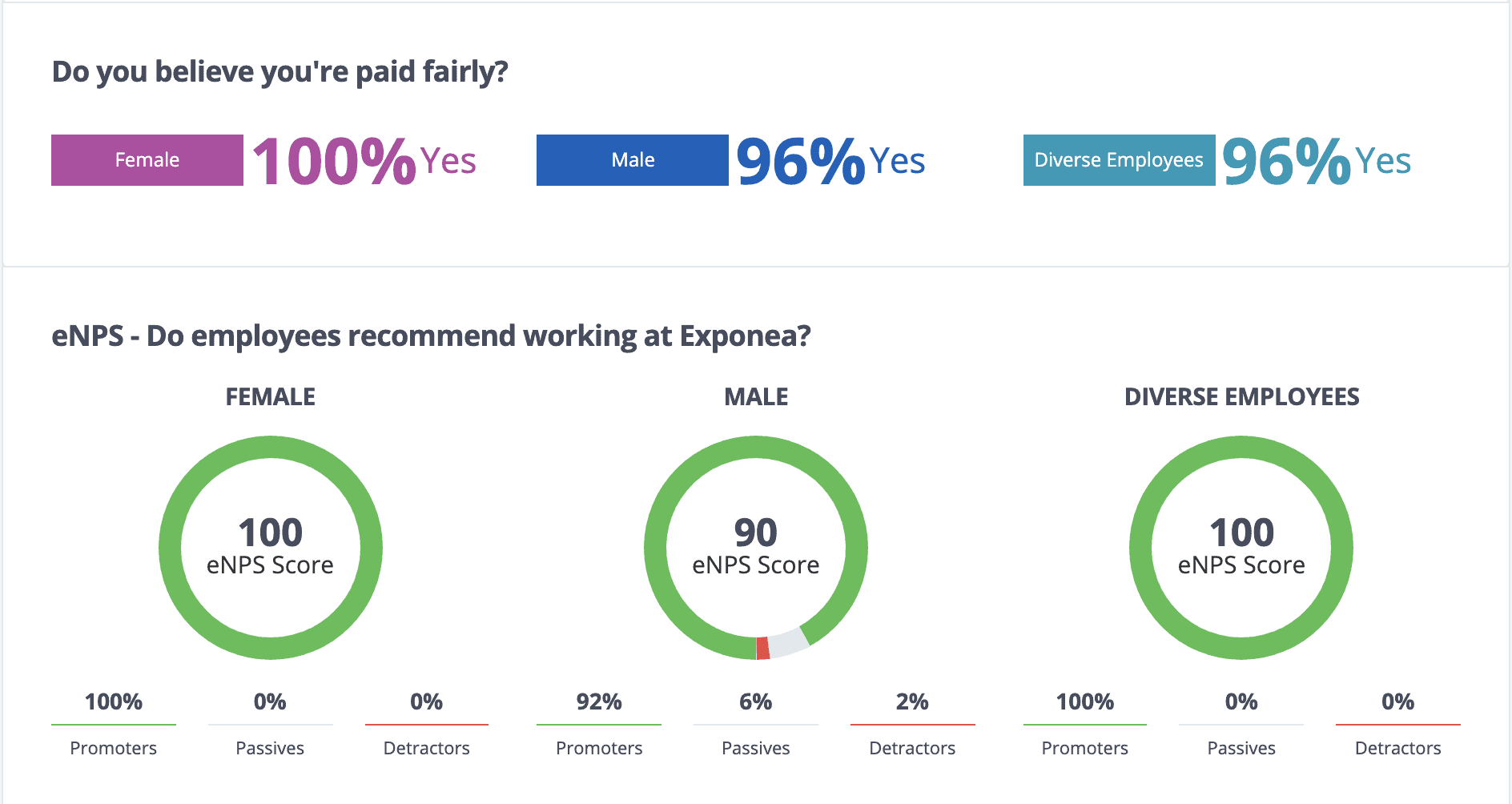 You can learn more about what it's like working at Exponea here. The marks are proof that the intentional work put in by Exponea's leadership team to value and develop employees has not gone unnoticed. 
"I have been amazed by Exponea's people and culture since the very first moment I entered the company," said Lenka Gondova, Data Protection Officer for Exponea. "True living of values and the empowering of people made me eager to join the Exponea family. Our dedication to customers and integrity combined with world class results makes me proud and happy every day."
As the shopping habits of millions changed in 2020, many Exponea customers experienced substantial growth. That in turn caused Exponea to grow significantly as well and got the attention of our new strategic partner, Bloomreach. 
The leadership team at Exponea that has guided us through this year of growth has changed as well. For the first time in company history, four of the eight members of Exponea's c-suite are women. Exponea has long valued the opinions of all employees, males and females alike, and now has an equal representation of genders on the leadership team to accurately portray the equality perpetuated by company culture. 
"I am very excited for this award for Exponea and I am hoping that this will signal to all women that they are welcome and supported in our company," said Ursula Kralova, Chief Operating Officer for Exponea. "Diversity is a critical topic for me. It means we get to utilize the full strength of talent available to get to the best solution and work more productively together. This ultimately leads to better business results."
"2020 was a significant year for everyone at Exponea," said Andrea Kiripolska, Head of Talent Operations. "Achieving a 50% representation of women in leadership is outstanding. The other factors like flexible hours and equal opportunities for everyone just seem so natural to me thanks to Exponea. I wish all women had such a pleasant work environment."  
If you are interested in working for a company that goes the extra mile to put its people in a position to be successful, Exponea is hiring new employees in key positions. We are always looking for hard working employees who value people and an outstanding workplace culture. 
Our current employees have poured their hard work into our Customer Data & Experience Platform that will allow your business to compile customer data, use it to obtain a single customer view, and execute fast marketing campaigns at scale. Schedule a demo today to see how Exponea can take your company to the next level.
INTERESTED IN EXPONEA?
Discover The Next Generation Of CDP
Exponea's CDXP gives marketers the complete toolset they need for creating incredible customer experiences, by bringing together AI-driven marketing automation, real-time analytics and UX optimization with a best-in-class CDP.