Each year, businesses are losing money – and we mean a lot of money – due to ineffective inventory management. This leads to overstocking, understocking, or a combination of both. This stock imbalance creates a negative impact that prevents the further growth of your business.
Many companies invest heavily into fancy new marketing automation features, bringing in a lot of new traffic and even the desired conversions. However, if your inventory management system lacks real-time tracking, automation, cross-system communication, and data-driven forecasting, it could easily hinder all your marketing efforts.
This article will take you through software-enabled inventory management techniques that will improve your business.
Retailers Are Losing Trillions with Poor Inventory Management
According to a study conducted by IHL Group, overstock and out-of-stock issues cost retailers $1.1 trillion globally in lost revenue.
You read that correctly – $1.1 TRILLION!
That's an alarming number. It's equal to almost $144 for every person on the planet (or 8 Jeff Bezoses). The good news is that with the right solution, you can easily prevent inventory mismanagement from happening to your company, keeping your inventory in a healthy state, and your gross profit growing.
Several years ago, when most shopping took place in brick-and-mortar stores, inventory management was highly dependent on the sales data from preceding months (along with seasonality, expected date of salary, and special events like Christmas, Black Friday, etc). These days, the situation has changed.
Inventory Management Technology in Ecommerce
Nowadays, almost every major brand uses online retail as an additional, or even primary, point of sale. Brick-and-mortar stores now serve as dressing rooms, where customers can try the product, but the final conversion usually happens in the online store.
New technologies, using augmented reality, may soon move another segment of shoppers to online stores. This will make the whole situation even more complex.
While brick-and-mortar stores are mostly just accessible to people within a certain radius, online stores are open to almost anyone in the world. It may, therefore, be quite difficult to rely on seasonality or "payday" when ordering your stock.
How to Avoid Stock Management Issues in Your Business
There are two main stock management situations negatively impacting your business: overstocking and understocking. This section will discuss how to reduce them both with quality store inventory control.
Reduce High Operating Expenses (Overstocking)
DID YOU KNOW? Multinational Swedish fashion-retailer H&M has amassed $4.3 billion in unsold clothing
Understocking and overstocking can result from poor inventory management or incorrect data, among other possibilities. In many cases, companies have their data spread across multiple systems, making it impossible to ensure effective cross-functional cooperation and communication. Let's take a look at some of the dangers and solutions related to overstocking and understocking.
Why is Overstocking Harmful to Your Business?
Excess inventory causes higher operating expenses, like increased warehousing costs. Beyond that, having too much cash tied up in inventory may cause problems to your cash flow, leading to lost investment opportunities due to insufficient (liquid) capital.
More importantly, your gross profit will suffer. To get rid of excessive stock, you usually need to significantly reduce the price; in some cases, below the actual cost of the unsold goods (negative gross profit), hurting your margins.
In an extreme situation, you may not be able to sell the goods at all. This usually happens when you are selling merchandise prone to technological or moral obsolescence (e.g. a product that's usable, but no longer fashionable).
Overstocking slows down your inventory turnover time. The space that could be used to house attractive and high-demand products is instead stocked with products nobody wants.
How Do I Prevent Overstocking in My E-Commerce Business?
There are inventory management strategies to deal with overstocking, such as Just-in-Time: under this stock control system, businesses do not manufacture or order products before a customer places the order. Strategies like these may help prevent overstocking, but they require a high level of coordination between the company and its suppliers, as well as a considerable investment in the IT infrastructure.  
The Just-in-Time approach is also highly dependent on suppliers, and any unexpected problem with delivery or sudden demand for certain products poses a serious risk for your business. Finally, the margins may fall short due to the loss of discounts associated with ordering goods in higher quantities.
But don't worry: new, software-based solutions have arrived, and will be discussed in the next section.
Don't Lose Your Sales Opportunities (Understocking)
Why is Understocking Harmful to Your Business?
Understocking is the opposite of overstocking: the demand exceeds the supply. Without an inventory tracking system, you are simply not able to accurately predict what amount of goods should be stocked in order to meet the demand. This can lead to a different set of problems, including lost sales opportunities, a decrease in customer loyalty, or even churn.
How Do I Prevent Understocking in My E-Commerce Business?
One way to prevent understocking is to have a reserve of safety stock for your products. Safety stock is part of the reorder point formula, which is a powerful inventory management tool for preventing both understocking and overstocking.
Unfortunately, running the reorder point formula manually can be incredibly time-consuming, as it needs to be run for every variant of every product. This is why automated methods to manage inventory, like the one detailed in the next section, are becoming the standard.
Using Software For Inventory Management
Effective inventory management is an art requiring a combination of skills: management, data analytics, forecasting, fortune-telling, etc. To deliver the best results, you would need a person who can do all these things. This person could never make mistakes, and would have to stay 100 percent focused on their task at all times.
Of course, such a person does not exist. Fortunately inventory management software, like the single inventory management system, can take on the task, handling all the main pain points associated with the inventory lifecycle.
What is the Single Inventory Management System?
The single inventory management system is a solution that keeps track of your inventory levels, analyzes the performance of each product, and takes the actions necessary to maximize profits and minimize costs.
Let's take a closer look at some of the things a single inventory management system can accomplish: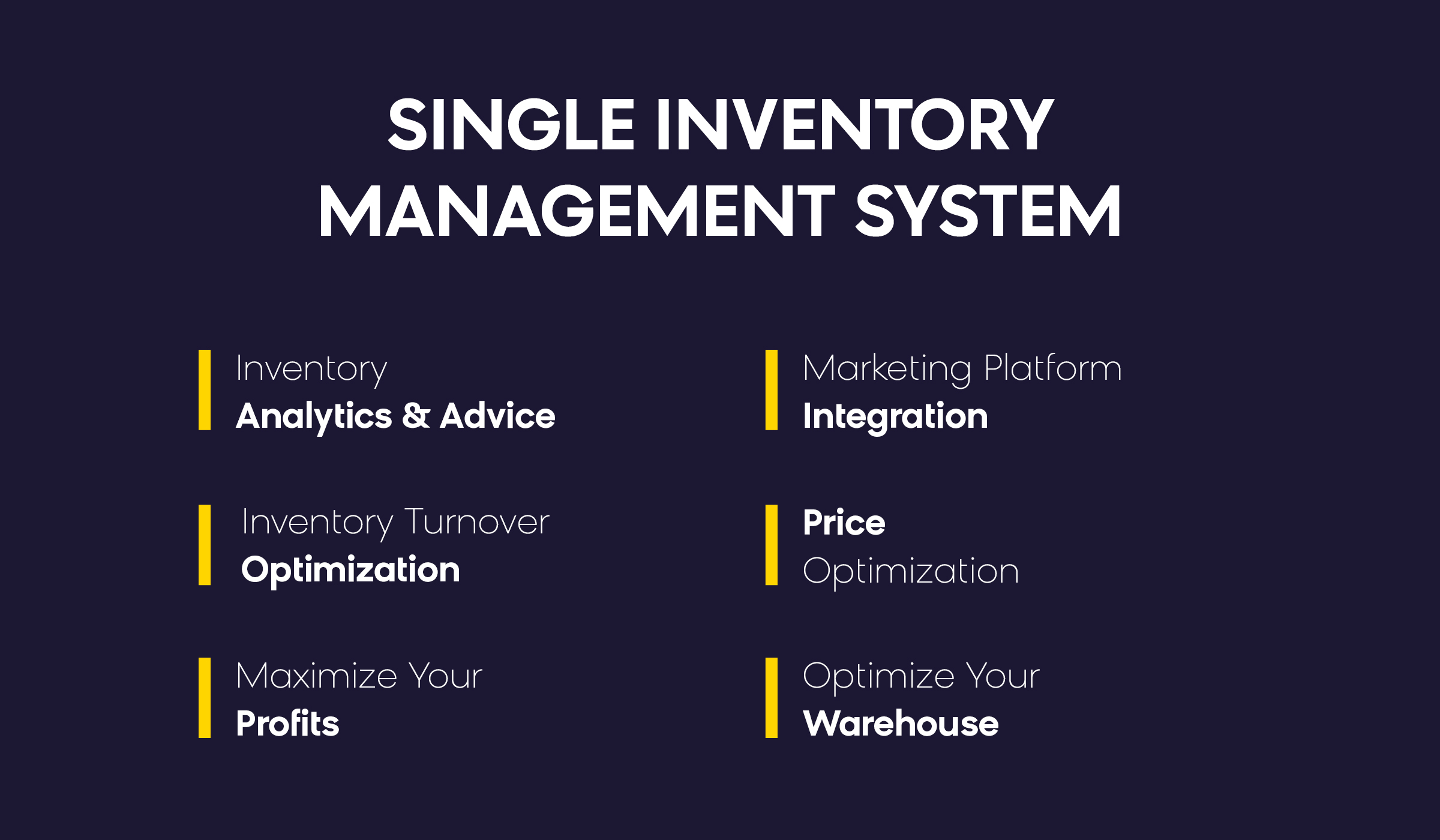 Inventory Analytics & Advice – Make Smarter Decisions
Similar to how data management platforms collect and organize user information, inventory analytics supply the same functionality from an inventory perspective.
This accurate tracking and analysis of your inventory enables the category manager (the person in charge of that product's category) to make decisions based on real-time data.
Inventory insights the category manager should receive include:
Product impressions

Revenue/profit per visit

Estimated time to sell out

Reorder point

Safety stock level
And the capabilities should not end there. Inventory systems like this should advise you on critical inventory indicators, comprising reorder points and quantity, safety stock level, and estimated time to sell out. With all this data, your category manager can order the right amount of goods at the right time.
Price Optimization – Use the Prices that Sell
Dynamic pricing is quite a handy feature as well. It helps you avoid overstocking and understocking by automatically adjusting the price of your inventory.
When using the price optimizer, products that aren't selling as well as expected are discounted. Products that are selling faster than estimated see their prices temporarily increased until they are resupplied.
Integrating an Inventory Optimizer with Your Marketing Platform
If you can connect an inventory management system with your online marketing platform, you will have all of the financial data about your merchandise at your fingertips. That's the holy grail of e-commerce right there. An inventory tracking system like this will give you the ideal selling price for each product, how many you have, how many items you need to order, all in one place.
With this level of inventory control software, you can design marketing campaigns in the same space, optimized for your current stock:
Promote items with a price that you

know

will appeal to buyers. For every product.

Add discounts to overstocked products and shift campaign focus to them.

End campaigns on products that are in danger of becoming understocked.
Maximizing Your Profit with Inventory Management Software
For example, product recommendations are getting better and better. This type of optimization has proven itself to be effective, and new features like visual or contextual recommendations have been developed.
Imagine that, in addition to the above features, you are able to recommend products based on their profit margins. Now you can recommend products that best fit your customers and have the best margins of all your relevant inventory.
Optimizing your Warehouse with Inventory Management Software
Combine price optimization with product recommendations to avoid over/understocking. This inventory tracking software would enable you to decrease/increase the price of certain products and recommend/not recommend them to customers based on their availability.
Other marketing channels can benefit from inventory management in the same way. Marketing automation software enabling you to connect inventory management with your online campaigns will ensure seamless day-to-day operation of your business.
Choosing the Right Inventory Management Solution
A properly implemented inventory management system makes managing inventory simple. It will give you full control of your stock, and minimize unnecessary costs by keeping your inventory at a healthy balance.
The market is full of inventory management solutions: you need to do your homework when choosing the right inventory software for your company. If the system cannot bring you the majority of the above benefits, it will likely just be another cost with no major value.
Exponea's advantage in this regard is that, in addition to providing the benefits described above, our inventory management system is already integrated with our marketing platform. Everything is ready to go in one piece of software, making it both faster and simpler to use for managing your inventory in cohesion with your marketing campaigns.
If you're interested in learning more about how Exonea can help you to manage your inventory and optimize your campaigns, please reach out to us for a commitment-free demo, and a discussion of how we could help.
Want more? We've got you covered
What Should You Read Next? Author's Hand-Picked Recommendation:
The Formula for E-Commerce Success Revealed
Learn the metrics that matter, and how to apply them to your company to increase conversions and revenue.