Exponea's third edition of the Online Retail Challenger brought us to the bustling City of New York, where e-commerce experts and executives from Missguided, Beach House Group, the CDP Institute, and Exponea presented advice, actionable strategies, and tips on the most important element of successful growth: customer loyalty.
Listen to this article
Catch Up: Online Retail Challengers NYC | Audio Version
Retention is KING! Great. What now?
A whopping 90% of companies believe customer retention is a priority, yet only 50% budgeted for improving the customer experience. It's time to take the lead and invest in  customer loyalty.
Attendees of the Online Retail Challengers event spent the day involved with networking opportunities, engaging presentations, and fireside chats with key e-commerce executives discussing real-world customer-loyalty strategies that work. Special guests included:
Nicola Fox – Head of CRM at Missguided

David Raab – Founder of the CDP Institute

Jeff Eynon – Director of E-Commerce at Beach House Group
The keynote speech came from Exponea's Co-Founder and CEO, Peter Irikovsky, who demonstrated the exponential benefits of investing in customer loyalty, along with tips for what to do (or not do) to foster that loyalty.
Keynote Speech
We know how important retention and loyalty are, so why are we still focused on acquisition? Peter led the charge, explaining how companies without a loyalty focus are limiting their potential growth. At a certain point, you run out of new potential customers; if you're not growing through the customers you already have, your growth can only progress up until that point.
Loyalty is created through positive customer experiences. Peter discussed an example of how quickly customers can become frustrated, based on a ride-share company he worked with: sometimes a customer would open the app, and be unable to find a ride within 15 minutes. If this happened three times in a row, there was a 90% probability that the customer would never open that app again.
Peter went on to describe how companies should set themselves up in order to provide the personalization that leads to great customer experiences. Companies must move from the old model of organizing their marketing efforts by channel, and instead organize them around the customer. This is made possible through the use of a Customer Data Platform (CDP), which powers a single customer view (SCV): a collection of individual data profiles for every customer, with all data for those customers flowing to this central hub.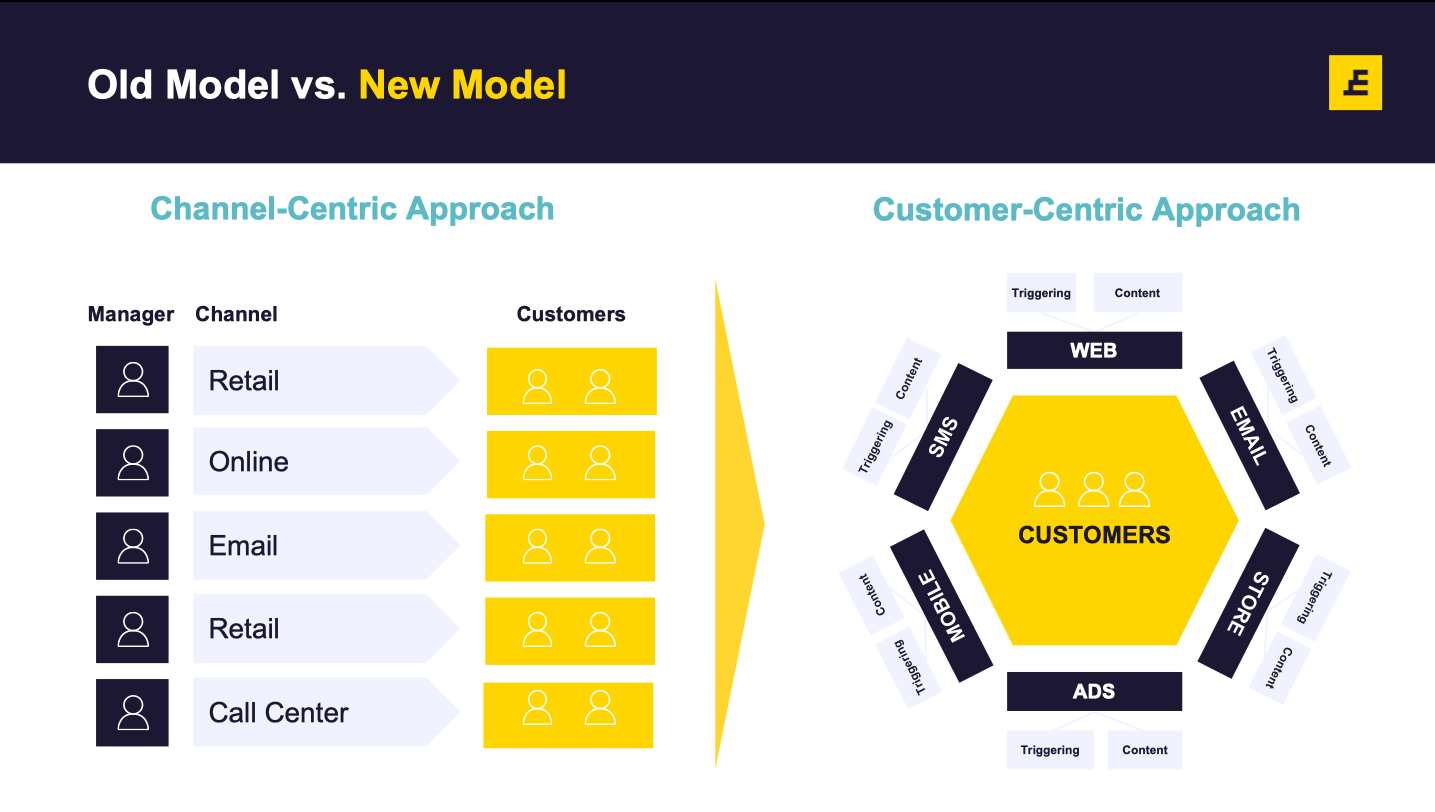 The companies that are leading the pack in the pursuit of growth through loyalty have developed positions like Loyalty Manager or Growth Manager, focused on improving customer lifetime value and driving growth through customer loyalty.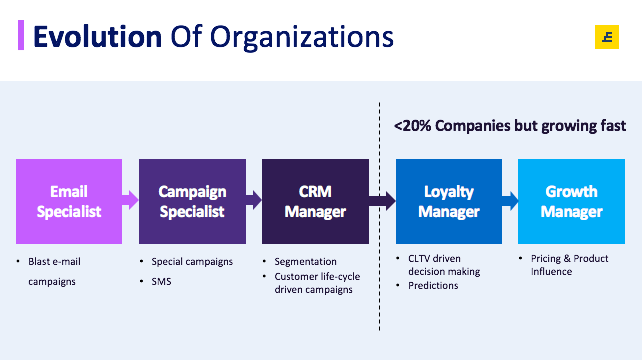 Peter concluded with a question for the audience: who had a person in their C-Suite whose #1 priority was customer loyalty? Not many hands went up.
If you're ready to make customer loyalty a priority, take a look at the e-book that inspired the NYC Online Retailer Challengers event. It's jam-packed with personalization techniques, omni-channel strategies and additional use-cases not covered in the event.
Fireside Chats:
Nicola Fox – Head of CRM at Missguided
Nicola is the Head of Customer Relationship Management at Missguided. She is a senior marketing and digital professional with far-reaching and extensive knowledge and skills acquired while working within the retail sector. Her main focus at Missguided has been to oversee the development of data-driven CRM from batch blast email.
David Raab – Founder of the CDP Institute
David is founder of the Customer Data Platform Institute, which educates marketers and technologists about customer data management. As Principal at Raab Associates, Inc., he has been helping marketers to understand, find and deploy appropriate technologies since 1987. Typical projects include marketing process analysis, architecture planning, needs definition, and vendor selection. Mr. Raab also consults with industry vendors on product and business strategy.
Jeff Eynon – Director of E-Commerce at Beach House Group
Jeff is the Director of Ecommerce at Beach House Group – the company behind some of 2019's fastest growing ecommerce companies, like BÉIS by Shay Mitchell, MOON with Kendall Jenner, and a host of other celebrity brands. Jeff leads the charge on all things ecommerce; from site builds, to optimization, to email marketing & building a robust tech stack from the ground up. Before joining Beach House Group, Jeff led global digital marketing for Snapchat – from app install campaigns, to performance marketing on Snap's hardware business, called Spectacles.
Additional Presentation Topics:
The Customer Loyalty Challenge: What Makes It Difficult?

How to Foster Customer Loyalty Through Omni-Channel Communication

How To Create a Successful, Personalized Customer Experience

Problem Solving: What Technology Should I Use?
Videos of the fireside chats and Exponea presentations are being prepared, so be sure to follow us on LinkedIn, or check back in on the event landing page to watch them when they're ready.
This Online Retail Challengers event took place at The Standard in the East Village, New York on Thursday, 16th May 2019. The Online Retail Challenger events are free to attend and include expert discussions, coffee and catering, and conclude with exclusive networking sessions over cocktails.
Interested in attending an event? Check out what we have in store for 2019. »
What Should You Read Next? Author's Hand-Picked Recommendation:
Develop a Perfect Customer Loyalty Program
It costs 500% more to acquire a customer than to retain one. Yet only 18% of companies today focus on retention. Why?