Exponea's Customer Data and Experience Platform (CDXP) help BabyWalz deliver a world-class customer experience to new and expecting parents.
baby-walz specializes in everything for young children and nursing mothers. Headquared in Bad Waldsee, Germany, baby-walz has a network of physical stores and an online storefront that gets more than a million visits a month. They sell a range of products, from clothing to strollers to baby furniture and everything in between.
When baby-walz wanted to develop a better understanding of their customers, and gather all their marketing tools under one platform, they partnered with Exponea. Exponea's Customer Data and Experience Platform (CDXP) enabled them to consolidate multiple tools into one platform, and create unique and memorable customer experiences. 
Before Exponea
Like many companies with an online presence, baby-walz used a number of martech solutions to achieve their goals. They had one tool for product recommendations, another for campaign automation, and a different tool for on-site experimentation. 
A multiple number of different tools created fractured workflows and information silos. It was difficult to transfer information from one tool to another, and switching between different programs meant working with different interfaces and losing time.
When baby-walz heard about the possibilities of Exponea's CDXP, they were eager to give it a try. They were excited by the possibility to create incredible customer experiences using just one tool.
A marketing tool with enormous potential! After integrating with Exponea, we've taken our campaign personalization to a new level – and our customers love it.
Elena Frater
|
Head of Online Marketing, BabyWalz
Exponea Solutions Implemented
Shortly after agreeing to work together, Exponea and baby-walz decided on a list of outcomes they wanted to achieve together. 
Those plans, along with their outcomes, are listed below.
Double Opt-In and Welcome Flow
After the introduction of GDPR, it became critically important for ecommerce stores to carefully collect the consent of their customers. Marketing communications can only be sent to customers that have opted-in to receiving them.
Exponea offers a full suite of customer-centric consent management tools, which help baby-walz stay GDPR compliant when emailing and working with other customer touchpoints.
Best practice for getting customers' consent requires a double opt-in procedure. This means asking for a customer's consent on your own web page, and then sending them an email asking them to confirm their consent.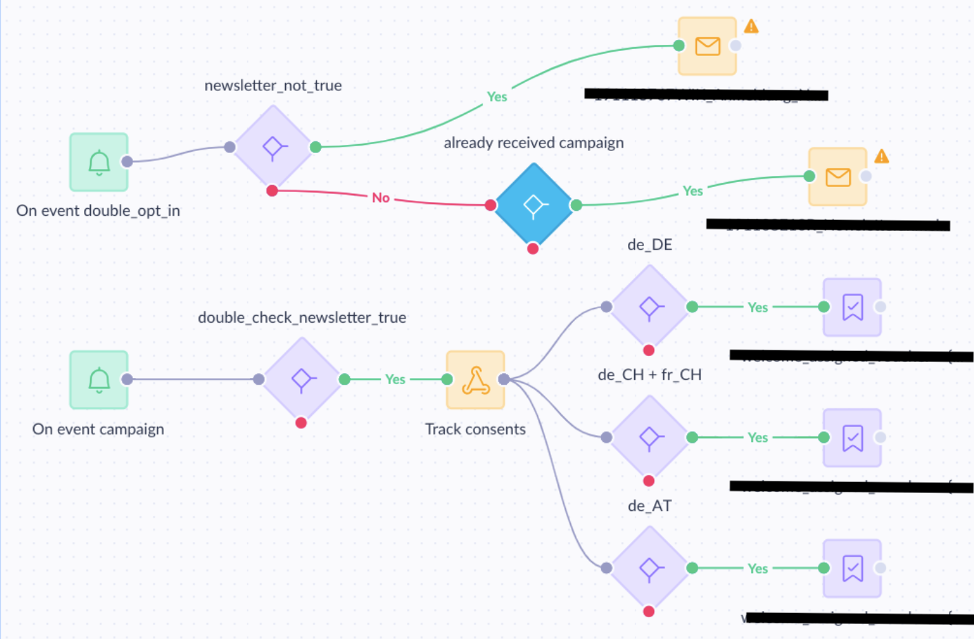 baby-walz were able to quickly set up and implement a double opt-in scenario using Exponea's visual campaign creator. As a part of the opt-in process, baby-walz was able to collect information about their customers, including their preferences for marketing materials and information about their (expected) child.
Next, baby-walz set up a welcome flow to introduce new customers to the brand. This is a series of emails sent to new customers that helps them learn what makes the brand special, and why they should continue shopping with them.
The welcome flow was also set up using Exponea's campaign editor, as shown below.
The information collected in these use cases is key for executing the next use case.
Pregnancy Lifecycle Email Sequence
One of baby-walz's key customer segments is expecting mothers. The pregnancy cycle is about 40 weeks, and consists of several identifiable stages. baby-walz wanted to connect with their customers in a more personalized way. By catering their messaging to a customer's specific pregnancy stage, baby-walz can offer a much more personalized experience.
Thanks to the information they collected during the double opt-in scenario, baby-walz knows what stage of pregnancy a mother is in. And based on this information, they can send specifically tailored emails. Baby-walz was able to quickly and easily set this up using Exponea's campaign builder, as shown below.
This campaign delivered excellent results. The average open rate for these emails was 53.8%, illustrating the power of such personalized emails. And baby-walz was able to set up this scenario quickly and independently, thanks to Exponea's user-friendly interface.
Abandoned Cart Emails
Many e-commerce customers add items to their shopping basket, only to leave the site without completing their purchase. baby-walz had the same problem. One way to manage this problem is to send follow-up emails to those customers, reminding them about the items they didn't buy.
Baby-walz was able to easily create abandoned cart emails using Exponea's campaign editor. And thanks to Exponea's single customer view, they could personalize these emails using customer names and product information.
These emails had an excellent open rate of 40%, and a great click-through rate of 33.3%. And the entire campaign was quickly set up using just Exponea – no need for other tools and platforms.
Insights and Understanding
Beyond marketing use cases, Exponea also delivered actionable analytics to baby-walz. Exponea's fully customizable dashboards gave baby-walz a one-stop place to find valuable information that could help drive their decision making.
For example, baby-walz used Exponea's funnel analysis to understand where customers dropped out of the purchase process. They realized that many customers made it from the home page to the product page, and then added a product to their cart. But customers wouldn't make it to the purchase stage. 
To address this, they used the abandoned cart scenario illustrated above. This helped patch up some leaky parts of the funnel, and increase conversions on the site.
A True Partnership
baby-walz successfully integrated Exponea, and went from using multiple tools to using one platform for their needs. But this is just the beginning of their relationship. Exponea is a true partner to baby-walz, and wants to help them grow and deliver the best customer experience to parents. baby-walz has joined Expoena at several conferences and industry discussions about CDPs and marketing automation tools, and both firms work together to develop an even deeper understanding of the online retails space.
If you are looking for a way to deliver incredible experiences for your customers, consider Exponea. The Exponea CDXP can ingest all your customer data, enrich and analyze it, and use it to create unforgettable customer journeys at scale. 
We'd love to see how our solution can help your business grow. Schedule a demo to get started.