By sending a welcome email to a new lead or subscriber, you're creating a first impression for your brand. Needless to say, making it a good one is essential for a long, successful relationship. 
As it is the first step of the customer lifecycle journey after someone has trusted you with their email, it is important that you get the welcome series right. The key things to remember are time, content, and cadence. This article addresses all three to help you come up with a well-structured welcome series to impress your subscribers.  
What is an automated welcome email series?
An automated welcome series is a set of emails triggered by a customer action that signals an interest in your company (e.g. account sign up, list subscription, or event registration). The email content should typically convey what your company or brand is about to a new user. A good welcome series should be helpful, informative, and engaging, and as much as possible, less sales-oriented. 
Blueprint for a basic automated welcome series
Here's a 3-part welcome series you can adapt for your company to onboard new customers or subscribers.
The first email is a generic email that introduces your company or brand. Introduce what you're about, your value proposition, or what someone can expect from your emails.

The second email is a slight nudge to get the subscriber to move to the next stage in the lifecycle journey. Entice them with your best products or a demo of your services.

The third step is split into two branches:

If someone has already purchased or moved to the next stage, encourage them to connect on social or install your app.

If someone has not yet acted on the previous emails, offer an incentive to nudge them. And then follow up with the last email asking to connect on other platforms.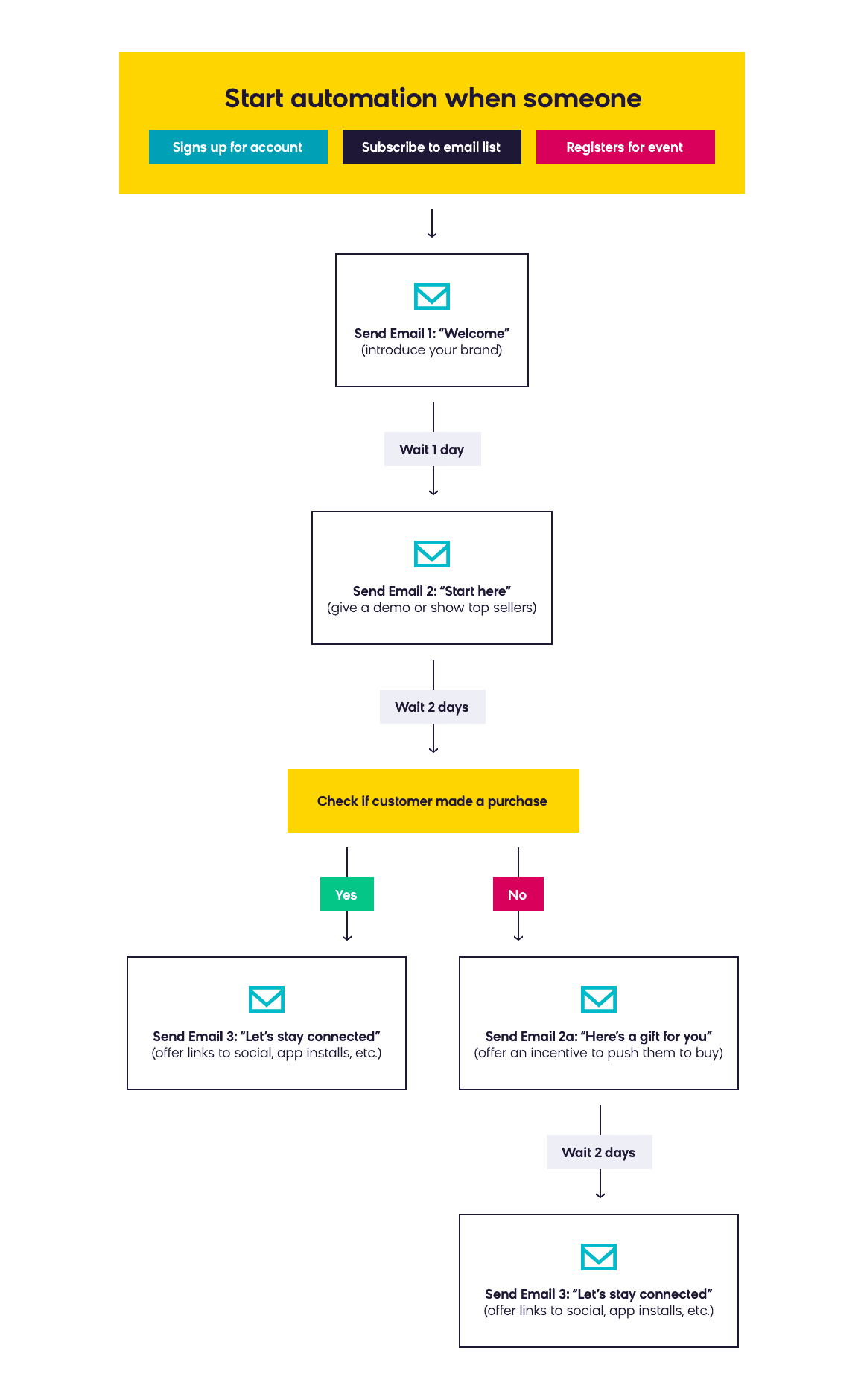 Why should you send email welcome series?
Like a good elevator pitch or a warm 'nice to meet you', a welcome series lays the foundation for a long-term relationship. Don't cram all your information into a single email. Instead, break it out into 3-4 emails so the customer gets small chunks of digestible content.
When should you send email welcome series?
You should send it right away, or at least within the first 24 hours. People have short attention spans, so it's best to get into their inbox when you're still fresh in their minds. 
Which KPIs matter for this series?

A welcome series is sent when the customer is in the acquisition stage. So, metrics that speak to engagement and long term relationship building are important.
Open rate

Click-through rate (CTR)

Conversion rate 

List growth rate

Unsubscribe rate
Email marketing KPI dashboard template
Tip: Get a complete overview of your monthly email performance and ROI with this free spreadsheet KPI template.
How to enhance the series for your brand
The example above is a basic structure of a welcome series that performs well. Here are some ways in which you can take it a step further.
Personalize based on browsing activity:
Between email 1 and 2, check if the customer has had any website activity. If so, use data from their activity to personalize your email further. For example, if you're a retailer and someone has browsed the menswear category, use that information to offer best selling menswear or a link to a blogpost about menswear trends. 
Segment based on customer type:
If you cater to different types of customers and have that information, use it to segment your welcome emails to make them more relevant. For example, let's say you're a hardware retailer selling to hobbyists and business owners. The price point and motivation for a hobbyist or an individual would be very different from a business owner who cares more about ROI. Change your content and tone accordingly.
Mix it up with product recommendations and links to blog posts:
Think beyond sales in these emails. Treat your customer like you would a personal relationship. Do you have videos or blog posts and other useful content that could help them come to a purchase decision? Consider including them in your emails.
Consider an omnichannel strategy:
Think beyond email for your welcome series. Consider the scenario below. Include conditions to monitor if your customer has opened an email. If not, consider extending your welcome series to other channels like SMS or paid social. 
Include A/B testing:
No email is truly set it and forget it. Test different strategies to see what works best for you – whether that's figuring out the right channel, right content, right time of send, or the right number of emails.
Key takeaways
Remember: time, content and cadence. Send your welcome series as soon as possible when a subscriber is still thinking about you. Make sure the content is informative and helpful and follows through on what was promised when someone signed up to receive it. Lastly, instead of sending one big email, send out a series of 3-4 emails that will make sure you stay top of the inbox, and also keep the subscriber engaged for longer. And always – test, test, test, and iterate. 
What Should You Read Next? Author's Hand-Picked Recommendation:
Guide to Everything You Should Test in an Email.
We've put together all the elements of an email you can test, plus the key metrics that each element affects.We've put together all the elements of an email you can test, plus the key metrics that each element affects.
meet the author
Divya Mulanjur
Product Marketing at Exponea
Divya Mulanjur is the Product Marketing Manager at Exponea. 
Before coming to Exponea, Divya was the Head of Email and Content Marketing at Suiteness. She was responsible for everything from lifecycle messaging, to email marketing, as well as brand and content strategy.  She's passionate about charting the customer journey and building the lifecycle marketing flow.