Did you miss Online Retail Challengers? 
If so, you missed a great time! We are so sorry you couldn't join us virtually to hear some of the best in the industry speak about topics that are pertinent to what's going on right now in e-commerce and beyond. 
But have no fear, all is not lost. 
To keep that feeling of missing out away, here are five takeaways from the event so that you are not walking away from this week completely empty-handed. 
Takeaway #1
Future-proof your shipping and fulfillment. 
Matt Crawford is the GM of shipping from BigCommerce. Along with Ken Cassar of CassarCo and Peter Irikovsky from Exponea, Matt led a session that discussed how marketers can impact logistics this holiday season. 
One way to do this? Future-proofing your shipping and fulfillment, Matt said. 
Five tips for doing this were shared. They are…
Make sure you're selling into the right markets. 

Align early with your partners.

Set the right expectations for your shoppers.

Get your fulfillment strategy right. 

Deliver the ultimate post-purchase experience.
The trio of presenters also discussed key statistics that will be important to marketers this holiday season. Did you know that 38% of shoppers surveyed intend to spend a large portion of their holiday budget online this season? 
That is a significant change and one that e-commerce stores everywhere should be prepared for in the midst of a global pandemic.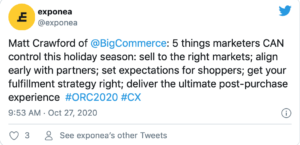 Takeaway #2
Shoppers are more value-conscious than ever.  
Amy Eschilman from Google Cloud led a session that went in-depth on a "retailer's guide to the 2020 holiday season". 
While Amy made many great points about how this holiday season will be unprecedented in many ways, the eye-opening statistic she shared is that over half of consumers globally expect their finances to be impacted negatively for at least four months. 
Wow! That is an alarming statistic, even in 2020. Shoppers are more value-conscious than ever and retailers and marketers must understand this information and adjust accordingly. 
Many customers will be feeling the effects of adjusting their budgets and will be driven to make purchases by different things this year. Deals and offers will be of the utmost importance. Retailers will need to adjust and be more flexible than ever before. 
Purchasing habits, loyalty, and consumer sentiment will all seem different this holiday season. Is your company prepared? 
Takeaway #3
Black Friday means more in 2020. 
It is undeniable that Black Friday means a lot to businesses every year. 
But with how rocky things have been in the first 10 months of 2020, Black Friday may seem like a shining light at the end of the tunnel to some companies right now. It is the perfect opportunity to claw back some revenue missed earlier in the year. 
Gavin Sherry from Exponea, Alice Chidgey from Benefit Cosmetics, and Kate Nowrouzi from Mailgun served as ORC's Email Deliverability Expert Panel and explained what measures can be taken to boost your company's reputation ahead of Black Friday. 
Here's two brief highlights…
List hygiene: The top factor contributing to poor inbox placement is list hygiene. Ensure your hygiene isn't impacting your sending by testing for misspelled addresses. 

ISP Reports: Google, Microsoft and Yahoo have formed an opinion of you as a sender. Do you know what it is? Or how to improve it? Have this information heading into Black Friday to help form your strategy.
As your email frequency gets set to increase because of Black Friday, has your company done what it can to prepare? 

Takeaway #4
Stand out with meaningful email personalization. 
Divya Mulanjur from Exponea and Kari Slater from Moxielash took a look at how the role of CRM manager might look different during the 2020 holiday season. 
"CRM managers play a really essential role in making things just a little bit easier for online shopping," Divya said. "How do they do that? By going from discount elves to empathetic santas for the holiday season."
One big takeaway was to make your emails meaningful this holiday season. That means using these three suggested strategies to stand out…
Optimize send time for maximum engagement.

Personalize sale emails with viewed items.

A/B test your messages and incentives now.
Figure out where your audience is engaging with you and use that information to drive conversion. Finalizing this plan prior to Black Friday or the holiday season will allow your business to see the results it wants when it is most important.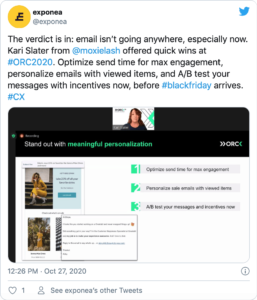 Takeaway #5
If privacy is not in your marketing strategy, now is the time. 
The world of data collection is rapidly changing. 
With GDPR fines quickly increasing for violations and CCPA officially coming into law in the past couple of months, the importance of zero party data cannot be overstated. 
What is zero party data? It is information that a customer freely provides to a company. It has not been inferred from how a customer behaves on your site. 
Exponea's deputy data protection officer Annabel Pemberton gave an in-depth look at the importance of your company fully understanding zero party data and the value of that data once it is collected. 
Annabel's major point was that if you are not considering privacy in your marketing strategy, it is time to start. 
"Consumers are becoming more and more aware of their digital rights," Annabel said. "They are beginning to crave more privacy online."
Are you looking for more information on zero party data?
Click here for a breakdown on all the different types of customer data and further discussion on the importance of zero party data
. 
In Conclusion
Online Retail Challengers 2020 was a success. Thank you to all of our amazing presenters for giving us their time and to all of the attendees for showing up virtually. We hope you learned valuable information that will help your team succeed this holiday season. 
To keep up with Exponea and what is going on in our world,
follow our blog
. You can also watch this video to see Exponea's Customer Data & Experience Platform in action and learn how it help your business right away. 
Black Friday 2020
12 Last-Minute Black Friday Marketing Tactics
In this comprehensive guide, we'll walk you through tactics and campaigns that your company can quickly make use of to maximize revenue this retail holiday.